interview
Susannah Fielding: 'Alan Partridge has a slightly softer heart than Piers Morgan'
The star, who totally inhabits the role of the long-suffering co-host in 'This Time with Alan Partridge', tells Ellie Harrison why Jennie Gresham is more than a withering eye-roller – and what she 'admires' about 'Good Morning Britain' presenter Susanna Reid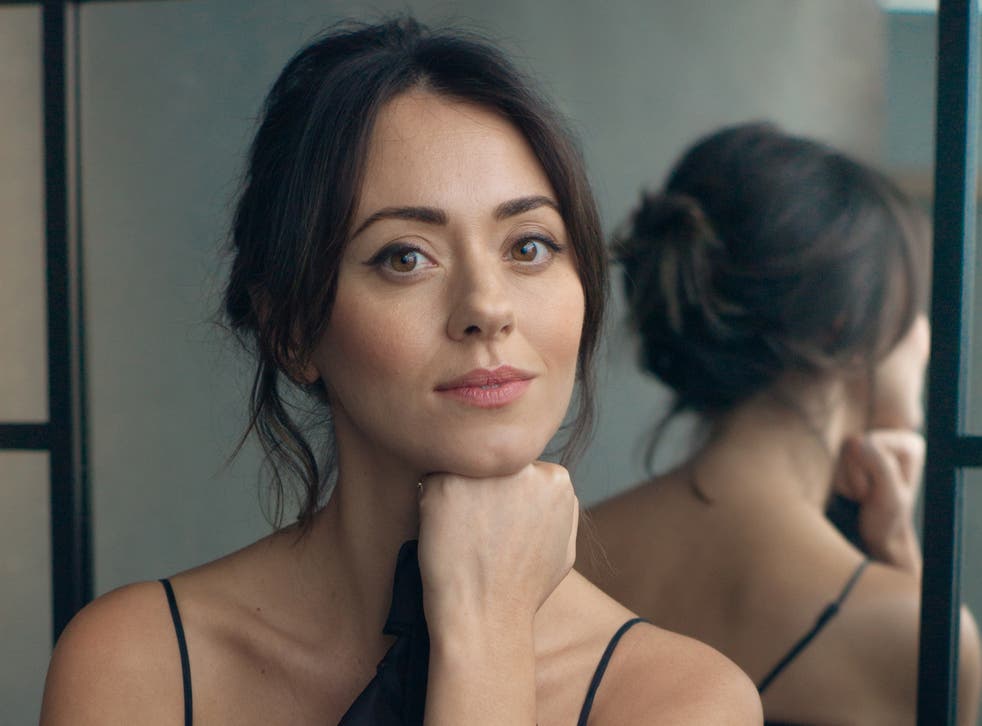 S
usannah Fielding is wrestling with a rusty bike lock. Wearing gold hoops and a pink fluffy jumper, her brows firmly knitted in concentration, she is disarmingly at odds with the immaculate professionalism she maintains in the spoof magazine show, This Time with Alan Partridge.
"Oh, hi!" she calls out, a little startled, as I approach. "I've just resuscitated my bike after winter and the tyre's flat and the lock's not working. I'm thinking, 'C'mon Suze, I've got to bite the bullet, pay the 20 quid and get a new one.'"
In This Time – a One-Show-style parody, relentless in both its sheer awkwardness and its genius – Fielding plays Jennie Gresham, who co-hosts the show with Steve Coogan's lovable liability Alan Partridge. While Partridge staggers his way through interviews with about as much tact as Prince Philip, consistently striking the wrong tone and desperately trying to arrange his face into the right expression, Gresham tries to keep the programme from imploding. She steals his jokes, striding from topic to topic as she plasters on a strained smile. Fielding is excruciatingly convincing in the role, caked in eyeshadow and sporting a perfect blow-dry. With every slight widening of the eyes and tilt of the head, her feelings towards Partridge are made abundantly clear. Her relief every time she says, "And that's all we have time for today..." is palpable.
It's impossible to watch them without thinking of Piers Morgan and Susanna Reid. Morgan thought the same. "Very sad news about the new Alan Partridge show, which obviously mocks me and Susanna," he complained on Good Morning Britain when the first series aired in 2019, adding that it was "utterly unwatchable". He predicted it would be pulled off air after three weeks. It wasn't. Now it's back for a second series on BBC One. Morgan, meanwhile, has since left GMB in a blaze of controversy.
"Susanna Reid is a masterful presenter who's worked alongside Piers in an admirable way – that's what I'd call it," says the 35-year-old Fielding, once we've settled at a picnic table in Dulwich Park, near where she lives with her partner. "She's very clever, in a way I've tried to portray Jennie as being clever, in that sometimes you don't need to say anything at all for somebody else to show themselves up. You can just use a look. Susanna has that in her arsenal. There are definitely similarities between those duos but Alan has a slightly softer heart at the centre of it all, from what I can tell."
Fielding hasn't met Morgan, but she was disgusted by a segment he did on GMB about women growing out their body hair. "It's awful," she says. "Susanna is saying, 'I think it's a brilliant thing to do,' and Piers is being typically disparaging. He starts asking her if she grows her body hair, going, 'Why won't you say?' It's really uncomfortable viewing. I just don't think that would happen the other way around, with something personal about a man's body. It wouldn't be up for discussion." Morgan's treatment of his female colleagues, she says, "is quite extraordinary… as a woman you have to battle quite hard to be taken seriously and not looked at just for your appearance or as a sidekick to someone. It seems like those shows are behind in that respect".
Does she think Partridge and Morgan would get along? "I don't know if there's space for Alan and Piers in one room, certainly not on one sofa," she says. "Although I think I'd be a fantastic replacement for Piers on Good Morning Britain. Two Susannahs on one sofa sounds like a great idea. We'd have a riot."
It sounds like Partridge's worst nightmare. "Seen it all before," he said of Gresham in the season one finale. "It's all tits and teeth. But I tell you, she would smother her own grandmother with a pillow to get on the cover of the Radio Times."
Fielding says Partridge has "got a point – Jennie is incredibly ambitious, but I think you have to be". The term "ambitious" has become a dirty word when it's attributed to women – and Partridge clearly feels threatened by Gresham. "We do think of those sorts of women as being cold-hearted and dangerous," she says. "But it's no different to how a man has to behave. You have to be strong-minded. I've had to be, to continue doing this career for as long as I have. Certainly, you don't have to smother your own granny. It's important to be generous to your contemporaries rather than trying to do other people out of jobs. But it's true that women are criticised for ambition whereas men are lauded for it."
Partridge co-writers, twins Neil and Rob Gibbons, admitted they didn't see the full potential in Gresham until Fielding "knocked it out of the park" in her audition. Before This Time, Fielding was a relative unknown, but had brought nuance and depth to many comedy characters, most notably on stage as Portia in Rupert Goold's The Merchant of Venice, for which she won the Ian Charleson award. "She suggested a hinterland to [Gresham] that wasn't just someone who was an eye-roller," Neil told the Radio Times. "She had the sense of someone who was a bit of an operator as well… that gave us an in to have a bit more fun."
Fielding says she "knew that if it was just eye-rolling, it would be boring". She watched British presenting duos – Alex Jones and Matt Baker, Kirstie Allsopp and Phil Spencer, Reid and Morgan – to get a sense of their dynamics, and found that tension is a surprisingly good recipe for entertainment. "We seem to find that quite an enjoyable, awkward thing to watch, don't we?" she says. "We love these male-female duos who don't quite get on, and the will-they-won't-they, are-they-aren't-they?"
Fielding was determined for Gresham not to fit into the sitcom trope where the men are up to no good and the woman is the nag. "That's happening less and less," she says. "In the first few years of my career, I'd often be the only girl at a comedy read-through. I would almost always be playing the 'withering looks girlfriend'. The, 'Oh dear, he's at it again' kind of foil. And I didn't get to do many of the jokes. But with people like Phoebe Waller-Bridge and shows like This Country, where the woman is as important as the man, if not the absolute star, that's starting to shift. And I don't think Jennie would have been as big a part had we done this 10 years ago – even five."
Fielding – who grew up with her mother in a "cultural blackspot", AKA Havant, near Chichester – discovered her love for theatre when she boarded at Christ's Hospital school in West Sussex and was taken to plays. From there, she attended Guildhall School of Music and Drama, where she was repeatedly cast as the clown, rather than the young ingénue that she had hoped to be. "I thought I was about to be cast as Miranda in The Tempest and was all ready for my leading role," she says, "but the head of voice, Patsy Rodenberg, asked me to play Trinculo instead, the uncool, bumbling fool of the piece. I was like, 'Are you kidding me?' And she said, 'No, that's what you're born to do.'"
Rodenberg was onto something. Fielding would eventually play scores of comic characters – from Mrs Sullen in the National's The Beaux' Stratagem to Chloe, "the one that got away", in the Channel 4 sitcom Pete versus Life. She's played dark, dramatic roles, too – in 2008, she starred as a suspected teenage killer in Wallander with Tom Hiddleston, who she dated for three years afterwards, and in 2020 she appeared in Mike Bartlett's Doctor Foster spin-off, Life, as the sister of Victoria Hamilton's Belle. Her character Ruth, who had borderline personality disorder and was in and out of psychiatric hospitals, was an impish but troubling presence in her sibling's disappointing life.
Of all her now many renowned co-stars, Fielding says she has never worked with someone who scrutinises every moment in every scene like Coogan. "He's so set on the truth of the situation," she says. "He's never just playing the scene for laughs. A lot of people think we improvise but every look, grunt, sigh, beat is decided ahead of time. Even how long our wait is for reacting to each other or what kind of a laugh I'll do. It's all sculpted very, very meticulously."
Fielding and Coogan sometimes take the same scene as many as 20 times and their lines are being rewritten up to the 11th hour. Does it hurt to smile for so long? "My cheeks do ache at the end of the day," she says. "You work up your cheek muscles. Jennie would probably win some award for that." I'm sure Partridge wouldn't be able to contain himself if she won the Best Cheeks Award.
Much of the show is filmed in the BBC's headquarters in London. It must have felt mischievous, mocking the corporation from within its own walls. "All power to any organisation that's willing to poke fun at itself," says Fielding. "Mostly BBC presenters just really love it because they're seeing their world reflected on screen. It does feel a bit naughty but we've depicted it quite accurately and people are more worried about what I might be watching to pick up and copy."
Series two sees Partridge becoming discombobulated when the show gets a fresh, young new producer. He worries he's a dinosaur who's on his way out. Gresham's response, says Fielding, is "a little bit cleverer, as you might expect".  
Next up, Fielding is starring in another TV comedy. "It will be quite a relaxing experience in comparison," she says. "Not in the dark in a studio in November during a lockdown... but hey, no mud no lotus, as they say in the Buddhist world." 
'This Time with Alan Partridge' series two begins on Friday 30 April at 9.30pm on BBC One
Join our new commenting forum
Join thought-provoking conversations, follow other Independent readers and see their replies