interview
Tony Robinson: 'The most diverse thing in Blackadder was its title'
The 74-year-old has won over the nation's hearts several times through the years, for his performance as Baldrick, his various audiobooks and his presenting job on Time Team. Now, Robinson talks to Ed Cumming about whether there'll be a Blackadder reunion and why he thinks Boris Johnson is the luckiest politician in the world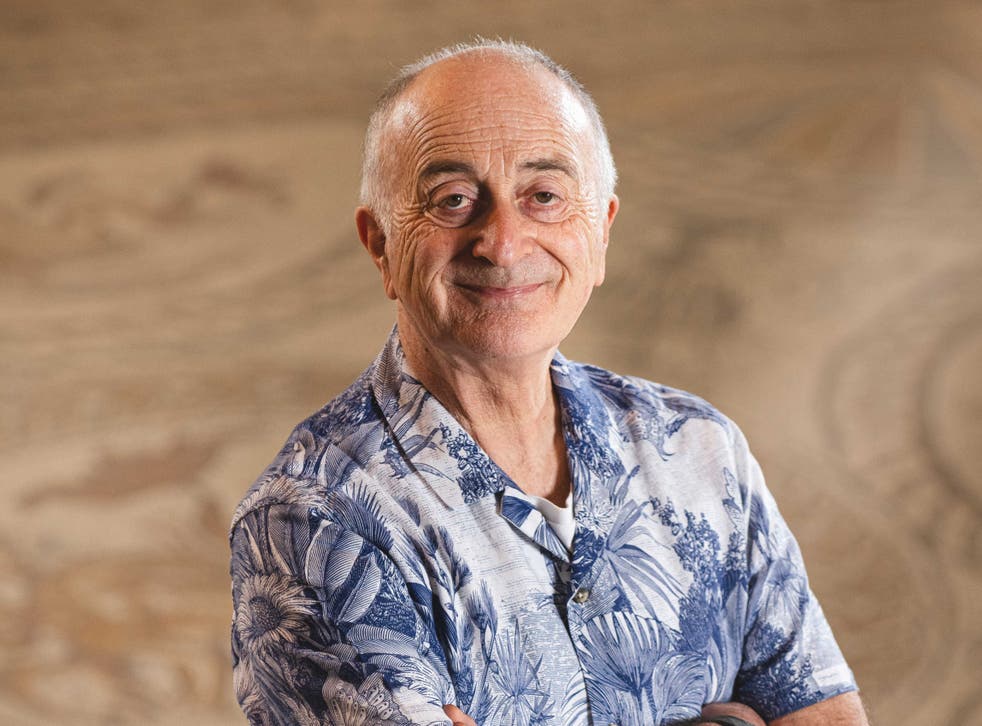 S
ir Tony Robinson begins with an apology. He has pulled an all-nighter. "I feel as though I've taken enormous quantities of drugs," he says, adding only slightly too quickly that he "would never do that".
He was out the night before looking for Dover soles, as part of his long-running series of documentaries about the Thames for Channel 5. After a long absence, the fish have apparently been sighted again – promising news that points to cleaner and less trawled waterways. They were meant to be back by 2am, but not long into the expedition, one of their nets was trapped in sand and silt. Then a propeller got caught in a lobster pot. Before Robinson knew it, dawn was breaking over the estuary. He had only just got home, "wired", when a carpenter arrived to do some shelves. As a result, he warns, he will speak like "late-era Marlon Brando", with "halting inarticulacy".
It's doubtful. At 74, Robinson is one of those rare figures to have gained a foothold in the nation's hearts several times over. If there was calculated inarticulacy to his performance as Baldrick, the dopey sidekick of Rowan Atkinson's scheming courtier Edmund Blackadder, there was nothing but easy, enthusiastic fluency on Time Team, the Channel 4 archaeology programme he presented from 1994 to 2001. Robinson's likeable style won the programme plenty of new admirers and gave him a career that has spanned everything from the Titanic to Ancient Egypt. Not forgetting Maid Marian, the children's retelling of Robin Hood he wrote, and endless audiobooks, walks, documentaries, train journeys.
If Robinson hasn't covered it, British TV viewers probably aren't interested. When I hear about the sole imbroglio, I mistakenly accuse him of having previously made a programme about fish. "I'm not Paul Whitehouse," he replies. "But I've always been a fish fan. And I've done things with most external phenomena."
We're speaking because Robinson has made a "short film", an ad really, for Checkatrade, in which he visits Fishbourne Roman Villa, in Sussex to discuss Roman building techniques. "A lot of archaeologists are snobby about the Romans, because they think they were interlopers," he says. "The time between Julius Caesar and when the Romans left Britain was a sparrow's fart, really, but it was so dramatic, and it's still so visible in the landscape." He enjoyed revisiting Fishbourne, which he'd been involved with since getting into archaeology in the late 1970s. "It was done by a guy called Alec Down, and it was one of the first digs where they mobilised ordinary people as well as trained archaeologists."
The story of a dogged digger against the snooty establishment was also the plot of the recent Netflix film, The Dig. Ralph Fiennes starred as Basil Brown, the self-taught archaeologist hired by Edith Pretty (Carey Mulligan) to excavate Sutton Hoo, in Suffolk, in 1939.
"I thought [the film] was absolutely great," Robinson says. "The way it captured the quality of the archaeology. When we started doing Time Team, there was a lot of debate about how much gimmickry we'd need to keep the audience's attention. It took a long time for us to realise that we could trust them to come along with us."
Archaeology works well onscreen, Robinson says, because the literal digging up of things has an in-built storytelling dynamic. "You always get a lot of clues which will set you in the wrong direction," he says. "You need a narrative to work out where you want to go, but then nine times out of 10, you end up somewhere else. It's perfect, isn't it? That's every Netflix series."
Recently, there was a successful crowdfunding campaign to bring back Time Team for YouTube. Robinson contributed but isn't directly involved. "I can't do it because of my other television commitments," he says, "but I also think it's important a new generation takes over." His forthcoming projects include a series about Britain's forgotten conflicts between the Second World War and the Falklands. "You find in conversation, especially with young people, they don't know the name Suez, or our presence in Aden." Between the various campaigns to remove problematic statues and decolonise history teaching, the curriculum has received plenty of scrutiny in recent months. What does he make of this fresh energy? 
"Whenever radical insights become more commonplace and are taken up by a large number of people, the pendulum swings violently for a few years," he explains. "Eventually it reaches a new equilibrium. A perfect example is what's happened in the debate about statues. Personally, I'm quite happy with the fact that people were so irritated with the Colston statue, which was only ever a piece of publicity for the merchant class. I quite understand why it was removed. But I don't think you can nitpick over every statue, or pull down the whole of Harrogate, York, and Clifton [in Bristol] because so much of it was built on money generated by slaves, alcohol and tobacco."
This even-handedness is in keeping with his politics over the years, about which he has never been shy. In 2019, he resigned his Labour membership over antisemitism, but re-joined when Keir Starmer was appointed leader. He says it's "much too early to tell" how Starmer is doing in opposition, because the current prime minster has had such good fortune. "There isn't a luckier politician in the world than Boris Johnson. When he was elected, he was up against the weakest Labour leader for 18 years. And the effect of Brexit has been totally obscured by Covid. What politician could ask for more?"
Another upcoming project is the second series of his "ordinary people's" history of Britain, Tony Robinson's History of Britain (Channel 5). It's the second or third time "ordinary" has come up. I wonder if his own background makes him sympathetic. After a childhood in east London, Robinson left school at 16. By the time Blackadder gave him his big break, he was nearly 30, with more than a decade of jobbing work under his belt. The Oxbridge-educated jeunesse dorée he found himself sharing the screen with were at least 10 years younger than him. "Is that the polite way of asking if I have a chip on my shoulder?" he says, before explaining that he got his historical education in an era of the Marxists EP Thompson and Christopher Hill. "That was the kind of history I always wanted to express."
At last we come to the point where it's obligatory to ask about a possible Blackadder reunion. In January, Rowan Atkinson was quoted as saying it "wasn't impossible". The endless clamour is partly because Blackadder, which had historical literacy to go with its gags, has been such an enduring presence in schools. It is familiar to generations who weren't born when the episodes first aired, and it's arguable that the fourth series, set in the First World War, has shaped British understanding of that conflict more than any other text. "A lot of [the interest] is because it has been incorporated into the curriculum," Robinson says. "Another advantage is that it wasn't set at the time it was written," he adds, "which was also helpful for Shakespeare and Brecht." But a reunion is "not on the horizon". If nothing else, a Blackadder in 2021 would need to look very different. As Robinson puts it: "The most diverse thing in Blackadder was its title."
He has been "absolutely blessed" by lockdown. He and his wife bought a dog. He has been catching up on the "15 greatest western novels" he'd never read. "I never realised how dirty the final chapter of Ulysses is," he says, by way of proof. After grouting every crack in his house, he even turned his hand to gardening, planting up the pots on his terrace.
"The sweetest thing was my wife asking me how I knew what to do. I'd never shown the slightest interest in gardening. I realised it was the memory of puttering about in the garden with my dad when I was seven. He taught me about weeding, and planting, and bulbs. It was all there, buried away."
To shine a light on the Roman techniques that are still used by trades today, Sir Tony Robinson worked with Checkatrade on an entertaining and educational mini documentary, which is available to view here
Join our new commenting forum
Join thought-provoking conversations, follow other Independent readers and see their replies