state of the arts
Them and Us: Why Amazon's new 'race horror' show is worse than copycat programming
Little Marvin's drama about a Black family in white 1950s LA has remarkable similarities to Jordan Peele's 2019 film, but if this is the start of a new genre of racial trauma, then we neither need nor want it, says Micha Frazer-Carroll
Friday 09 April 2021 15:22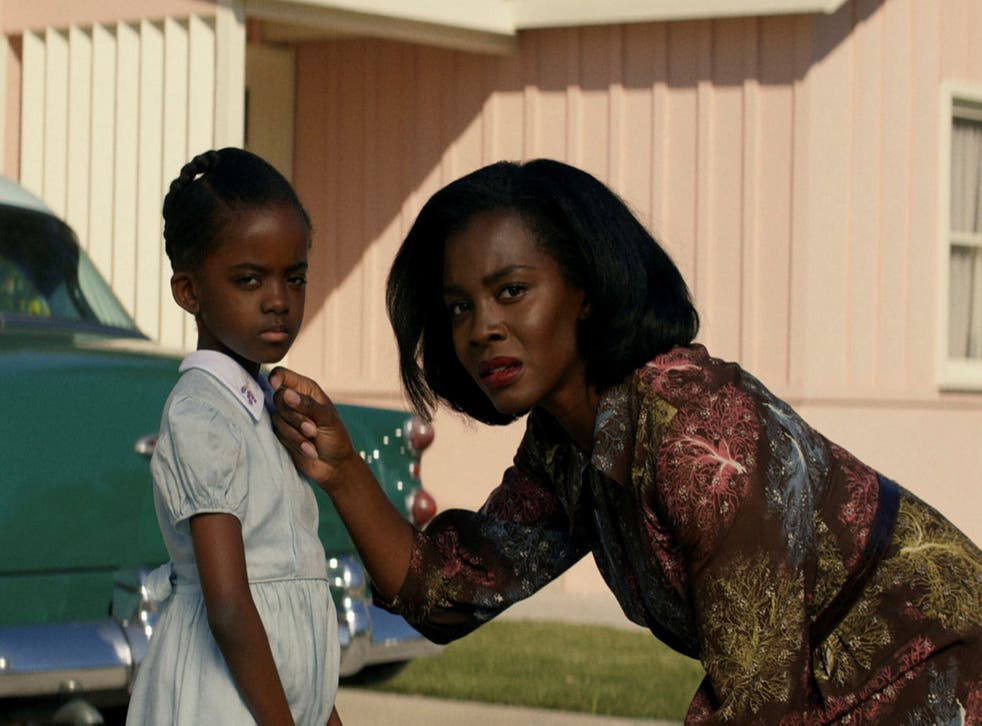 Last month, when the trailer dropped for Amazon Studios' new television show Them, a lot of Black people online were pissed off. I was one of those people. My own frustration sprung from a few different sources. Notably, the horror series, which is set in the 1950s and follows the haunting of a Black family in the days after moving into an idyllic, predominantly white neighbourhood, feels suspiciously reminiscent of a Jordan Peele movie.
Although Peele's Us, which was released in 2019, is set in the present day, there are clear parallels between both productions; they both follow Black families, are about home invasion, explore the issue of racism in America through the lens of horror, and even use one of the same actors – Shahadi Wright Joseph, who plays the daughter in both stories. The similarities between the series, created by debut director Little Marvin, and Peele's work don't end there: lots of people also pointed out that the trailer's clips of the family being harassed and hounded by smiling racist townspeople felt derivative of Peele's 2017 release, Get Out, which follows a Black man who visits his white girlfriend's parents for the weekend, only to find himself racially tormented by the family.
If you're able to look past all this, it's harder to ignore the title, which has got to be one of the most obvious real-life examples of copying a classmate's homework, then changing it a bit, in the hopes that the teacher doesn't notice. Even the posters of the two productions fit the same brief; featuring the "two faces'' of the families' respective mothers, with the title below in a cursive font. After noticing all of this, I wasn't the only one left wondering: is Amazon trying to cash in on Peele's success? Or is this an early sign that "race horror" is on the way to becoming its own genre?
All things considered, in its publicity stage,Them has trodden the line between an original piece of work and a "mockbuster". In the same way that Shark Tale copied Finding Nemo, and The Wild exploited the success of Madagascar, it feels as if Amazon Studios is trying to piggyback off Peele's work – maybe even hoping that audiences will confuse the two, or assume Them is some sort of Us prequel. In the big business of film and television, this sort of pattern is a tale as old as time – if audiences like a certain movie, studios will give us something similar. But considering Peele's work tackles the incredibly sensitive theme of racism in such a smart and delicate way, we have to ask ourselves whether we want to create a whole new market for subpar copycat versions. After all, there are some huge risks to handling stories about Black pain clumsily.
The genre of Black "trauma porn" is already overdone. As writer Shakeena Johnson wrote for The Independent last year, "tales of Black pain are a dime a dozen". The fetishisation of Black trauma narratives in cinema spans stories of racist policing like When They See Us and The Hate U Give (both released in the wake of the Black Lives Matter movement), stories about slavery like 12 Years a Slave and Django Unchained, and indeed narratives about racism in pre-civil rights era America, like The Help, Green Book, and now Them. Many of these films and TV shows have been criticised for prioritising the "white gaze" over the perspectives of Black audiences – perhaps most notably Green Book, which provoked a widespread backlash when it won the Oscar for Best Picture in 2019. 
Black trauma stories, whether presented in the form of feel-good comedy or horror, also overwhelmingly flatten and caricature the issue of racism – presenting the phenomenon as something that exclusively manifests in either Ku Klux Klan members, police officers who shoot Black people, or, in the case of Them, segregationists – rather than something that is still widespread. This just serves to reassure audience members who want to see racism for the purpose of being entertained or emotionally moved, but don't want to interrogate the ways that it manifests in everyday society. 
When I tuned into Them, which was released on Amazon Prime yesterday, this was the feeling that I got. Once you settle into the story of the unfortunate Emory family – who, upon moving into an all-white 1950s Compton, are the targets of harassment not only by their neighbours but also by supernatural forces – you eventually become immersed enough to push aside the borderline plagiaristic advertising of the show. But what is harder to ignore is the emotionally taxing nature of the "racial horror" that the series hinges on. There are moments that are incredibly difficult to watch, with very little payoff. 
In episode one, there is a scene in which Ruby (Wright Joseph) attempts to participate in class on her first day of school, only to be greeted by a chorus of monkey noises from her classmates. I'm not talking about a few people – but a classroom full of teenagers making grotesque and guttural screams at a Black girl who is just trying to answer the teacher's question. The scene is excruciating, lingering for what feels like an eternity. It also marks the beginning of the relentless racial trauma that the characters face throughout the rest of the show: in the form of white people standing outside the Emorys' house and playing the "Bongo, Bongo, Bongo" song, minstrel shows, children peeing on the family's laundry, Black voodoo dolls scattered on their front yard, and (without revealing too many spoilers) certain characters being tortured and murdered. At times – for example when the entire head of the youngest daughter, Gracie (Melanie Hurd), catches on fire during a hair straightening session – the racial symbolism feels far too crude, and a smattering of N-words and blackface are used as cheap shock value rather than to make genuine social commentary.
Unfortunately, the prevailing message that emerges from the 10 instalments of Black pain and suffering is: racism is bad. And of course, it is – and it's important that we understand how it has manifested throughout much of recent history. The problem for me, as a Black person, is that I already know about it. As journalist Aisha Harris wrote for NPR: "Them suffers from the same predicament that has arisen in the wake of Black people becoming hashtags in death – the public knows far more about their last moments on Earth than all the moments that made up their life before." As a result of this problem, there were a number of moments where I simply felt like turning off the TV. I wondered: Do we ever catch a break? Can we, for once, watch a show that captures our joy as well as our terror?
 In all honesty, I'm starting to believe that Black people's exasperation is a natural by-product of these trauma stories – a sacrifice that producers are willing to make, as long as they still get watched by everyone else. Racism is a weighty and complex topic to tackle when it comes to entertainment, but because of its present "timeliness" and profitability, it feels as if it isn't being treated as such. Jordan Peele, who is shrewd, nuanced and always makes sure to subvert the white gaze, can perhaps get away with it. But I don't think "race horror" is a mass-produced genre that any of us need, at least while racism remains a social reality for so many of us.
Register for free to continue reading
Registration is a free and easy way to support our truly independent journalism
By registering, you will also enjoy limited access to Premium articles, exclusive newsletters, commenting, and virtual events with our leading journalists
Already have an account? sign in
Register for free to continue reading
Registration is a free and easy way to support our truly independent journalism
By registering, you will also enjoy limited access to Premium articles, exclusive newsletters, commenting, and virtual events with our leading journalists
Already have an account? sign in