American Horror Story season 6: All teasers hinting the new theme (or not)
Which one of these teasers is the real thing - and which are the red herrings?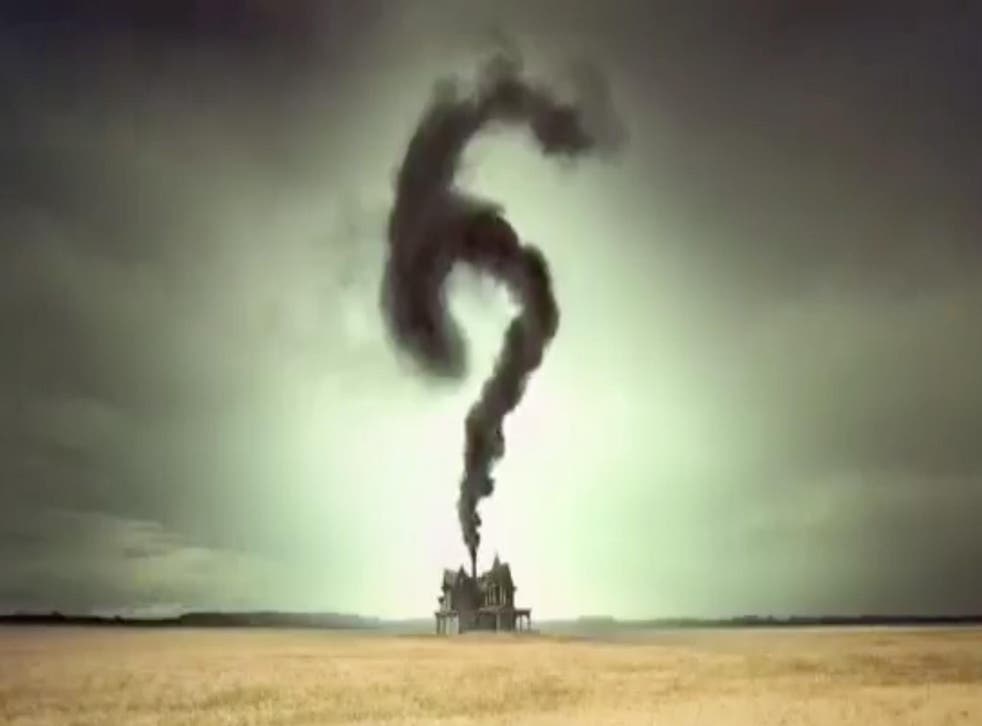 UPDATE: Even after admitting the new theme won't be revealed until the show's season premiere, and that all of the teasers seen so far were 'misdirects' apart from one; new clips just seem to keep rolling in.
First up, a pretty disturbing creature crawling along the train tracks. Could this be the real hint? Or another fake?

Next up, some more creepy treats.

It's an essential part of the process of being an American Horror Story fan these days, the agonising months of waiting and of endlessly guessing.
Ryan Murphy's always had a talent for holding back on announcing the theme of each season of the anthology show until the perfect moment; always after releasing a whole series of intriguing images and clips to whet the ravenous appetites of fans.
Now it's come time to launch fully into the build-up to season 6, after offering a first image in the form of a 6 intermingled with a mysterious question mark. The 6 and question mark now continue into the show's first teaser clips, which each offer a bounty of new hints and misdirections about the upcoming theme.
FX first released the teasers on Snpachat and, later, on Instagram. The very first shows a baby's crib - the Antichrist of season 1? - whose mobile is a series of dangerous farm tools, with the two forming the question mark and 6. Suddenly, a demonic hand reaches up and grabs a hanging knife.
Then, a woman running down a metal staircase, as hands attempt - and then successfully attempt - to reach out and grab her ankle. Next, a millipede scuttling across a woman's scalp, who has luminous green eyes and white blonde hair, presumably a hint as to Lady Gaga's role.
Next, a sunrise over a hillcrest accompanies eerie music, as a family walk slowly towards the camera to reveal shining orbs for eyes; followed by a man having the question mark and 6 stapled into his scalp.
Finally, a remote farmhouse billowing black smoke in the shape of the 6, while the distant sounds of revving chainsaws and a woman's screams instantly suggest a connection to the iconic Texas Chainsaw Massacre film.
Deeply intriguing, as usual. There's plenty to be theorised from the footage offered, though it's clear the show will be taking on a rural, dustbowl Americana-style of setting for at least a portion of its episodes; though that offers up plenty of potential ideas.
Could this see a return of the Antichrist in season 1; the child of Vivien Harmon (Connie Britton), whose narrative seemed far from over, last seen being whisked away by Constance Langdon (Jessica Lange) after murdering his own nanny? Is the question mark a reference to the hysteria around cults and superstitions which blossomed during the mid-twentieth century? Is the Texas Chainsaw reference hinting to its real-life inspiration Ed Gein, who in turn inspired season 2's Bloody Face?
American Horror Story season 6 premieres 14 September on FX.
Register for free to continue reading
Registration is a free and easy way to support our truly independent journalism
By registering, you will also enjoy limited access to Premium articles, exclusive newsletters, commenting, and virtual events with our leading journalists
Already have an account? sign in
Register for free to continue reading
Registration is a free and easy way to support our truly independent journalism
By registering, you will also enjoy limited access to Premium articles, exclusive newsletters, commenting, and virtual events with our leading journalists
Already have an account? sign in
Join our new commenting forum
Join thought-provoking conversations, follow other Independent readers and see their replies