Game of Thrones: Red Wedding perpetrator Walder Frey will return, David Bradley confirms
Bradley said his depraved character will be coming back, but couldn't confirm when
Daisy Wyatt
Monday 10 August 2015 10:00 Comments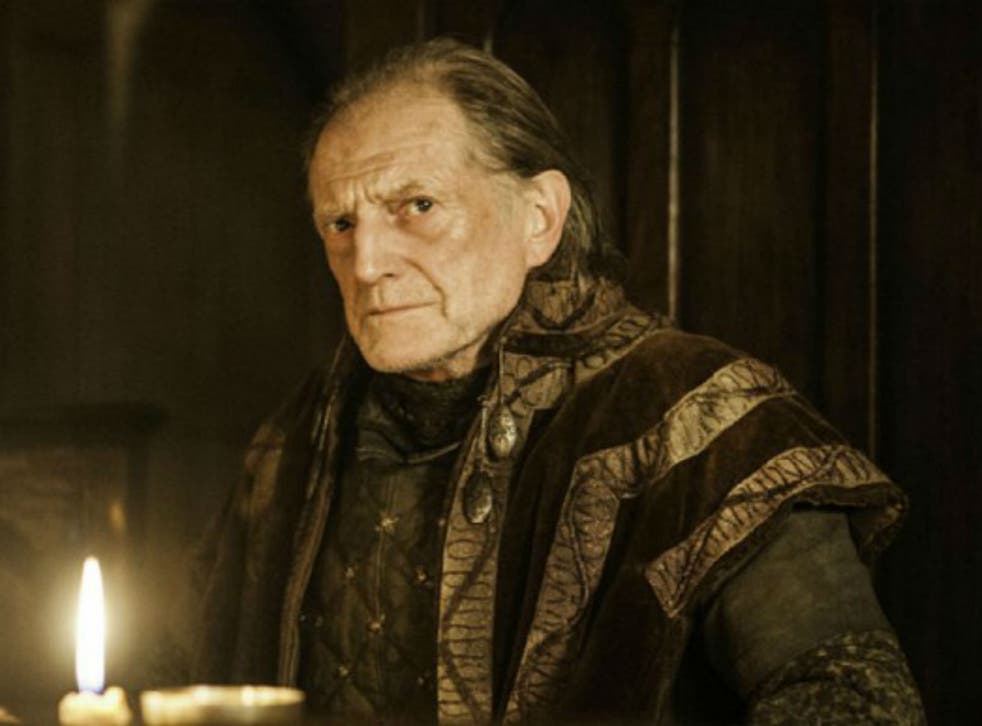 While the Game of Thrones rumour mill is still in overdrive about the sighting of Kit Harington on the set of season six, another actor has confirmed his character will be making a comeback.
One of the series' most hated characters and perpetrator of The Red Wedding, Walder Frey, will be reappearing in Game of Thrones - but whether he will be getting his comeuppance anytime soon is not yet known.
Actor David Bradley (Broadchurch, Harry Potter), who plays the depraved, lecherous old man, could not confirm whether Frey will be returning in the next season, but said he will be making a reappearance at some point.
"He will be coming back, but I can't say when. I can't really say because things are in a delicate situation," he told Zap2it.
Shocking Game of Thrones scenes

Show all 11
"I do look forward to it, because I do love playing someone so irredeemable. I'm afraid he makes me laugh because he' so appalling that there's a kind of dark humour in there somewhere."
While Frey only appeared in three episodes, the last being the infamous "The Rain of Castamere", he is still well-remembered among Game of Thrones fans.
Frey's last appearance in George RR Martin's books was also at the same time of The Red Wedding, suggesting the HBO series will extrapolate well beyond the Song of Ice and Fire novels.
Register for free to continue reading
Registration is a free and easy way to support our truly independent journalism
By registering, you will also enjoy limited access to Premium articles, exclusive newsletters, commenting, and virtual events with our leading journalists
Already have an account? sign in
Join our new commenting forum
Join thought-provoking conversations, follow other Independent readers and see their replies