Game of Thrones season 7: Who will Daenerys marry in Westeros? From Jon Snow to Jaime Lannister
Or perhaps Robert Arryn?
Jack Shepherd
Thursday 30 June 2016 11:18 Comments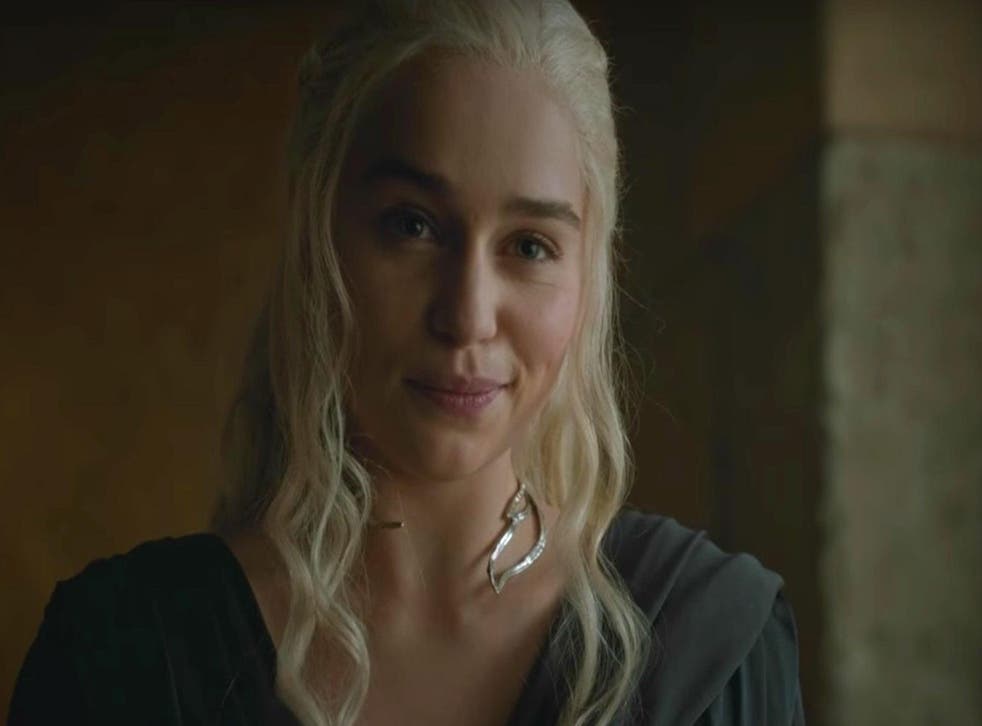 Season six of Game of Thrones came to an end with quite the finale, with some major plot shifts: Cersei is sitting on the Iron Throne, Jon Snow is King in the North, Arya ticked a name off her list, and Daenerys is heading to Westeros with Tyrion.
The latter point is, by all accounts, the beginning of the end. Since the first season, we've been waiting for the Mother of Dragons to step foot in her home country and now it's finally happened, putting in motion the final events of A Song of Ice and Fire.
It comes at a cost; now Dany is in the 'great game', she must relinquish her human passions, including her love for Daario who has been left in charge of the newly renamed Bay of Dragons.
Her reasoning? So she is free to marry another when she finally reaches Westeros (because marriage is basically the only way to show another person you're on their side).
So, who will she marry? To put it bluntly, there aren't many powerful men left is Westeros, giving us very few possibilities. But, in true Game of Thrones tin-foil hat style, let's analyse them all anyway, shall we?
Jon Snow
The most obvious contender for the Targaryen's hand in marriage. As the current King of the North, he's one of the few men who actually has any authority, controlling an army of Stark loyalists who will fight to the bitter end.
One problem, however: as we found out in episode 10, Dany is Jon's aunt. While that's not exactly a big issue in this world, it could be a little odd for the pair, and being family means you're already loyal to each other to some degree. How and when they find out they're related is another question entirely.
Jaime Lannister
Once in King's Landing, Dany is going to need some allies, and who better to turn into your allies than your enemies? If Cersei does perish for some reason, perhaps by marrying the Lannister she could form bonds with the family.
There are a couple of problems here as well. Not only did Jaime killer The Mad King, who just happens to be Danny's father, Jaime has also been stripped of his title by the previous King, making him less than favourable among his own family. Cersei could reinstate him, but at the moment, marrying Jaime isn't the best move.
Access unlimited streaming of movies and TV shows with Amazon Prime Video Sign up now for a 30-day free trial
Sign up
Robert Arryn
As Lord of the Eyrie, Defender of the Vale, and Warden of the East, the naive Lord is actually a reasonably responsible choice in partner. Commanding a sturdy army, he would likely be an asset to Dany and prove handy in controlling the East.
However, not only is he undeniably annoying, the immature teenager is also easily manipulated by Littlefinger, which could prove something of a downfall. Which brings us nicely onto…
Littlefinger
While Littlefinger is currently not in any real position of power, his manipulation skills will likely find him in one soon enough.
Having told Sansa he foresees himself on the Iron Throne, surely he would do everything in his power to get there; a marriage to Dany serving as a way to propel him to the top. Realistically, though, how long will Littlefinger really last next season? Unless Littlefinger's fortunes improve drastically, it's unlikely this will happen.
Euron Greyjoy
Despite Yara making a wonderful speech about Euron being somewhat untrustworthy and selfish, marriage may prove useful for Dany as she would acquire the ships currently being built on the Iron Islands.
Of course, this would lead to conflict with Yara, who Dany has given her word to, making this quite unlikely. However, if the King of the Isles can control Dragons with his rumoured horn, perhaps she will have no choice in the matter.
In memoriam: Every major character who died in Game of Thrones season 6

Show all 34
In conclusion, each person has a great many downsides and, in the end, it really does seem unlikely Dany will marry anyone (or remain married to anyone for very long).
Plus, with the White Walkers coming, it's likely everyone will unite to defeat the army of the undead anyway, rather than continuously fighting each other and worrying about marriage. After all, Winter is here.
Register for free to continue reading
Registration is a free and easy way to support our truly independent journalism
By registering, you will also enjoy limited access to Premium articles, exclusive newsletters, commenting, and virtual events with our leading journalists
Already have an account? sign in
Join our new commenting forum
Join thought-provoking conversations, follow other Independent readers and see their replies