'Our Dementia Choir with Vicky McClure' review: Heartbreaking documentary will leave you in tears
McClure is an engaging, life-affirming and down-to-earth personality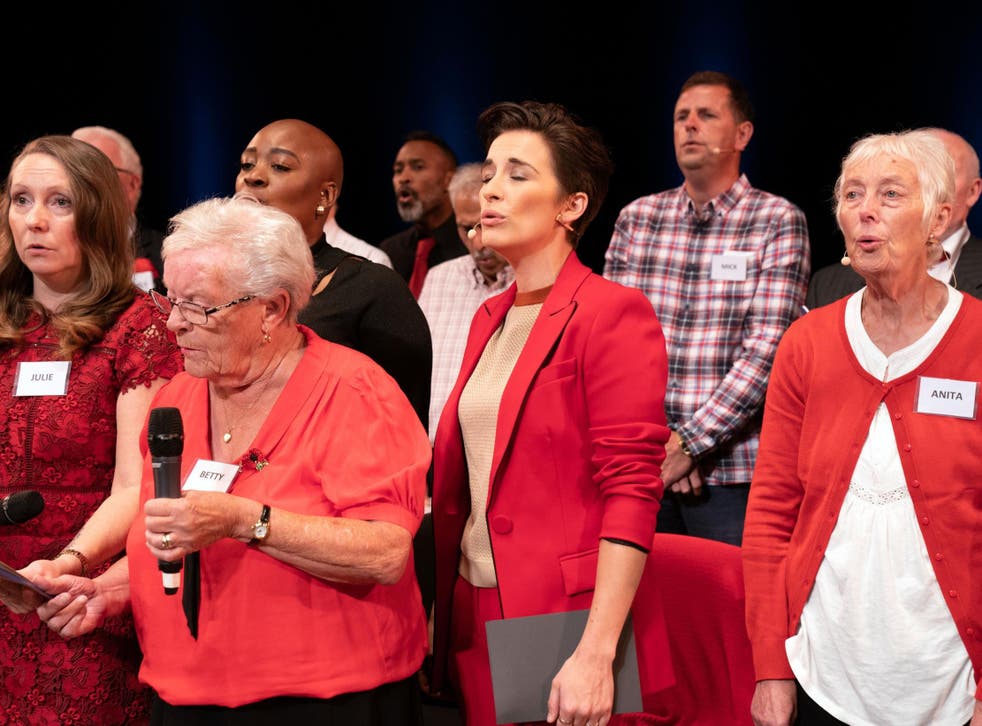 "I keep forgetting I've got dementia." Maybe I am not supposed to feel pity for her, or be amused by the obvious irony, but when 82-year-old Betty tells us about her condition in Our Dementia Choir with Vicky McClure, it breaks one's heart. Indeed, the cumulative shared pain and emotional trauma of this documentary is such that I ended up pretty much weeping all the way through for people I have never even met.
Dementia is just the saddest thing imaginable, and seeing people who have got it singing "Stand By Me", a tearjerker even in the hands of a bad club singer, is too much. You will have to have had your tear ducts surgically removed not to respond – or work for one of those firms that does the disability assessments for the Department for Work and Pensions. It is gruelling and if, like me, you are on the wrong end of middle age, actually quite terrifying. Emmerdale would be much the better choice of viewing for people with hypochondria tendencies.
This is true despite the ubiquitous presence of Vicky McClure, an engaging, life-affirming, uplifting but down to earth sort of personality. As a well-known actor, primarily for her work in Line of Duty and the This is England series of films, she is using her fame to good purpose. Having watched her nana Iris decline after the onset of Alzheimer's a few years ago, she wants to help. In particular, she is working with medical researchers at the University of Nottingham and University College London to test the impact music has on people living with dementia. As a Nottingham girl, she's stayed close to her east midlands roots, and her task is to recruit a team of singers to appear at a huge concert at the Royal Albert Hall.
30 TV shows that jumped the shark

Show all 30
Hence Our Dementia Choir, a group of 20 people who have dementia. There are about 100 different forms of dementia – so not just Alzheimer's or vascular dementia, the two types most people are familiar with – and it can strike from any age. Thus the choir has quite a varied membership. The one thing they all have in common is that their condition is progressive, incurable and cruel. And, I have to add, somewhat selfishly, extremely painful to observe, even in this benign setting.
In that sense, the story of the dementia choir doesn't work that well, because the content is, inevitably, so distressing and will indeed make some people flick over to Emmerdale, or reach for the iPad. If you can stick with it, you will surely learn more about dementia and why it doesn't actually mean the end of life, though it may look and feel that way for all concerned. If you think dementia is just suffered by old people (which I have decided is an infinitely adjustable concept), you are mistaken. Daniel, for example, is a former drummer who was diagnosed with a rare genetic form of the disease, aged 31. Given a drum set and a sort of swimming cap with a mass of electrodes attached, he is placed next to an able-bodied musician with a bongo. Gradually, Daniel manages to start joining in, reviving an ability thought lost. The same goes for Rae, a retired music teacher, who finds herself accompanying the choir on piano, an instrument she'd not played for about 10 years. This is not, in any sense, a reversal of their conditions but is, certainly, something positive.
I am especially moved by the story of Chris and Jane. At 67, Chris is physically mostly in good shape, and even has an enviable head of hair, but his frontotemporal dementia, an uncommon type, has removed the normal inhibitions about revealing private and intimate details. Thus, Jane has to grin and bear it while he cheerfully regales the BBC1 audience with the details of their earlier experiments with "marital aids" (it must have been a good few years ago to be termed thus), and an affair he once had. As Jane says, she is saying a long goodbye to her husband.
Next week we will see how well the choir has done, and how their performance turned out. I have no doubt that it will be a valuable experience, medically and personally, for all concerned, and well worth doing. Neither do I think the programmes will do anything but good for public understanding and fundraising. Not least, it will be of huge value to people who want to prove that "life doesn't end with a diagnosis" and who find that they "stop feeling useful", in their own words. Performing with the Kingdom Church choir, who sang for Harry and Meghan's wedding, is something very special. Still, though, as Vicky herself says: "The hardest part is that some of them just won't remember it."
The final episode of Our Dementia Choir with Vicky McClure airs 9 May at 8pm
Join our new commenting forum
Join thought-provoking conversations, follow other Independent readers and see their replies