Japan sets a date for historic wedding between Princess Mako and 'ordinary' college boyfriend
Princess will renounce her title after marrying Kei Komuro
Stuti Mishra
Friday 01 October 2021 14:33 Comments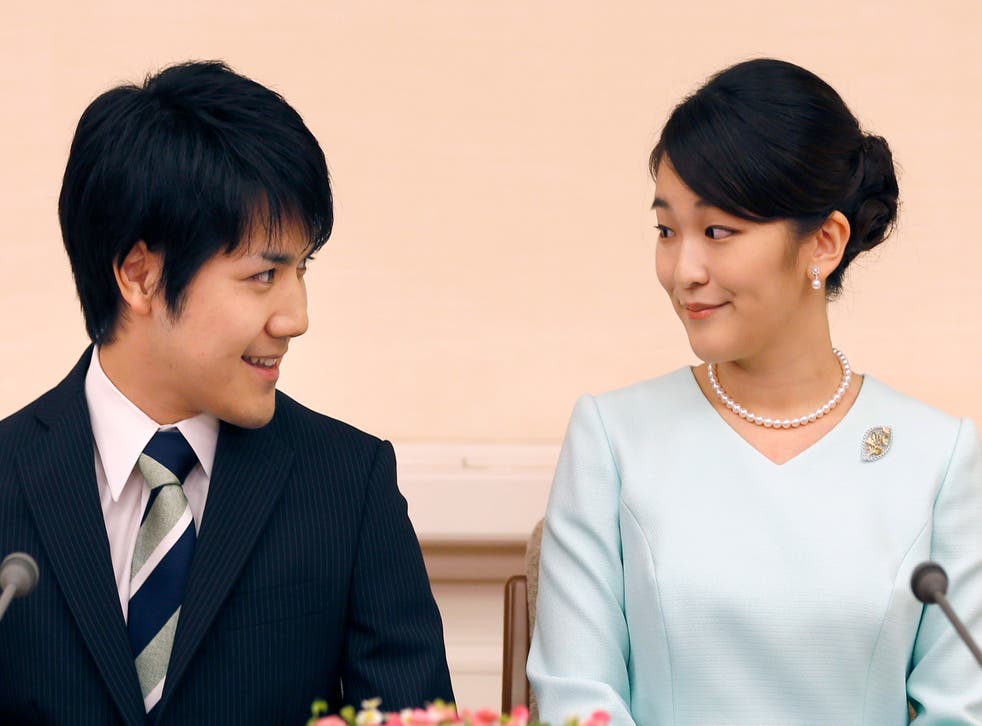 Japan's princess Mako is set to marry her fiancé of five years on 26 October, the royal family announced on Friday.
Princess Mako, the niece of Japan's Emperor Naruhito, met her fiancé Kei Komuro, a commoner, in Tokyo's International Christian University. They announced their engagement in 2017, and have come under intense scrutiny and public disapproval since then.
The wedding will not have any royal ceremonies. After the wedding, Mako will be stripped of her royal status. Amid the public furore, she will also forgo a one-off payment worth 150 million yen (at least £985,000) to which she would normally be entitled in leaving the royal family.
Soon after the couple announced their engagement in 2017, a media frenzy began to find out more about Mr Kei and assess if he was fit to marry a daughter of Japan's royal house.
Some reports claimed that Mr Kei's mother owed $36,000 (£25,832) to her former fiancé — part of which was reportedly used for his education. Mr Kei's attempt to explain what happened, that the dispute centred on whether the money was a gift or a loan, did not help matters and tabloid and social media continued intensive criticism ranging from speculation the 29-year old law student was in fact a gold digger, to his hair style, worn in a ponytail.
The wedding, which was originally scheduled for 2018, had to be pushed back.
Amid the intense public scrutiny, the royal family has offered little support. Princes Mako's father and Japan's Crown Prince Fumihito, the younger brother of Emperor Naruhito, has said he "approves" of his daughter's marriage to her university boyfriend, but added that his mother must resolve her debt.
The princess has been diagnosed with post-traumatic stress disorder because of the pressure on the couple, Japan's public broadcaster NHK reported.
Mr Kei, who studied law at Fordham University in New York city currently works at a law firm. The couple will live in the US after their wedding - attracting parallels with Harry and Meghan.
Register for free to continue reading
Registration is a free and easy way to support our truly independent journalism
By registering, you will also enjoy limited access to Premium articles, exclusive newsletters, commenting, and virtual events with our leading journalists
Already have an account? sign in
Join our new commenting forum
Join thought-provoking conversations, follow other Independent readers and see their replies