Myanmar protester death toll tops 500 as 'garbage' protests launched
Fourteen civilians were killed on Monday, claim activists, as the situation in Myanmar worsened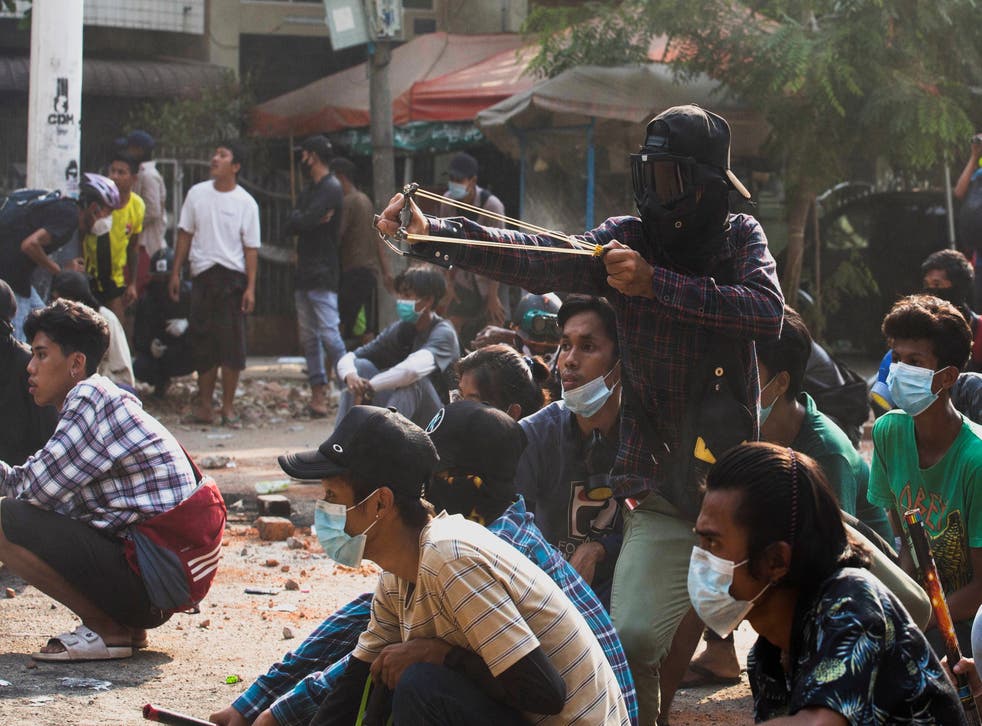 Leer en Español
The streets of Myanmar's main city piled up with rubbish after protestors launched a 'garbage strike', a new form of civil disobedience against the military takeover.
Residents of Yangon threw bags on the streets in defiance of the calls by the authorities to dispose of rubbish properly. More than 500 people have been killed in the two months since massive protests erupted in the country.
On Monday alone, 14 civilians were killed. Advocacy group, the Assistance Association for Political Prisoners (AAPP), said the latest deaths brought the total tally of killed protestors in the country to 512.
Myanmar has witnessed massive protests to oppose the removal of an elected government led by Aung San Suu Kyi and the return of military rule for two months, "after decades of tentative steps towards democracy", AAPP activists have said.
Local news reported that security forces used "riot weapons" to disperse crowds in Yangon overnight. Reuters quoted one person saying the armed forces kept shooting "all night". A "badly burnt body" was also found on the streets in the morning that residents said was taken away by the military.
The rubbish was thrown on to key street intersections on Tuesday. "This garbage strike is a strike to oppose the junta," a poster on social media read.
Read more:
Local reports said that neither police nor the military spokespeople commented on the new tactic and the rising toll.
Antonio Guterres, the UN Secretary-General has urged Myanmar's generals to "stop the killings and repression of demonstrations".
An open letter by the General Strike Committee of Nationalities, which is one of the main groups behind the Myanmar protests, urged ethnic minority forces to "help those standing up to the unfair oppression of the military". Activists have urged the military to stop killing people.
At least three groups that include the Myanmar National Democratic Alliance Army, the Arakan Army and Ta'ang National Liberation Army — theGuardian reported — has warned that if the military does not stop the killing of protestors, they "will cooperate with all nationalities who are joining Myanmar's spring revolution in terms of self-defence".
Meanwhile, Nobel laureate Ms Suu Kyi remains in detention at an undisclosed location. Key party members are also in custody.
The US is already suspending all trade engagement with Myanmar until democracy is restored, the US trade representative Katherine Tai told the media. Reports said that Myanmar military generals remain unaffected in spite of the foreign sanctions and criticism from across the globe.
The military in Myanmar has claimed that the elections held in November in the country were "fraudulent" and seized power alleging that it is "the only institution capable of preserving national unity" in the country.
Register for free to continue reading
Registration is a free and easy way to support our truly independent journalism
By registering, you will also enjoy limited access to Premium articles, exclusive newsletters, commenting, and virtual events with our leading journalists
Already have an account? sign in
Register for free to continue reading
Registration is a free and easy way to support our truly independent journalism
By registering, you will also enjoy limited access to Premium articles, exclusive newsletters, commenting, and virtual events with our leading journalists
Already have an account? sign in
Join our new commenting forum
Join thought-provoking conversations, follow other Independent readers and see their replies