Beijing sandstorm makes sun appear blue and sky yellow
Beijing is suffering its second sandstorm in two weeks, due to winds from drought-hit Mongolia and northwestern China
Ella Glover
Monday 29 March 2021 20:34 Comments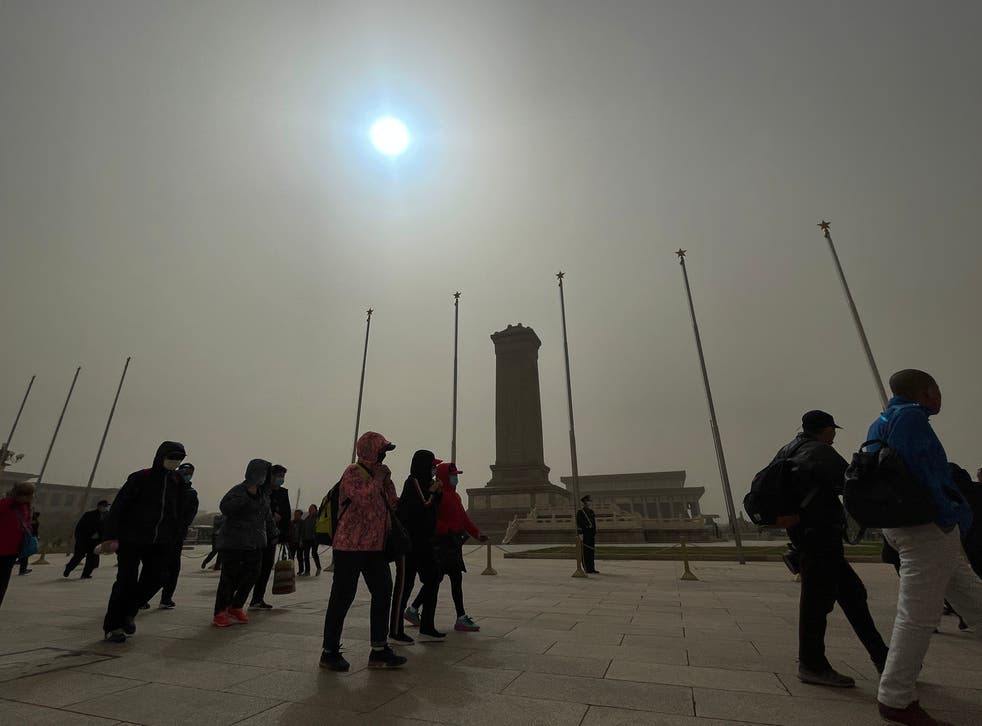 Beijing is suffering its second sandstorm in two weeks, turning the sky yellow and making the sun appear blue and triggering weather warnings.
The unusual weather in the Chinese capital is due to winds from drought-hit Mongolia and northwestern China.
Images on social media show a Mars-like blue sun shining through the storm.
The phenomenon is caused by Mie scattering — a scattering pattern that occurs when there are fine particles such as sand or water droplets that absorb red light with a longer wavelength, giving the sun a blueish hue.
Since Sunday, visibility in Beijing has been low, with the tops of some skyscrapers obscured by the storm. 
Read more:
Beijing's official air quality index reached a maximum level of 500 on Sunday morning, with floating particles known as PM10 surpassing 2,000 micrograms per cubic metre in some districts.
Readings of smaller PM2.5 particles were above 300 micrograms per cubic metre, far higher than China's standard of 35 micrograms.
This is the second sandstorm in the city since mid-March. The first was the most severe in years, according to residents, and turned the sky orange. 
The meteorological office has said Beijing might be hit with more sandstorms throughout April, due to the favourable weather conditions. 
Register for free to continue reading
Registration is a free and easy way to support our truly independent journalism
By registering, you will also enjoy limited access to Premium articles, exclusive newsletters, commenting, and virtual events with our leading journalists
Already have an account? sign in
Register for free to continue reading
Registration is a free and easy way to support our truly independent journalism
By registering, you will also enjoy limited access to Premium articles, exclusive newsletters, commenting, and virtual events with our leading journalists
Already have an account? sign in
Join our new commenting forum
Join thought-provoking conversations, follow other Independent readers and see their replies