Malaysia is now seeking Interpol's help in tracking down comedian who cracked MH370 joke
Comedian to be investigated under Malaysian laws of provocation, incitement, and publication of offensive online content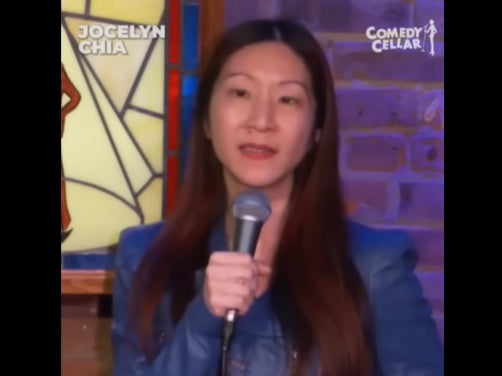 Malaysia is seeking assistance from the Interpol to hunt down a New-York based comedian who cracked a joke about the missing Malaysia Airlines Flight MH370.
Jocelyn Chia, a lawyer-turned-comedian in the US who grew up in Singapore, is being investigated for her jokes about the plane that went missing nine years ago with 239 passengers onboard during a live set.
Her skit, performed at a comedy club in New York, was widely criticised in Malaysia for being "insensitive and offensive".
Malaysia's national police chief Acryl Sani Abdullah Sanu said on Tuesday that they will send a formal request to Interpol to assist with her location and full identity for investigations, state news agency Bernama reported.
Her comments will be investigated under Malaysian laws related to provocation, incitement, and publication of offensive online content, he said.
The MH370 went missing in March 2014 while en route from Kuala Lumpur, Malaysia, to Beijing, China. The disappearance of MH370 with 227 passengers and 12 crew members on board has remained one of the most puzzling aviation mysteries to date.
Despite an extensive four-year search in the Indian Ocean involving multiple countries, no trace of the aircraft was found. On the 9th anniversary of the disappearance of the plane, Netflix released a three-part docuseries MH370: The Plane that Disappeared.
On Wednesday, the comedian took a jibe at Malaysian authorities, suggesting that the controversy has only made her famous with a string of interviews with major media companies in the aftermath of it.
"So actually Malaysia, you can keep going," she tweeted.
Interpol, the world's international police organisation with 195 member countries, is yet to issue a public response to the request.
If Interpol agrees, the agency can issue a "Red Notice", alerting the member countries to locate and provisionally arrest her before extradition.
It began after Ms Chia posted an 89-second clip of her comedy act at Manhattan's Comedy Cellar venue on her TikTok and Instagram pages.
The video of the skit went viral and garnered the attention of millions of people, including Malaysian and Singaporean authorities.
The joke touched upon the historical rivalry between Singapore and Malaysia which were once part of the same country.
She said Singapore has become a "first-world country" while Malaysia remained "developing", adding that Malaysians cannot visit Singapore because their "aeroplanes cannot fly" in reference to the 2014 crash
"What? Malaysian Airlines' plane going missing not funny huh?" Ms Chia asked the audience after getting mixed reactions. "This joke kills in Singapore."
Singapore's foreign affairs minister Vivian Balakrishnan on Thursday apologised for offence and hurt caused to Malaysians over Ms Chia's joke.
Vanu Gopala Menon, Singapore's high commissioner to Malaysia also apologised "to all Malaysians for her hurtful remarks".
Mr Menon called her remarks about the missing airliner as well as other comments about Malaysia "gratuitously offensive".
Malaysian foreign minister Zambry Abdul Kadir said Ms Chia's act "showed a total lack of sensitivity and empathy" toward Malaysians and the MH370 victims' families.
"This video also clearly depicts behaviour that is contrary to the values of Asian countries that are known for their manners and morals."
In an interview with CNN on Sunday, Ms Chia said she stood by her jokes despite the controversy, but that the short clips on social media took them out of context.
"Upon reflection I do see that having this as a clip that gets viewed out of a comedy club context was risky," Ms Chia was reported as saying.
Malaysia's apparent crackdown on the comedian comes amid concerns over the country's efforts to suppress free speech.
Last year, a comedy club was shut down following allegations that it hosted comics who touched on sensitive racial and religious issues.
Join our commenting forum
Join thought-provoking conversations, follow other Independent readers and see their replies