The Independent's journalism is supported by our readers. When you purchase through links on our site, we may earn commission.
Black Friday shopping could make Amazon warehouses 'hotspots' for coronavirus
'Aggressive productivity targets mean social distancing rules cannot be effectively implemented', Amnesty International warns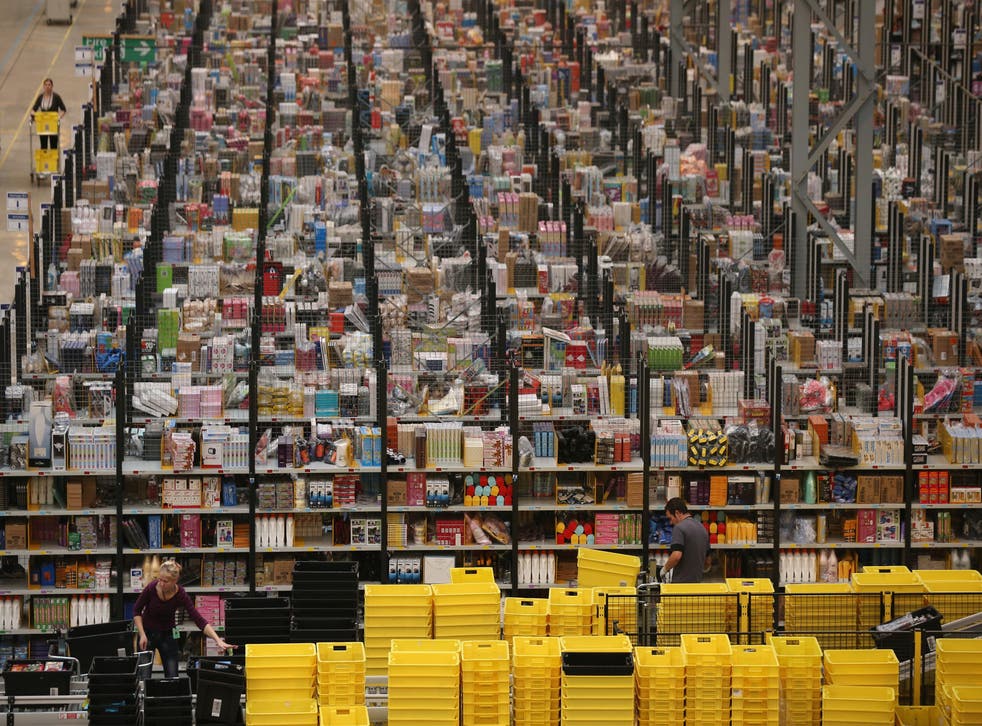 Workers at Amazon warehouses could be at risk of contracting Covid-19 during the Black Friday rush, according to a new report from Amnesty International.
The report, which has looked at the treatment of Amazon employees in the UK, France, Poland, and the US, claims that the shopping giant has used surveillance technologies to track its workers and has failed to engage on vital health and safety issues.
It says that in the UK, Amazon took action to stop unions organising in order to hinder their ability to bargain with their employer, with human resources staff reportedly confiscating and destroying leaflets as well as monitoring the social media profiles of union members.
GMB Union members, when talking with organisers, fear being "watched in the room, whether there is no camera" and are under "difficult" pressure, the report documents.
More than 600 people working in Amazon warehouses have also been seriously injured or narrowly avoided an accident in the last three years, an investigation found, and is an issue "issues consistently raised by GMB", Amnesty says.
"We are gravely concerned that the Black Friday rush could turn Amazon warehouses into hotspots for infection", Kate Allen, Amnesty International's UK Director, said.
"Despite known outbreaks of Covid-19, workers are being pressured and frightened into going into work in unsafe conditions, and unions are being intimidated and prevented from helping.
"Aggressive productivity targets mean social distancing rules cannot be effectively implemented, putting the lives of those working in Amazon warehouses at serious risk.
"It is time Amazon realised that the consumer-friendly image it presents to the world is out of kilter with its appalling treatment of workers and with what its customers would expect from any responsible company."
In the United States, Amazon has been accused of firing individuals who raise concerns about the health and safety of workers.
During the coronavirus pandemic, a number of employees were fired after they circulated a petition about health risks for Amazon workers. Amazon claimed that it dismissed them for "repeatedly violating internal policies".
Amazon vice president Tim Bray subsequently resigned in response to the company sacking Covid-19 whistleblowers and protesters.
Amazon also caused controversy over its treatment of Christian Smalls, who said he was fired for raising concerns about staff falling sick yet was ignored. Amazon then planned to smear Mr Smalls in an effort to limit bad publicity, claiming that he is "not smart, or articulate" in an attempt to make him the face of the entire union/organising movement." 
Unions in Poland and France also called on Amazon to take action to improve health and safety at the beginning of the pandemic, arguing that social distancing measures and other precautions were inadequate.
"There have been longstanding concerns around health and safety, often linked to the pressure Amazon places on workers to meet harsh productivity quotas", the report states.
"In addition to these continuing concerns, workers and union representatives interviewed by Amnesty International have also said that Amazon has not sufficiently prioritized procedures to control the spread of Covid-19 across all of its facilities worldwide, notably during the early stages of the pandemic."
As well as health issues, Amnesty International's report raises concerns about Amazon's use of technology to monitor its workers.
This includes reports of "leaked internal Amazon documents showed that the company had been secretly monitoring and analysing Amazon Flex drivers' private Facebook groups, including to track plans for strike actions or protests" from September 2020, a leaked internal memo that shows Amazon's use of geoSPatial Operating Console technology to monitor union-related issues, and reportedly using heatmaps in Whole Food stores – which is owned by Amazon – to track which stores might unionise. 
Recently, Amazon's Global Security Operations Center was also found to be receiving updates on labour-organising activities at warehouses. These details include the exact date, time, location, the source who reported the action, and the number of participants at an event.
"Like any other responsible business, we maintain a level of security within our operations to help keep our employees, buildings, and inventory safe," Amazon said in response.
"That includes having an internal investigations team who work with law enforcement agencies as appropriate, and everything we do is in line with local laws and conducted with the full knowledge and support of local authorities. Any attempt to sensationalize these activities or suggest we're doing something unusual or wrong is irresponsible and incorrect."
Amnesty International's report concludes that Amazon's approach to its workers is "difficult to square with Amazon's commitments to respect international human rights standards" and that "longstanding concerns around health and safety, often linked to the pressure Amazon places on workers to meet harsh productivity quotas" were made worse during the coronavirus pandemic. Although Amazon suspended productivity targets in March 2020, by October it had reintroduced them for workers.
In a series of suggestions, Amnesty International also recommends that Amazon should end all collection of data on employees that has been gathered without their explicit consent, guarantee hazard pay to workers who face significant exposure to Covid-19 due to their working conditions, and ensure that employees' right to free expression and privacy are respected.
"All through the pandemic, Amazon workers have been risking their health and lives to ensure essential goods are delivered to our doorsteps, helping Amazon achieve record profits. In this context, it is alarming that Amazon has treated attempts to unionise with such hostility – as one of the most powerful companies in the world, it should know better." Barbora Černušáková, Amnesty International's Researcher on Economic, Social and Cultural Rights, said.
"As Amazon approaches its busiest time of year with Black Friday and Christmas, we are urging the company to respect the human rights of its workers and comply with international labour standards, which state clearly that workers have a right to unionise. Amazon must refrain from breaching its workers' rights to privacy, and stop treating union activity as a threat."
Amazon said in a statement to The Independent that its "provides some of the most advanced workplaces of their kind in the world, with industry-leading pay, processes and systems to ensure the wellbeing and safety of all employees."
"We respect our employees' right to join, form or not to join a labour union or other lawful organisation of their own selection, without fear of retaliation, intimidation or harassment. Across Amazon, including in our operations facilities, we place enormous value on having daily conversations with each associate and work to make sure direct engagement with our employees is a strong part of our work culture."
Register for free to continue reading
Registration is a free and easy way to support our truly independent journalism
By registering, you will also enjoy limited access to Premium articles, exclusive newsletters, commenting, and virtual events with our leading journalists
Already have an account? sign in
Register for free to continue reading
Registration is a free and easy way to support our truly independent journalism
By registering, you will also enjoy limited access to Premium articles, exclusive newsletters, commenting, and virtual events with our leading journalists
Already have an account? sign in
Join our new commenting forum
Join thought-provoking conversations, follow other Independent readers and see their replies