Donald Trump's first 100 days catastrophic for the environment, say climate experts
'We are going to fight him every step of the way,' says two-million-members-strong Sierra Club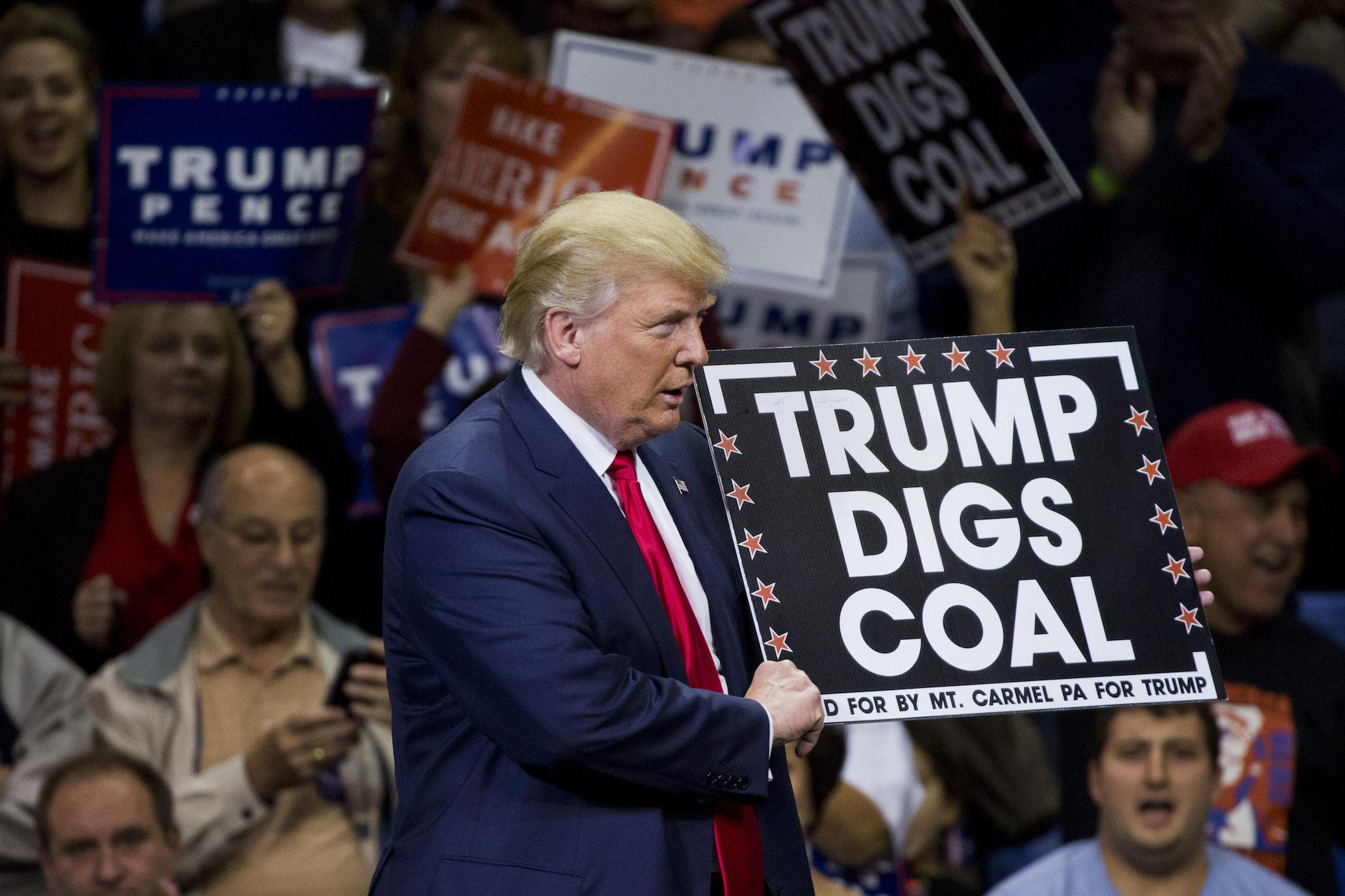 "Catastrophic", "very dangerous", "every bit as bad" as expected and just plain "weird".
The reactions to the effect of the first 100 days of Donald Trump's presidency on the environment and climate change were perhaps predictable.
After all, the 100th day of his term of office on Saturday will see a mass Climate March in protest against his policies, just a week after the March for Science, largely inspired by his dismissal of hard evidence about global warming.
But there has been the occasional glimmer of hope.
For example, Mr Trump has not, so far, decided to withdraw the United States from the Paris Agreement on climate change as he had promised during the election campaign.
And, er, the rusty-patched bumblebee became the first bumblebee to be recognised as an endangered species, meaning it will now receive protection from the federal government.
But that's pretty much the point where the good news runs out as a timeline set up by the National Geographic following Mr Trump's election makes clear.
Scott Pruitt, a renowned climate science denier who claims carbon dioxide does not have a significant warming effect on the atmosphere, was appointed as head of the Environmental Protection Agency (EPA); coal mines are now allowed to dump their waste into rivers; gun-owners are allowed to use lead ammunition on federal land despite evidence it poisons wildlife; fuel efficiency standards are being reconsidered; and federal funding for climate and environmental science will be massively cut under Mr Trump's budget plans.
Deep breath, there's more.
The process of ditching the Obama-era Clean Power Plan – the key strategy to reduce carbon emissions -- is under way; the controversial Keystone XL oil pipeline, which could carry up to 830,000 barrels of oil a day from Canada to the US, has been given a presidential permit; the Dakota access pipeline was allowed and has been built; scientists have been told not to speak in public; and the word "science" has even been removed from the mission statement of the EPA's Office of Science and Technology.
Melinda Pierce is legislative director of the Sierra Club, founded by Scots-born conservationist John Muir in 1892 and now the largest grassroots environmental organisation in the US with more than two million members.
She described Mr Trump's plans as "unprecedented" in US history.
"What he has set in motion in terms of the impact on climate action and the potential impact on environmental standards is very dangerous," she told The Independent.
"His desire to roll back environmental and climate regulations, his intended cuts to the agencies that protect public health and public land are drastic.
"He's basically unwinding and shredding the safety net we have been building up for 40 years.
"There's nothing to point a finger at on the positive side of the ledger."
Other Republican presidents like Teddy Roosevelt, who created the US Forest Service and five National Parks, and Richard Nixon, who presided over the creation of the EPA, the Clean Air Act and Clean Water Act, had been champions of the natural world, Ms Pierce said.
However, Mr Trump's plans – "the most extreme anti-environment agenda we have ever seen from any administration" – would take time to implement.
"It remains to be seen how much President Trump and his administration can actually get accomplished because we are going to fight him every step of the way," Ms Pierce said.
The leading climate scientist, Professor Michael Mann, warned ahead of the US election that Mr Trump was a "threat to the planet".
10 photographs to show to anyone who doesn't believe in climate change
Show all 10
And, asked what he made of Mr Trump's time in office so far, Professor Mann, of Pennsylvania State University, said: "Trump has been every bit as bad on climate – in his policies, appointments and public comments – as I speculated he would back in October."
Professor Michael Gerrard, of Columbia Law School in New York and the Sabin Centre for Climate Change Law, was equally downcast, saying the US policy on climate change was "completely reversing" in a recent interview with the CarbonBrief website.
"Donald Trump took the position during the campaign that he believed that climate change was a hoax," Mr Gerrard said.
"He also said that we should maximise the extraction and use of fossil fuels in the United States. And so President Trump is doing everything he can to undo the Obama legacy on climate change. In short, it's been catastrophic."
One of the President's favourite policies, judging by the gusto of his rhetoric, is the desire to end what he as described as 'America's war on coal' and put miners back to work.
However, Tom Sanzillo, director of finance at the Institute for Energy Economics and Financial Analysis think tank, was dismissive of the policies designed to do that.
"If I were to make a 100-day report card, I would put him in the corner with a dunce's cap on," he said.
"He's been trying to promote a series of actions to roll back pollution regulations, mine safety, miners' health rules and regulations, but overall these coal policies lack depth and they lack seriousness.
"These are a series of action that provide a minimal boost to a declining industry and maximum negative impact on the environment and even the economy. It's pretty much incompetent.
"If you were the owner of a coal mine, you would be happier but not pleased. If you were a miner, your job is still in jeopardy.
"If you are an investor in a coal company, you are not going to make much money."
While the mood in the US environmental movement is bleak, Richard Black, director of the UK-based Energy and Climate Intelligence Unit, offered a slightly more optimistic view.
The Trump administration, he suggested, might ultimately decide to keep the US within the Paris Agreement.
"I think the interesting this is there's clearly a difference of opinion in the White House, particularly when it comes to the approach to the Paris Agreement and international negotiations," Mr Black said.
"You've got the business lobby and the diplomatic lobby who both want to the US to stay in. I just think it's interesting that a lot of clearer heads are seeing the advantages that would accrue to the US from staying in."
He suggested Trump administration officials in favour of staying within the Paris Agreement had three different reasons for wanting to do so: genuine commitment to tackling climate change; to avoid the diplomatic cost associated with pulling out of an international agreement; and a desire to slow the process down from the inside.
The new President's most positive action on environmental issues, Mr Black said, was his inaction on this issue.
"I'm not sure there's a 'best' – I suppose the best one is not yet pulling out of Paris," he said. "The worst one I think is probably [the rolling back of] the Clean Power Plan. That, I think, is important," Mr Black said.
He echoed Mr Sanzillo's point about the minimal boost to the coal industry.
"There will continue to be a number of coal-fired power stations that close down, but what it means is that some of the ones that would otherwise have closed down in five or six years' time might now still stay open," he said.
"But the relative price of coal and gas can make a big difference and you cannot open a coal mine in four years really.
"Therefore I think his ambition of reviving coal mining currently cannot work. I haven't really seen anything on the table that could make it work."
He was taken aback by the decision to allow coal mines to dump waste in streams.
"That seems really weird. The US environmental movement started because people were concerned about how their air, water and land was being polluted," Mr Black said.
Another "positive" was there had been "not much to hinder the spread of renewables in the near term".
And states like California could have a major impact.
"If California invests massive amounts in clean energy, that will make it easier for other states to do the same," Mr Black said.
California's Governor, Jerry Brown, pledged the state was "ready to fight" the Trump administration over its denial of climate change, even suggesting it could launch its own satellites to monitor the planet's atmosphere if Nasa programmes were cancelled.
The first 100 days may have seen something of a phony war about climate change.
But the opening salvo of the real conflict could be fired when the Trump administration announces whether the US will quit or stay as a signatory to the Paris Agreement, a decision expected before the end of May.
This will be a key sign of Mr Trump's commitment to his own anti-science rhetoric. If he backtracks, many will breathe a sigh of relief.
If he withdraws the US from the deal, the reaction from Congress, environmental groups and the US public could either embolden or dissuade him from similar steps in the future.
Join our commenting forum
Join thought-provoking conversations, follow other Independent readers and see their replies