'Major transformation needed' to meet electric car targets, says spending watchdog
Emissions from cars in the UK are not falling as fast as expected, says National Audit Office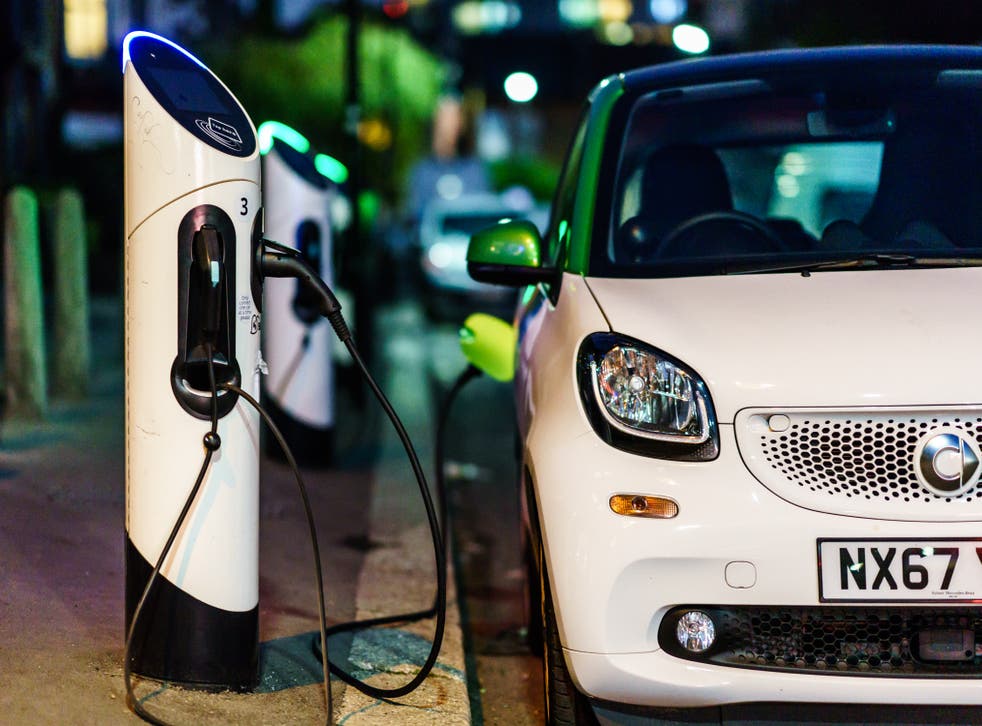 A "major transformation" is needed if the UK is to meet its ambitious targets for the uptake of electric cars, says the country's spending watchdog.
Transport is the UK's most polluting sector, with petrol cars accounting for the bulk of emissions.
The government hopes to slash emissions from Britain's roads by encouraging people to switch to electric vehicles.
As part of his 10-point climate plan launched in November, Boris Johnson announced a ban on the sale of new petrol cars from 2030 – and by 2035 all new cars and vans must be zero emissions.
However, while the number of electric cars sold has increased over the past decade, "substantial" progress is needed for the government to be in line with its goals, according to a new report from the National Audit Office.
Gareth Davies, the head of the NAO, said: "The number of ultra-low emission cars on UK roads has increased, but meeting the government's ambitious targets to phase out new petrol and diesel cars in less than a decade still requires a major transition for consumers, car makers and those responsible for charging infrastructure.
"Government now has the opportunity to reflect on what has gone well and better target its interventions and spending to secure this fundamental change and deliver the carbon reduction required."
The report said that, as of September 2020, just 0.5 per cent of the UK's cars were electric, and "ultra-low emissions cars" accounted for 8 per cent of the market. Ultra-low emissions cars are those that emit less than 75g of CO2 per kilometre travelled.
It added that total CO2 emissions from cars have fallen by just one per cent since 2011 – a slower rate than the government expected.
Car emissions fell between 2011 and 2016 but then started to rise again until 2019, the report says. The uptick is likely linked to the growing popularity of sports utility vehicles (SUVS), increased road traffic and tougher emissions testing schemes for cars, says the NAO.
By March 2020, the government had spent £1.1bn on schemes encouraging consumers to purchase electric cars. This includes £1bn on grants to reduce the upfront costs of buying new electric cars.
But the NAO said that this spending could not be considered "value for money" because the government was not able to demonstrate whether the funds boosted electric car uptake "above and beyond what might have happened anyway".
The report says: "While there has been an increase in the number of ultra-low emission cars and the required charging infrastructure, carbon emissions from cars have not reduced in line with government's initial expectations.
"The lack of an integrated plan with specific milestones for carbon reductions from cars has resulted in a lack of clarity over what value the public money should be delivering. As a result, the [government has] not been able to demonstrate value for money from the amounts expended."
It added that, by March 2020, government funding had helped to install more than 140,000 new charging points for electric cars across the country, but that most of these were on private driveways.
Meg Hillier, chair of the Committee of Public Accounts and former shadow secretary for energy and climate change, said: "Government has made some headway in promoting electric cars. But they are still not an affordable or practical option for most people.
"The vast majority of charging points are for private off-street parking. Not everyone has a driveway to charge their car. And reducing emissions shouldn't be a luxury reserved for the middle classes."
A Department for Transport spokesperson said: "This government is going further and faster to decarbonise transport by phasing out the sale of new petrol and diesel cars and vans by 2030, putting us at the forefront of the electric vehicle revolution.
"Ultra-low emission vehicles now represent nearly 11 per cent of the new car market. Alongside the billions we are investing to support industry and consumers to make the switch to cleaner vehicles, we are proud to be a global leader in the development and manufacture of ULEVs.
"We will set out a plan later this year on how we will deliver these new ambitious phase out dates, helping us to meet our climate change obligations, improve air quality and support economic growth."
Register for free to continue reading
Registration is a free and easy way to support our truly independent journalism
By registering, you will also enjoy limited access to Premium articles, exclusive newsletters, commenting, and virtual events with our leading journalists
Already have an account? sign in
Register for free to continue reading
Registration is a free and easy way to support our truly independent journalism
By registering, you will also enjoy limited access to Premium articles, exclusive newsletters, commenting, and virtual events with our leading journalists
Already have an account? sign in
Join our new commenting forum
Join thought-provoking conversations, follow other Independent readers and see their replies