Covid recovery must not be driven by fossil fuels, says Ed Miliband
Exclusive: Shadow business secretary calls for the UK to 'reckon' with fossil fuels as The Independent launches campaign for greater action on climate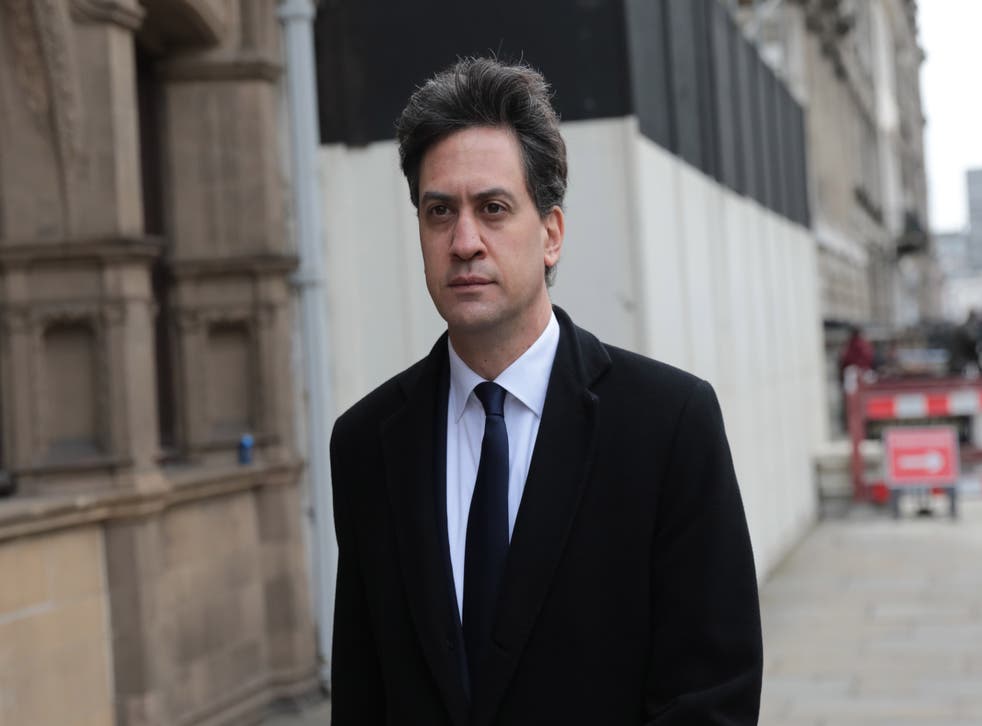 The world's recovery from Covid-19 must not be driven by further fossil fuel expansion at a critical moment in the fight to limit global warming, Ed Miliband has warned.
Writing for The Independent, the shadow business secretary said that Britain had to take the lead on the climate crisis on the world stage ahead of the key Cop26 summit in Glasgow in November, but added the UK was instead falling behind other countries.
Today The Independent launches a campaign for Britain to take greater action on the climate crisis as it tries to lead the world ahead of Cop26. Stop Fuelling the Climate Crisis will highlight areas in which the UK is still supporting fossil fuels, including through its refusal to rule out oil and gas drilling in the North Sea and its support for gas mega-projects abroad, despite Boris Johnson's pledge to end overseas fossil fuel investment.
A key report released this week warned that global CO2 emissions are set for a near-record surge in 2021 as demand for coal – the dirtiest of all fossil fuels – bounces back in the second year of the pandemic.
"Greenhouse gas emissions have risen inexorably since the industrial revolution and the global economic recovery is set to be powered by a surge in fossil fuel demand," said Mr Miliband.
"The government is planning a green stimulus far smaller than those in the US, France and Germany. For the jobs we need in this country and as Cop26 hosts, it is an appalling dereliction of duty."
His call came as world leaders convened for a crucial Earth Day summit, where Boris Johnson joined Joe Biden and other world leaders in urging more immediate action for taming greenhouse gas emissions. The virtual event saw the confirmation of new climate pledges from the US, UK, Canada and Japan – among other countries.
The summit is a key "stepping stone" on the road to Cop26, a separate round of climate talks to be held in Glasgow later this year.
Leading the way on a green recovery is one of five areas that the UK must improve upon as it gears up to host Cop26, Mr Miliband said.
He said other areas include: setting a more ambitious near-term target for slashing emissions; providing more support and debt relief for developing countries grappling with the climate crisis; demanding more climate action from companies and ending support for new fossil fuel development.
"We need to reckon with the source of our emissions: fossil fuel supply," he said.
Mr Miliband backed a letter, released on the eve of Earth Day from 101 Nobel laureates including the Dalai Lama, which calls for an end to further fossil fuel expansion across the world.
"That requires urgent investment in renewables and clear plans for a fair transition to them for people and places," he added.
The Glasgow talks will be a key moment for getting countries on track for limiting global warming to 1.5C above pre-industrial levels, the aspirational target set by the Paris Agreement five years ago.
A recent progress report from the UN found that new climate plans put forward by countries by the end of last year would cause emissions to fall by just 1 per cent by 2030, when compared with levels in 2010. 
Mr Miliband said that the "route to success at Glasgow is not to lower our ambitions but to build a high-ambition coalition, spanning the developed and developing world".
"We must demand above all that Glasgow 'keeps 1.5C alive'," he said. "We should be the truth-tellers in pursuit of that end. We owe it to current and future generations."
A government spokesperson said: "The UK is already leading the world in tackling climate change. We were the first major economy to legislate to end our contribution to climate change by 2050, and we will now set in law the world's most ambitious climate change target, to cut emissions by 78 per cent by 2035 compared to 1990 levels.
"We are powering forward with the prime minister's 10-point plan, which will mobilise £12bn of government investment to support up to 250,000 highly skilled green jobs, as the UK builds back greener from the pandemic."
Register for free to continue reading
Registration is a free and easy way to support our truly independent journalism
By registering, you will also enjoy limited access to Premium articles, exclusive newsletters, commenting, and virtual events with our leading journalists
Already have an account? sign in
Register for free to continue reading
Registration is a free and easy way to support our truly independent journalism
By registering, you will also enjoy limited access to Premium articles, exclusive newsletters, commenting, and virtual events with our leading journalists
Already have an account? sign in
Join our new commenting forum
Join thought-provoking conversations, follow other Independent readers and see their replies