Government cut recycling targets after lobbying from plastics industry
Plastic industry's leading trade body piled pressure on Defra ahead of decision which sent thousands of tonnes to be burned, buried or dumped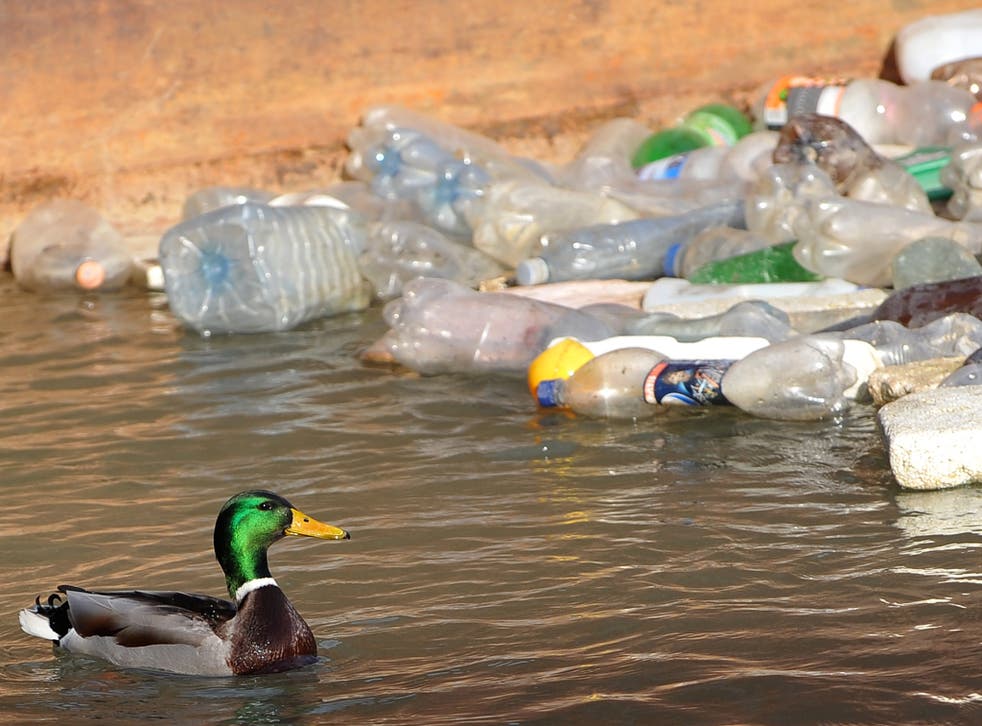 Recycling targets in the UK were cut last year after successful lobbying from the plastics industry, a freedom of information request by Greenpeace has revealed.
The Government came under fire last year after it announced that targets for plastic recycling would be reduced from 57 per cent to a mere 49 per cent for 2016 and then increased by 2 per cent each year to 2020, to a maximum of 57 per cent by 2020.
The Department for Environment, Food and Rural Affairs (Defra) at the time insisted the change was brought in "to reduce the burden on business".
The cut reportedly resulted in thousands of tonnes of plastic being sent to landfill, incinerated or dumped.
Greenpeace found that it was not small businesses but the British Plastics Federation (BPF), the leading trade association for the plastic industry, which had piled the pressure on the Government.
The environmental organisation said companies expressed concerns that higher targets might force them to stop using plastics that were hard to recycle or to increase the recycled plastic used in their products.
Ariana Densham, oceans campaigner at Greenpeace UK, said that nobody should be surprised by the results of the investigation.
"It mirrors the approach, which we've seen exposed recently, of companies like Coca-Cola lobbying against the introduction of bottle deposit return schemes and increased recycling rates," Ms Densham said.
"Those profiting from throwaway plastics are abdicating responsibility for the end life of their products, while blaming consumers for their environmental impact on land and at sea," she added.
Greenpeace obtained 62 of the 63 responses to a Government consultation on recycling targets. Fifteen of the respondents were industry lobby groups, while a further ten were producers of plastics products. All but one of those 25 responses pushed for a reduction in recycling targets.
In a statement sent to The Independent, BPF head of public and industrial affairs, Francisco Morcillo, said: "Plastics packaging recycling rates have grown exponentially in the last few years. They have increased from virtually zero to 45 per cent in just over a decade, and there was a was a 14 per cent increase in the plastic recycled last year. This is a truly remarkable achievement and a positive ongoing trend. This increase is down to the hard work of local authorities and residents in recycling more, as well as the important work of the plastics industry building infrastructure to capture and reprocess the material.
"The targets set by government were higher than industry had advised government could be achieved with the inconsistent collection system of household waste we had in the UK. The plastics industry, which includes recyclers, wants to recycle a lot more plastic and have high targets, but in order to capture and reprocess more material the right infrastructure is needed and this requires time to develop properly."
According to Recycle Now, the national recycling campaign for England, which is funded by the Government, UK households use 480 plastic bottles a year, but recycle just 270 of them.
10 photographs to show to anyone who doesn't believe in climate change

Show all 10
This means that of the 35 million plastic bottles being used every day, around 16 million are not recycled, and the use of plastic bottles is still growing.
A search of hundreds of beaches across the UK from Shetland to Scilly revealed on Friday that almost three-quarters of them are littered with tiny plastic pellets.
Earlier this month, the Government said it was considering bringing in additional charges for buying plastic bottles in a bid to tackle the quantity of waste taking up space in landfill sites and polluting the sea.
Register for free to continue reading
Registration is a free and easy way to support our truly independent journalism
By registering, you will also enjoy limited access to Premium articles, exclusive newsletters, commenting, and virtual events with our leading journalists
Already have an account? sign in
Register for free to continue reading
Registration is a free and easy way to support our truly independent journalism
By registering, you will also enjoy limited access to Premium articles, exclusive newsletters, commenting, and virtual events with our leading journalists
Already have an account? sign in
Join our new commenting forum
Join thought-provoking conversations, follow other Independent readers and see their replies