Heatwave 2022: India facing power shortage during Delhi's hottest April in a decade
Health officials set up special ward for heat stroke and brace for potential spike in patients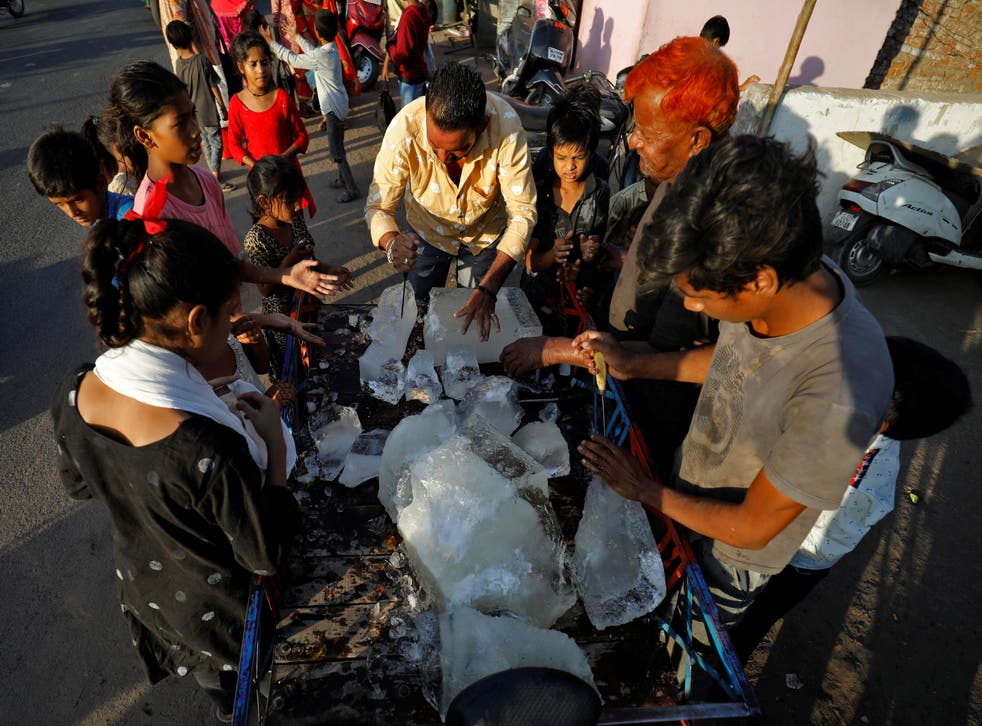 India is facing the worst electricity shortage in more than six years as Delhi saw its hottest April in 12 years on Thursday at a maximum of 43.5C.
The temperatures in the national capital are predicted to linger around 44C with peak summer heat still to come before the cool monsoon rains in June.
The extreme heat parching across large swathes of south Asia this week has also prompted health officials in the western state of Gujarat to take measures, as they braced for a potential spike in patients.
"We have issued an advisory to hospitals to set up special wards for heat stroke and other heat-related diseases due to the rise in temperatures," Manoj Aggarwal, health secretary of Gujarat, told Reuters.
Meanwhile, the leap in power demand has left India scrambling for coal, with inventories running lowest pre-summer levels in at least nine years.
Several states including Rajasthan and Haryana in the north and Andhra Pradesh in the south observed the worst power cuts in over six years as the government struggled to manage surging power demands.
1651230016
How does the heatwave impact health and how to protect yourself?
According to the National Disaster Management Authority of India, the health impact of heatwaves typically involves dehydration, heat cramps, heat exhaustion and heatstroke.
The Ministry of Health recommends the city residents to take the following measures to stay safe:
Stay indoors and in shaded places
Wear thin loose cotton, light-coloured clothes
Drink water and salted drinks and stay hydrated
Namita Singh
29 April 2022 12:00
1651227791
'Situation grave' says Delhi chief minister on power crisis
Flagging the "acute shortage" of coal in many power plants, Delhi's chief minister said that "the situation is very grave".
"There is a huge shortage of power in the country. So far we have managed it somehow in Delhi. The situation is very grave in the whole of India. Together we soon need to find a solution. Quick, concrete steps are required to tackle this problem," tweeted Arvind Kejriwal.
Delhi government had earlier said that many essential services including metro operations might get affected due to power disruptions in the city.
Namita Singh
29 April 2022 11:23
1651224772
In pictures: How India is fighting the heatwave
Namita Singh
29 April 2022 10:32
1651223870
Why is it so hot this year in India
The heat cloaking India stands out for two reasons, says hydroclimatologist Arpita Mondal at the Indian Institute of Technology in Mumbai.
The first is that it struck early, she tell The Independent. India's main summer months — April, May and June — are always excruciatingly hot in most parts of the country before monsoon rains bring cooler temperatures. But this year, India recorded the hottest March on record since the India Meteorological Department began keeping track 122 years ago.
The second is that it is affecting the majority of the country, rather than the usual hotspots which are the central-northern, northwestern region that includes Rajasthan and the south-east, including Andhra Pradesh, she said. This year most of India's 1.4 billion population, apart from maybe those in the mountainous regions, are reeling from the heat, she added.
Read the details in this report by our climate correspondent Saphora Smith:
Deaths feared as temperatures approach 50C in intense heatwave
Namita Singh
29 April 2022 10:17
1651222397
Pakistan issues heatwave warning
Pakistan's ministry of climate change issues heatwave warning urging the provincial governments to take precautionary actions to mitigate the impact.
"This is the first time in decades that Pakistan is experiencing what many call a 'spring-less year' in March 2022," said federal minister for climate change, senator Sherry Rehman.
"South Asia, particularly India and Pakistan are faced with what has been a record-breaking heatwave. It started in early April and continues to leave the people gasping in whatever shade they find.
"The global weather forecasting organizations have predicted that temperatures in Pakistan and India this year could soar up to 49C to 50C, which is a direct repercussion of climate stress. It has been predicted that temperatures in Pakistan could rise by 6C to 8C above average temperatures."
"A heatwave in the month of March and April is unprecedented and alarming, putting the public at risk. However, international organizations had already warned of a severe and prolonged heatwave in Pakistan. People are urged to take precautionary measures to avoid extreme heat," she concluded.
Namita Singh
29 April 2022 09:53
1651221938
India cancels 670 passenger train trips to allow faster movement of coal carriages
The Indian railways has notified the cancellation of nearly 670 trips of passenger trains till 24 May to provide additional paths for coal carriages.
The move comes as several states reported coal shortage amid a surge in power demand exposing several to the sweltering heat.
The railways has also increased the average daily loading of coal rakes to more than 400, highest ever in the past five years, reported the Times of India.
Namita Singh
29 April 2022 09:45
1651216185
Record-breaking heat in India stunts wheat production
The heatwave sweeping through India has reduced wheat yields in the country, snagging the country's domestic needs and ambitions to increase exports to make up for shortfalls from Russia's war on Ukraine.
Wheat is very sensitive to high temperatures, especially during the final stage when its kernels mature and ripen. The farmers usually coincide the planting such that it coincides with the cooler spring season. However, the record-breaking heat in March– the hottest in India since 1901- has stunted the crops.
India is in the throes of a record-shattering heat wave that is stunting wheat production
Namita Singh
29 April 2022 08:09
1651214680
Meteorological department issues Orange alert for four states
The Indian meteorological department (IMD) intensified its alert level from yellow to orange in Delhi, warning an increased likelihood of heat illness symptoms among people who are exposed to the sun for a long period.
The IMD also issued orange alert level in four other Indian states including Rajasthan, Haryana and Uttar Pradesh in the north and Odisha in the southeast, as the extreme heatwave swept through the vast swathes of the country.
Namita Singh
29 April 2022 07:44
1651213972
What is heatwave and how is it monitored?
A heatwave is declared for plains when the temperature soars past 40C and is at least 4.5C above normal while it is declared an extreme heatwave when the temperature is 6.5C above normal.
Mainly occurring from March to June, it is a condition of air temperature which becomes fatal to the human body when exposed, says the Indian meteorological department (IMD).
The met department has a big network of surface observatories across the country that measure meteorological parameters like temperature, relative humidity and pressure.
"Based on daily maximum temperature station data, climatology of maximum temperature is prepared for the period 1981-2010 to find out the normal maximum temperature of the day for a particular station. Thereafter, IMD declared heatwave over the region as per its definition," it was quoted as saying by the Hindustan Times.
Namita Singh
29 April 2022 07:32
1651209889
Delhi bracing for power outage
Delhi government on Thursday warned against power crisis in the national capital that could lead to disruption in important city services including metro trains and hospitals.
Power minister Satyendar Jain has written to the central government requesting to ensure adequate coal availability to power plants supplying electricity in Delhi.
"Due to disruption of power supply from Dadri-II and Unchahar power stations, there may be a problem in 24-hours power supply to many essential institutions, including Delhi Metro and Delhi government hospitals," read a statement from Delhi government.
These plants supply 25 to 30 per cent of the city's electricity demand and are facing an acute shortage of coal, said Mr Jain.
Namita Singh
29 April 2022 06:24
Register for free to continue reading
Registration is a free and easy way to support our truly independent journalism
By registering, you will also enjoy limited access to Premium articles, exclusive newsletters, commenting, and virtual events with our leading journalists
Already have an account? sign in
Register for free to continue reading
Registration is a free and easy way to support our truly independent journalism
By registering, you will also enjoy limited access to Premium articles, exclusive newsletters, commenting, and virtual events with our leading journalists
Already have an account? sign in
Join our new commenting forum
Join thought-provoking conversations, follow other Independent readers and see their replies