'Megaflash': 700km-long lightning bolt sets new global record, WMO confirms
New satellite technology measures both longest distance and longest duration for single flashes
Harry Cockburn
Monday 13 July 2020 10:20 Comments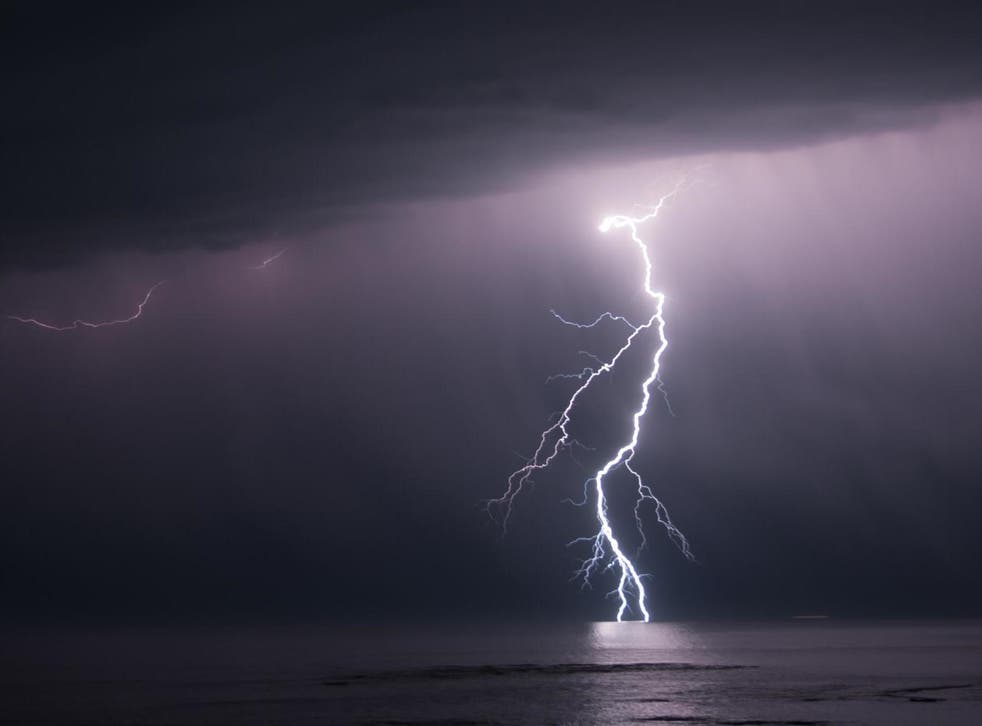 A single flash of lightning, over 709km (440 miles) long has set a new distance record, the World Meteorological Organisation has confirmed.
The "megaflash" stretched from north eastern Argentina, across southern Brazil and over the Atlantic Ocean.
Also confirmed was a separate bolt which beat the record for the longest duration for a single lightning flash.
Both the records were verified with new satellite lightning imagery technology, the WMO said.
Both of them more than double the previous records measured in the United States of America and France.
The WMO said the new distance record was set on 31 October 2018. The 709km the flash reached is equivalent to the distance between Boston and Washington DC in the US or between London and the border of Switzerland near Basel.
The duration record was set on 4 March 2019 over Argentina, when the flash lasted for 16.73 seconds.
"These are extraordinary records from single lightning flash events," said Professor Randall Cerveny, chief rapporteur of Weather and Climate Extremes for the WMO.
"Environmental extremes are living measurements of what nature is capable [of], as well as [of] scientific progress in being able to make such assessments. It is likely that even greater extremes still exist, and that we will be able to observe them as lightning detection technology improves."
He added: "This will provide valuable information for establishing limits to the scale of lightning – including megaflashes – for engineering, safety and scientific concerns."
Until the announcement of the new records, the previous record for the longest detected distance for a single lightning flash was 321km (199.5 miles) on 20 June 2007 across the US state of Oklahoma. Both the previous and new record used the same maximum great circle distance methodology to measure flash extent.
This measuring system works by finding the distance between the two furthest extents of a single flash – which generate hundreds of smaller branches in all directions.
The previous record for duration for a single lightning flash was for one which lasted continuously for 7.74 seconds on 30 August 2012 over the Côte d'Azur, France.
The new records are down to significant advances in how lightning is recorded.
The previous assessments used to establish the flash duration and extent records used data collected by ground-based Lightning Mapping Array networks.
But scientists have acknowledged there is an upper limit to what this technique can measure.
The new records were detected with satellite technology. This provides a far larger view of weather systems than those possible with ground-based networks.
Lead author of the research, Michael J. Peterson, of the Space and Remote Sensing Group at Los Alamos National Laboratory, said: "This dramatic augmentation of our space-based remote sensing capabilities has allowed the detection of previously unobserved extremes in lightning occurrence, known as 'megaflashes,' which are defined as horizontal mesoscale lightning discharges that reach 100s of kilometers in length."
The WMO said: "Lightning is a major hazard that claims many lives every year. The findings highlight important public lightning safety concerns for electrified clouds where flashes can travel extremely large distances (30-30 rule – if time between flash and thunder is less than 30 seconds, go inside! And wait 30 minutes after the last observed flash to resume outdoor activities)."
Lightning strikes have killed more than 100 people in northern India in recent days after deadly storms hit the states of Bihar, where 83 people were killed, and Uttar Pradesh, where at least 20 people were killed. Dozens more were injured across the two states, according to officials.
The research detailing the record lightning flashes is published by the American Geophysical Union's Geophysical Research Letters ahead of International Lightning Safety Day on 28 June.
Register for free to continue reading
Registration is a free and easy way to support our truly independent journalism
By registering, you will also enjoy limited access to Premium articles, exclusive newsletters, commenting, and virtual events with our leading journalists
Already have an account? sign in
Join our new commenting forum
Join thought-provoking conversations, follow other Independent readers and see their replies