Microplastics in the sea a growing threat to human health, United Nations warns
More than a quarter of fish in markets in Indonesia and California contain plastic particles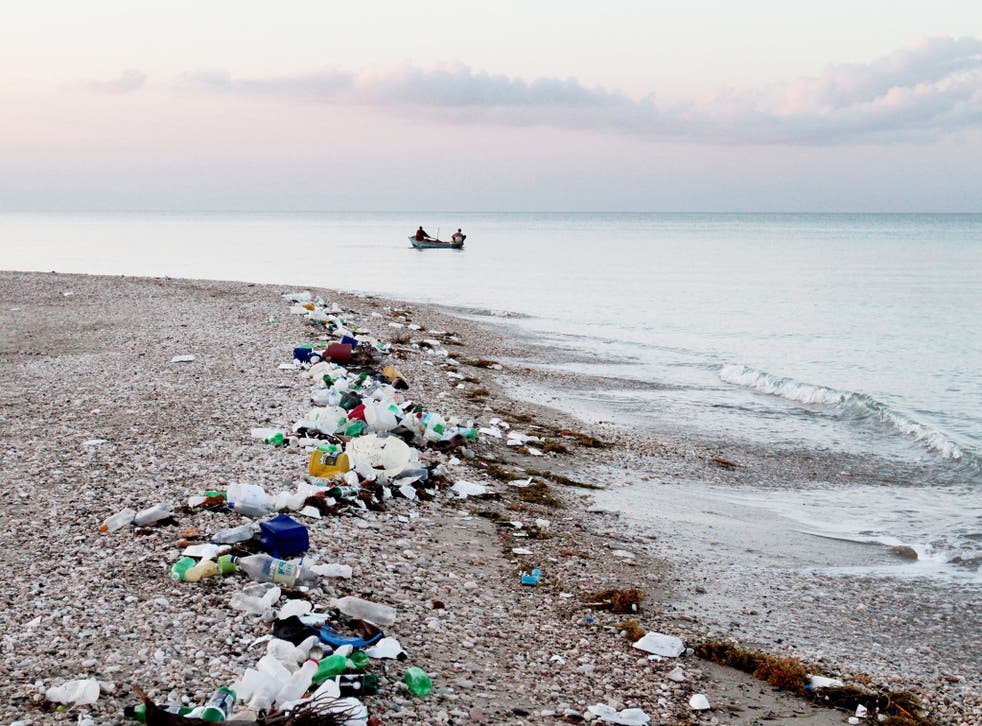 Millions of tons of tiny debris from plastic bags, bottles and clothes in the world's oceans present a serious threat to human health and marine ecosystems.
This is the stark warning issued by the United Nations in a report on the most dangerous environmental problems facing the world today.
Global plastic production has increased dramatically in recent years. Between 2004 and 2014, the amount of plastic produced rose by 38 per cent, the report said.
And poor waste disposal means when we have finished with our takeaway containers, cigarette butts and party balloons, they are worn down into trillions of ever-smaller particles by the waves.
There is a growing presence of these microplastics, particles of under 5mm in length, in the world's oceans.
In 2010, between 4.8 million and 12.7 million tons of plastic was washed into the seas and has since shown up in the stomachs of whales, plankton and other marine life.
"There is some evidence that microplastics can cause harm [to organisms]," Richard Thompson, professor of marine biology at Plymouth University, told The Independent.
Dr Thompson said that in laboratory experiments, replacing one per cent of the sediment in a worm tank with plastic had a negative effect on the worms' ability to store energy.
"If we carry on with business as usual – it's not uncomparable – then we are going to reach those thresholds," he said, adding that there may be places in the world's oceans that have not yet been discovered where microplastics are particularly concentrated.
More than a quarter of all fish now contain plastic, according to a recent study which analysed the guts of fish sold at markets in Indonesia and California.
The United Nations Environment Project report will be presented at the UN Environment Assembly in Nairobi, which starts on Monday.
Scientists fear that chemicals in plastics and also chemicals which attach themselves to plastic in the natural environment could cause poisoning, infertility and genetic disruption in marine life, and potentially in humans if ingested in high quantities.
"The presence of microplastic in foodstuffs could potentially increase direct exposure of plastic-associated chemicals to humans and may present an attributable risk to human health," the UN report, called Frontiers, said.
People could even be breathing in plastic microparticles suspended in the air, with the risk of a noxious effect on the lungs similar to car fumes.
Some areas of the world have higher concentrations of microplastics than others. East Asia is one of the worst affected places, with 27 times more plastic found in the seas around Japan than elsewhere in the world.
A vast "plastic soup" of waste floating in the Pacific Ocean, known as the Great Pacific Garbage Patch, could stretch to twice the size of Texas. Similar patches are found in the other oceans.
The impact is global, with microplastics found in places as far-flung as a Mongolian mountain lake and in deep sea sediments, said scientist Jacquie McGlade at a recent UN conference.
Last year, volunteers on 30 boats travelled to the area where the waste is said to be, and reported that most of the waste there was large rather than microscopic.
"It was a good illustration of why it is such an urgent thing to clean up, because if we don't clean it up soon, then we'll give the big plastic time to break into smaller and smaller pieces," Boyan Slat told the Associated Press.
Mr Slat, 21, is a Dutch student who has developed a technology he says could sift dangerous plastic particles out of the ocean, and sell them on for profit.
Other environmental concerns highlighted by the UN report included the surge in epidemics of diseases passed from animals to humans, such as Zika, Ebola and bird flu,
The report also warned that drought and rising temperatures related to climate change can result in toxic contamination of essential crops such as maize, wheat and barley.
It predicted a 2C rise in global temperatures would cause an increase in fungal toxins on these crops – which can cause cancer and stunt the growth of foetuses – warning this could become a food safety issue in Europe.
In pictures: Plastic pollution around the world

Show all 10
Worries over the use of 'microbeads', small plastic pieces used as an exfoliating agent in soap and make-up, has caused a number of cosmetics companies, including Clarins, Estée Lauder and Proctor & Gamble, to pledge to remove them from products.
Synthetic fibres released into the world's waters through tiny fibres from artificial fabrics like fleeces and polyester in washing machines are also one of the biggest causes of plastic pollution in the ocean, the report said.
And while plastic bags and other items labelled as 'biodegradable' may seem a good solution, in most cases they will only break down in temperatures over 50C – much lower than the conditions found in the sea, where many end up.
The UK parliament has called for a Q&A session on the environmental impact of microplastics on 24 May, with speakers from the British Plastics Federation, the Marine Conservation Society, and the Environmental Investigation Agency.
Dr Thompson recommended that people avoid using products with microbeads, and to make sure they disposed of all plastic products in an appropriate way, by recycling if possible.
Join our new commenting forum
Join thought-provoking conversations, follow other Independent readers and see their replies