More than 1,000 rhinos killed by poachers in South Africa last year
2017 saw slight decrease in poached animals, but numbers are 'still far too high', according to campaigners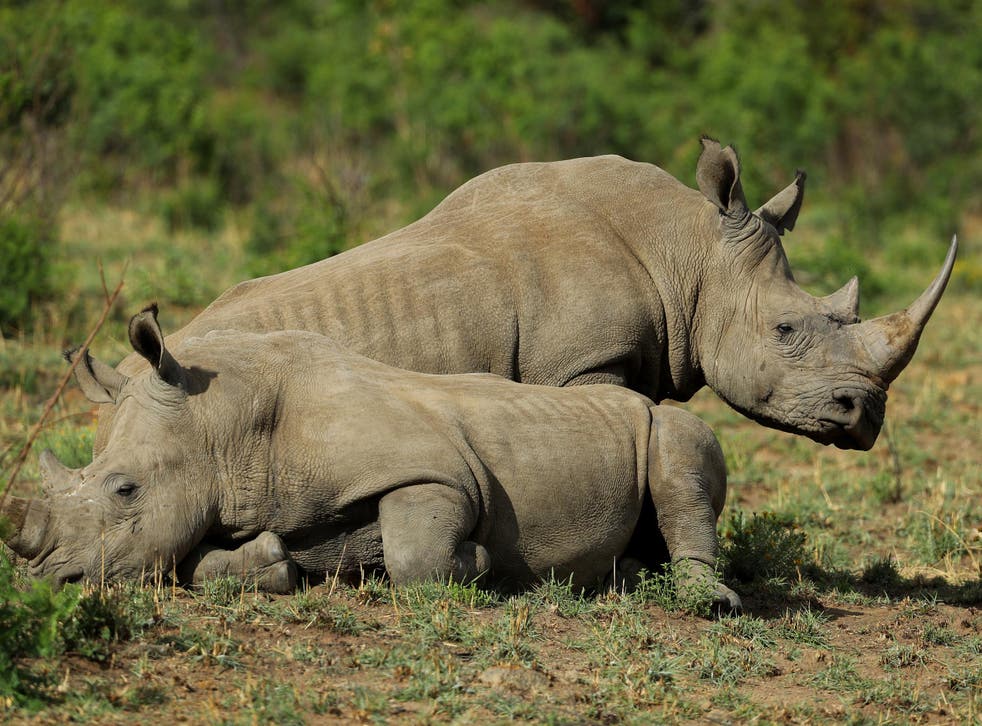 The South African government has revealed the number of rhinos illegally killed last year, suggesting measures to reduce poaching have had limited success.
A total of 1,028 rhino were poached from 1 January to 31 December 2017, compared to 1,054 in the same period for 2016, "representing a decrease of 26 animals", the environment ministry said in a statement.
The figures came as a disappointment to conservationists.
"News of the reduction in numbers of rhinos killed illegally in South Africa for the third consecutive year is encouraging. However, the numbers are still far too high," said Margaret Kinnaird, WWF wildlife practice leader.
Wildlife Photographer of the Year 2017

Show all 14
There are estimated to be around 30,000 rhinos of all five rhino species surviving in the wild, and South Africa is home to the vast majority of the world's rhino population.
The South African government has made efforts to combat poaching, using patrols and electronic surveillance to monitor areas inhabited by rhinos.
Though the Kruger National Park, one of the continent's largest games reserves, still endured extensive rhino poaching, nearly 25 per cent fewer rhinos were killed there than in 2016.
The government pointed to this decrease as a signal that its anti-poaching measures in the park were working.
However, despite these measures the number of arrests of suspected poachers and traffickers declined from 680 in 2016 to 518 people last year.
Moreover, the decrease in rhinos killed in Kruger was matched by an increase in other parts of the country, suggesting poachers have been moving their operations elsewhere.
WWF has also warned that the decline of rhino poaching in Kruger was accompanied by an increase in elephant poaching within the park.
Rhino poaching is largely driven by demand from Asian countries, notably Vietnam and China.
There is a pervasive but incorrect belief within these countries that rhino horn has medicinal properties, and can be used to treat a wide variety of diseases including cancer.
Campaigners have emphasised the need to tackle the illegal supply chain in its entirety in order to prevent rhino poaching.
"We must also shine a light on the on-going struggles facing the people whose safety and livelihoods are threatened by this illicit trade," said Ms Kinnaird.
"To address poaching and the destruction it causes to both humans and wildlife, we need to put more effort into stopping the corruption that facilitates the trade and change consumer behaviour particularly in Asia, to stop the demand for illegal wildlife products such as rhino horn."
Join our new commenting forum
Join thought-provoking conversations, follow other Independent readers and see their replies