Storm Eunice in pictures: One of worst storms in decades hits UK with winds up to 100mph
Rare red weather warnings for wind issued for parts of UK as Storm Eunice hits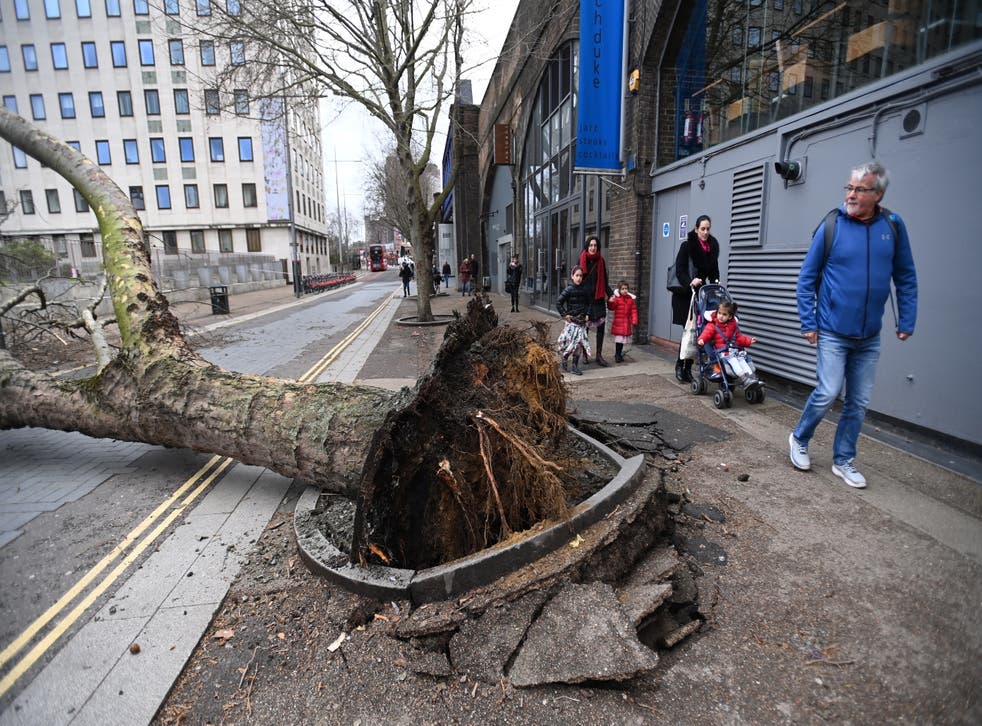 Millions of people have been urged to stay at home for the day, as one of the worst storms in a generation hits the UK.
Schools, roads and businesses have shut, with major disruption to the travel network due to concerns over flying debris caused by gusts of up to 100mph because of Storm Eunice.
Homes have been left without power, while the Met Office issued two ultra-rare "red" weather warnings – from 7 am until midday along the coastline of Devon, Cornwall and Somerset as well as the south coast of Wales, and from 10 am until 3 pm over the East of England and London – due to the combination of high tides, strong winds and storm surge.
>>Follow our live coverage of Storm Eunice here
And weather watchers have been urged to stay away from the coastline, with Roy Stokes from the Environment Agency describing travelling to take pictures in such hazardous conditions as "probably the most stupid thing you can do".
As winds of up to 100mph hit the UK, here are some of the pictures of Storm Eunice unfolding:
Register for free to continue reading
Registration is a free and easy way to support our truly independent journalism
By registering, you will also enjoy limited access to Premium articles, exclusive newsletters, commenting, and virtual events with our leading journalists
Already have an account? sign in
Register for free to continue reading
Registration is a free and easy way to support our truly independent journalism
By registering, you will also enjoy limited access to Premium articles, exclusive newsletters, commenting, and virtual events with our leading journalists
Already have an account? sign in