Storm Franklin: Homes flooded and rare 'danger to life' warnings issued as rivers break banks
Thousands without power, streets covered in water and trees toppled over as third storm hits within days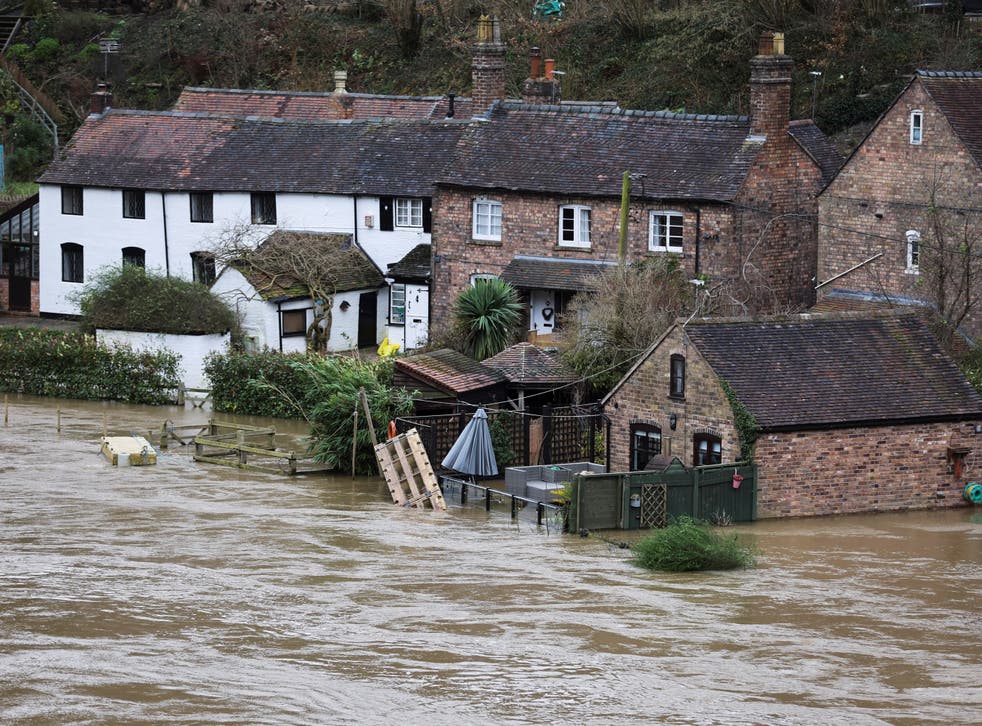 Two "danger to life" flood warnings were issued on Monday night as Storm Franklin battered Britain with more strong winds and rain, power cuts and travel chaos.
Towns and villages were inundated across the Midlands, the north of England and Wales, with stranded motorists rescued.
Residents were evacuated from properties as rivers threatened to burst their banks while homes were flooded in Shropshire, Yorkshire and Powys.
Severe flood warnings, that indicate a danger to life, were issued for towns along the River Severn, which the Environment Agency said was seeing extremely high water levels due to persistent rain.
One covered the town of Bewdley in Worcestershire, with some residents told to expect flooding on Tuesday.
On Monday afternoon, the same severe warning was issued for Ironbridge in Shropshire, with locals living near the water told to evacuate. Shortly afterwards, images showed homes submerged.
Derbyshire was also hit by flooding, with streets in the village of Matlock described as looking like "a river" as the UK battled its third storm in a matter of days.
Further north, Rotherham's train station was compared to the canals of Venice when water filled its tracks, causing it to close.
Houses were also flooded in Llandinam in Wales, with residents rescued by boat when water breached their properties. A local councillor said the village had been left looking "like a disaster zone" after Storm Franklin hit.
Northern Ireland was also affected by the storm, with images showing waves crashing over sea walls.
Thousands remained without power as Storm Franklin struck while the UK was trying to recover from destruction caused by Storm Dudley and Storm Eunice.
Strong winds toppled more trees on Monday – including one that fell on top of a 17th-century cottage in Leicestershire and another than smashed through a fence in Worcestershire.
The storm also caused chaos for travellers, with major roads closed and train services cancelled. National Rail told customers not to travel as it said there was a reduced timetable, speed restrictions were in place on some routes and disruption expected.
A stretch of the M6 was closed on Monday after a lorry crashed into a bridge and burst into flames overnight as Storm Franklin hit. The driver managed to escape and was taken to hospital for an assessment, according to authorities.
Experts said there was no evidence the climate crisis will cause storms with stronger wind speeds – such as the record-breaking gusts of 122mph seen during Storm Eunice – but it could make the knock-on effects worse.
Richard Allan, a professor of climate science at the University of Reading, said: "With more intense rainfall and higher sea levels as human-caused climate change continues to heat the planet, flooding from coastal storm surges and prolonged deluges will worse still further when these rare, explosive storms hit us in a warmer world."
The Environment Agency warned last year the climate crisis – which leads to heavier rainfall and rising sea levels – was worsening the risk of floods across the UK, while government advisors said last month even a small shift in the average climate can increase the frequency of severe flooding.
Experts said there was a risk people in basement flats could drown in flash floods across the UK amid warnings these weather events will happen more often as temperatures rise.
Register for free to continue reading
Registration is a free and easy way to support our truly independent journalism
By registering, you will also enjoy limited access to Premium articles, exclusive newsletters, commenting, and virtual events with our leading journalists
Already have an account? sign in
Register for free to continue reading
Registration is a free and easy way to support our truly independent journalism
By registering, you will also enjoy limited access to Premium articles, exclusive newsletters, commenting, and virtual events with our leading journalists
Already have an account? sign in
Join our new commenting forum
Join thought-provoking conversations, follow other Independent readers and see their replies