Enormous tree-planting push will turn farmland into forests to hit net-zero goals
'It's about persuading sheep farmers to become foresters', says Forestry Commission's Sir William Worsley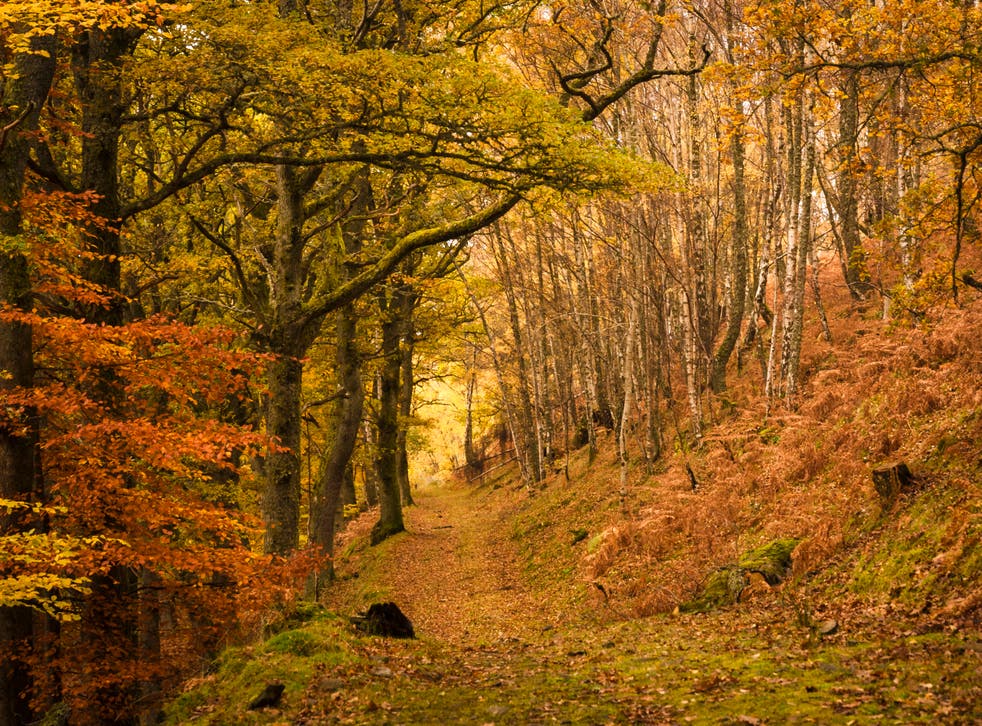 A major tree-planting push by the government to help the country reach its climate goals will be the biggest in 50 years and could result in some farmland currently used for livestock being repurposed to create new woodlands.
The government has kicked off a series of announcements on how it will boost tree cover across the country with the "Urban Tree Challenge", which it says will result in 44,000 large trees being planted in towns and cities, near healthcare centres and schools.
The announcement of the £6m project comes weeks ahead of the publication of the government's action plan on trees, woodland and forestry, which will double the planting of woodland over the next four years to 30,000 hectares (75,000 acres) a year, or roughly 80 million trees.
The forthcoming plan will "outline how government will plant new high-quality, well-managed trees and woodlands and improve the condition and resilience of existing ones," the government said in a statement.
Last month a study by the Woodland Trust revealed just seven per cent of the country's forests are in good ecological shape.
Woodland accounts for 13 per cent of Britain's surface area, up from 12 per cent in 1998, about half of which consists of oak, beech and ash and half of non-native trees like conifers grown for timber.
As well as tackling the climate crisis, the government also cited research indicating increased levels of tree-cover could be beneficial to mental health following the impacts of the Coronavirus lockdowns.
"Evidence from Forest Research shows the majority of adults surveyed agreed that their level of happiness when in nature has increased compared to before the pandemic," Defra said in a statement.
"The new trees will also play a crucial role in the fight against climate change, supporting the UK's journey to reach net-zero greenhouse gas emissions by 2050 and commitment to increase tree planting across the UK to 30,000 hectares of trees a year by 2025."
Forestry Commission chair Sir William Worsley said: "The pandemic has shown us just how important trees and nature are, wherever you live.
"Through targeting funding toward areas where they will have the biggest benefits, including near healthcare and educational facilities, this fund will deliver increased benefits for health and wellbeing, as well as contributing towards the government's ambition to increase woodland creation across England."
With 13 per cent coverage,the UK has the second lowest lowest level of forested area of any country in Europe, after Ireland. In comparison, 36 per cent of France is covered in woodlands, in Germany it is 32 per cent, while in Sweden it is 68 per cent.
According to the Climate Change Committee, the UK must up its cover to 18-20 per cent in order to have a hope of reaching net zero by the middle of the century.
The committee has suggested as much as a fifth of agricultural land will need to be repurposed for tree planting, as well as for producing energy crops (for biomass energy production), and peatland restoration.
Sir William told The Times: "In part it's about persuading sheep farmers to become foresters.
"Finding land to plant is a real challenge because we live in a small country. Everybody thinks planting trees is a great idea but just 'not in my landscape'."
But the National Farmers' Union told The Independent tree planting did not need to take up productive farmland.
The organisation's deputy president Stuart Roberts said: "Tree planting is a crucial part of the UK's plan to reach net zero and it must be carefully considered with the right policies and incentives to ensure that it can work alongside productive farming.
"This isn't an either-or situation. Planting trees and managing bigger hedgerows forms a key part of the NFU's net zero plan and farmers recognise their role in helping to deliver it. But we must be smart in our approach as we cannot end up in a situation where we are losing productive and versatile farmland and reducing sustainable domestic food production, only to increase our reliance on food imports from countries with lower environmental credentials.
"The key thing is to make sure the right tree is chosen for the right place, whether it's the creation of woodland or just one tree."
Forestry minister Zac Goldsmith said: "Ahead of our forthcoming ambitious action plan for trees, woodland and forestry, and to complement our manifesto ambition to have every new street lined with trees, the Urban Tree Challenge Fund provides a fantastic example of how trees can be planted, managed and enjoyed to provide the greatest impact - in areas where they are needed most."
Register for free to continue reading
Registration is a free and easy way to support our truly independent journalism
By registering, you will also enjoy limited access to Premium articles, exclusive newsletters, commenting, and virtual events with our leading journalists
Already have an account? sign in
Register for free to continue reading
Registration is a free and easy way to support our truly independent journalism
By registering, you will also enjoy limited access to Premium articles, exclusive newsletters, commenting, and virtual events with our leading journalists
Already have an account? sign in
Join our new commenting forum
Join thought-provoking conversations, follow other Independent readers and see their replies