New wind farm ports in northeast will create 6,000 jobs and build 'next generation' of North Sea wind turbines
Multi-million-pound investment in ports on Humber and Teesside intended to support UK's growing wind industry
Harry Cockburn
Thursday 11 March 2021 19:05 Comments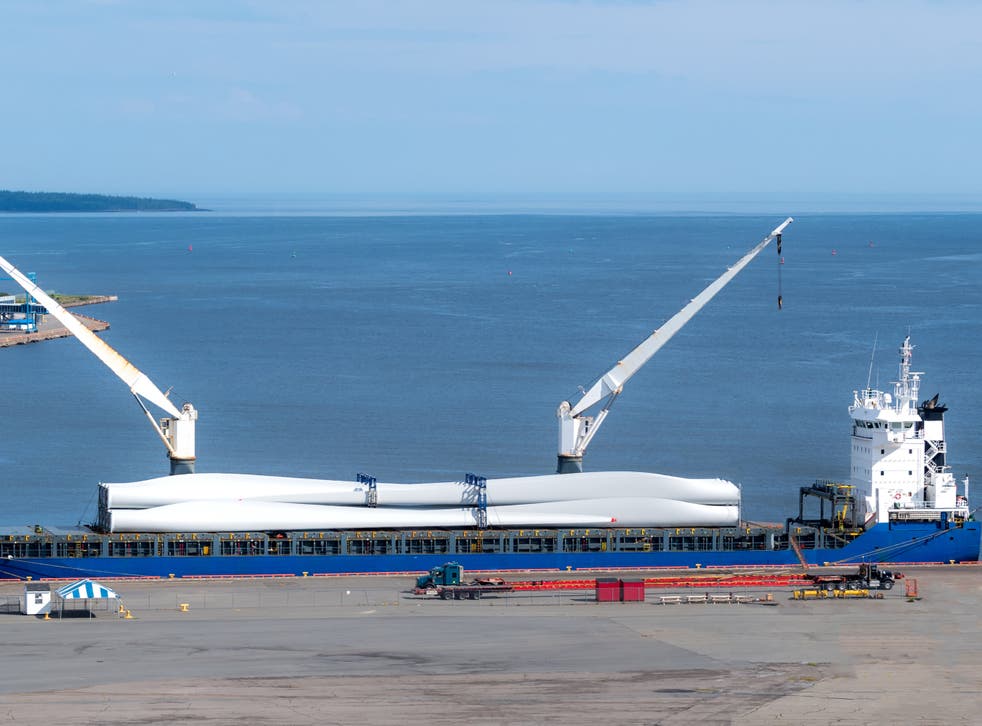 The government has announced a £95m plan to build two new offshore wind ports on the north east coast of England which will create thousands of jobs and help the UK construct the next generation of wind turbines.
The two new facilities on the Humber and on Teesside will boost investment in the region and create up to 6,000 jobs in the north, the government said.
Construction of the plants is set to start later this year, with £75m going to Able Marine Energy Park on the south bank of the River Humber, and £20m to Teesworks Offshore Manufacturing Centre on the River Tees.
The ports will undergo significant upgrades in order to support the growing North Sea wind energy industry.
Boris Johnson said in a statement: "During the industrial revolution over 200 years ago, wind powered the sails of ships from the Humber and Teesside trading goods around the world.
"Now the Humber and Teesside will put the wind in the sails of our new green industrial revolution, building the next generation of offshore wind turbines whilst creating 6,000 new green jobs in the process."
He added: "Our multi-million-pound investment in these historic coastal communities is a major step towards producing the clean, cheap energy we need to power our homes and economy without damaging the environment."
The government said the funding would come from the £160m pot created to upgrade port infrastructure and support manufacturing, which Mr Johnson unveiled in October 2020.
Once complete, between them the ports will house seven firms and have the capacity to support the development of up to 9GW of energy offshore wind projects each year – enough electricity to power about 8 million homes.
Among the companies is GE Renewable Energy at Teesworks, which will build 350ft turbine blades to be used at the Dogger Bank wind farm – due to be operational by 2026, and the largest wind farm in the country.
The company has said it will employ 750 people directly and a further 1,500 in the supply chain.
Jerôme Pécresse, chief executive of GE Renewable Energy, said: "This new plant will contribute to the development of an industrial cluster dedicated to offshore wind in the northeast of England.
"We are delighted to announce such a commitment for the renewable energy industry, we believe it will help develop a strong talent pool through the hiring and more importantly training of future colleagues.
"The UK's target to commission 40GW of offshore wind by 2030 is ambitious and requires that we invest in local production capabilities to accompany this effort.
RenewableUK, the trade association for UK wind power, welcomed the government's announcement. Chief executive Hugh McNeal said: "GE Renewable Energy's new blade turbine manufacturing plant will transform a former steelworks site on Teesside into a high-tech clean energy powerhouse, creating thousands of highly-skilled jobs in our UK supply chain. This announcement marks the start of the next generation of offshore wind manufacturing."
Register for free to continue reading
Registration is a free and easy way to support our truly independent journalism
By registering, you will also enjoy limited access to Premium articles, exclusive newsletters, commenting, and virtual events with our leading journalists
Already have an account? sign in
Join our new commenting forum
Join thought-provoking conversations, follow other Independent readers and see their replies