LIFESTYLE FEATURES
The rise of bespoke clothing: Is made-to-measure the answer to fashion's sustainability crisis?
Sophie Benson puts brands to the test
Thursday 08 April 2021 10:30 BST
Comments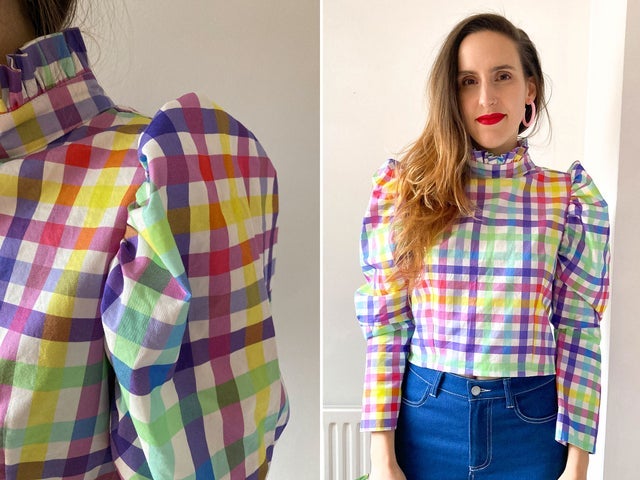 The idea of bespoke, made-to-measure clothing may sound like the preserve of the wealthy and those with couture ateliers on speed dial, but it isn't actually that long ago that made-to-measure was, for many, the standard way of  buying clothes.
Garments made specifically for the wearer's measurements were the norm until just after the industrial revolution in the mid-19th century. They remained popular until the 1940s when the introduction of a standardised sizing system in the US, and from those – albeit shaky – foundations, the fashion industry forged into a future of rails of identical dresses, shirts and jackets in an industry-approved range of sizes. 
This more standardised approach drove costs down, and as the high-end department store paved the way for the high street shop, and– later– online shopping, fashion undoubtedly became more accessible. Shopping became a pastime and ready-to-wear clothing became the norm. 
Our style now resides on the opposite end of the spectrum to made-to-measure: the garments in most of our wardrobes are mass-produced, homogenised, cheaply made and manufactured at a rate beyond our wildest needs.  
Although some may argue that mass production and standardised sizing led to the so-called democratisation of fashion, exclusionary size ranges, underpaid garment workers and tonnes upon tonnes of clothing sitting in landfill show the darker side of mass-produced, ready-to-wear fashion.
With these issues making headlines, consumers are beginning to embrace made-to-measure once more. Designer brands such as Emilia Wickstead and Prabal Gurung have begun to offer made-to-measure alongside their ready-to-wear lines. But with prices in the thousands, they're not a viable alternative for many people. However, it's not just designer labels returning to fashion's bespoke roots; there's a whole generation of new brands with made-to-measure at the heart of their business model.
Here's what happened when I put some of them to the test.
Unspun
San Francisco denim label unspun created their brand around a custom model in the name of "fixing the mismatch between what the industry makes and what consumers want". Rather than choosing a size and hoping for the best, unspun customers use an app to create a 3D scan of their body in order to ensure the perfect fit. It sounds futuristic so I was, of course, eager to try and went about ordering a pair of jeans. 
Although it evoked visions of stepping into some sort of The Fly-esque machine, the scanning process involves nothing more than standing in front of your phone and sort of shuffling around in a circle. The app was in its early stages at the time, so the success of the scan was confirmed after chasing via a quick email.
Before scanning, I chose the cut, wash, length, rise and finish I wanted via the website. I opted for the 'Offline' jeans in mercury blue in a cropped length, with a high rise and white stitching. I'd done the scan while wearing leggings and a vest top and became convinced that any wrinkles or folds would result in an ill-fitting pair of jeans. I needn't have worried; they are the best fitting pair of jeans I've ever owned. No gaping at the waistline, no cutting in, no suffocated thighs. Quite simply, they fit as if they were made for me.  
A happy shopper equals a happy brand, as unspun co-founder Beth Esponnette explains to me, but the benefits go beyond customer satisfaction. Mass manufacturing for inventory means taking a gamble on how much to make, hoping it sells and doesn't get returned. Creating standard sizes involves creating samples, doing fittings, and repeating the process until a suitable fit is reached.  "It's likely that [the brand using this process] created a lot of excess product that will be trashed", explains Esponnette.
"Before the pandemic, excess inventory that went unsold was around 30 per cent of the clothing that was produced. It's a broken model and a big reason why we created our tech to automate customisation and to make products on demand," she continues. "In having zero inventory and only making the product that is bought, we effectively save one-third of clothing from going straight from the assembly line to landfill."
Esponnette says the accessible price point is down to the use of digital tailoring: "We programmed computers to essentially act as tailors in building a pair of jeans around a customer's 3D avatar. Doing this, we removed the costs involved in a tailor manually measuring a customer's body and creating a unique pattern."
At $200 (around £150), these jeans aren't high-street-cheap, but when you consider a pair of made-to-measure Levi's costs around £450, it seems a reasonable price for a pair of sustainably made, custom jeans. 
Made-to-measure jeans, £150, Unspun.io
By Megan Crosby
While unspun's approach is rooted in technology, for Megan Crosby, founder of eponymous brand By Megan Crosby, it's all about handmade. Launched in May 2019, Crosby knew from the beginning that she wanted to build her business around a sustainable model and, for her, made-to-order and made-to-measure were an inherent part of that. "It's perfect because it means there's no waste and we're getting things to fit people really well," Crosby says.
Alongside the sustainability benefits, Crosby cites size inclusivity as one of the main drivers for her offering a made-to-measure service. Sustainable fashion is often criticised for its limited size ranges and refusal to cater for plus size consumers, and Crosby wanted to change that. "A lot of our orders are for plus size, and it's so important to us to be inclusive," she says. "We can literally cater to anybody, any size."
While Crosby does offer standard sizes to those who want them, she estimates that 70 per cent of her orders are custom, an option the brand offers for no extra cost. To order a made-to-measure piece from By Megan Crosby, customers submit their measurements, and a pattern is created specifically for them. 
I chose to order the Allie blouse – a bold, checked, puff sleeved statement piece – and with a little help from the illustrated guide, submitted my measurements and waited patiently for it to arrive.
It arrived beautifully packaged all in pink but unfortunately the fit wasn't right. Had I bought from a high street brand, I'd have ticked the 'wrong size' box, stuck the returns label on and popped it in the post with no brand interaction. However, as I had ordered from a small brand, I was able to message Crosby directly with some images of the fit and she responded immediately, apologetic, advising me that I could send it back for alterations.
As with all the brands I tried, By Megan Crosby offers an alterations service if the fit isn't right. It's a significant, even radical, service to provide given that five billion pounds of waste is generated through returns each year, according to returns management company Optoro. Without the correct technology and logistics in place, for most brands, it's simply not profitable to put returns back into inventory, so they're either sold to discounters or sent directly to landfill.  
But for Crosby, and her team of six, sending returns to landfill would certainly not make financial sense and, more importantly, it would go against her ethos of reducing waste. Just over a week later, my altered blouse arrived and this time the fit was much better. A zip had been added to make it easier to put on and the neck, waist, shoulders and bust had all been taken in. 
Customer feedback which surfaced on Instagram as I was trialling the service, however, suggests that my experience doesn't necessarily reflect the experience of others, particularly the brand's plus size customers who have been disappointed with the fit of their garments and subsequent customer service. In response, Crosby released a statement detailing that she intends to hire plus size fit models, seek training for her team in grading sizes and making plus size clothes, and implement stricter quality control measures.
Made-to-measure blouse, £90, By Megan Crosby
Son of a Tailor
Son of a Tailor is a Copenhagen-based brand that makes custom-fitted menswear, "convinced that clothes should be made in a way that is better for everyone involved".
"We felt that by going into made-to-order and made-to-measure, we could solve the return nightmare and remove inventory, hence removing overstock and reducing a lot of waste in the supply chain," says communications manager Kay Litzinger.
In order to create a custom fit, Son of a Tailor uses their "Ideal Size Algorithm", which is based upon height, weight, age and shoe size. I was unsure how those stats could equate to a great fitting T-shirt or jumper but, using my boyfriend as the guinea pig, I provided the necessary information and was presented with a custom size. From that initial size, you have the option to adjust the fit (slim, fitted or relaxed) as well as sleeve length, body length and neckline depending on the garment you're ordering.
We made the tweaks based on my boyfriend's preferences and ordered a cotton sweatshirt and a long-sleeved cotton T-shirt. While you wait, you're updated along the way, receiving notifications as to when your pattern pieces have been cut, sewn and then shipped.
The first thing I noticed when unwrapping the parcel were the labels signed by the person who made the garments. A nice touch, when garment workers are so often faceless, nameless entities. Filomena and Isabel were the two seamstresses behind the two items I ordered and, a quick visit to the brand's website allows me to find out who they are and where they work.
"We think this is important in order to reconnect those who make the garments and those who wear them," says Litzinger. "And it also holds us responsible to make sure that every person who stands behind our products has great work conditions, otherwise our customers will hold us accountable."
Alongside the personal touch of the maker's signature are the wearer's initials stitched just above the hemline of each garment. A reminder, if one was needed, that a Son of a Tailor garment is made just for you. As for the fit? "Perfect," says my boyfriend.
If it wasn't, Son of a Tailor's Perfect Fit Guarantee means that he could return the garments for the pattern cutters to reassess and readjust for free. But this is a rare occurrence as Litzinger notes that their returns rate is approximately four per cent, while fashion giant Zalando, for context, reports returns rates of 50 per cent.
Made-to-measure T-shirt, £45-60, and sweatshirt, £63-84, Son of a Tailor
The Verdict
My experience of made-to-measure was a refreshing dive into a more innovative, caring and sustainable future of fashion. One where we won't mind waiting a few days or even weeks for our clothes to arrive, where garment workers are appreciated and spotlighted, where there's a relationship between you and the designer, and where clothes are made to be treasured.
Made-to-measure fashion inherently slows us down and makes us think about what we're buying. It reduces waste, centres craft and innovation, and proffers a more personal – and personalised – relationship with what we wear. The antithesis to mass-production and disposability, it could just be the answer to many of fashion's ills.
Join our commenting forum
Join thought-provoking conversations, follow other Independent readers and see their replies