Tennessee mother saves four of her five children from flood, but tragically loses two-year-old
'If it wasn't for her, I wouldn't have any children right now,' says Kalaub McCord, father of two-year-old Kellen Cole Burrow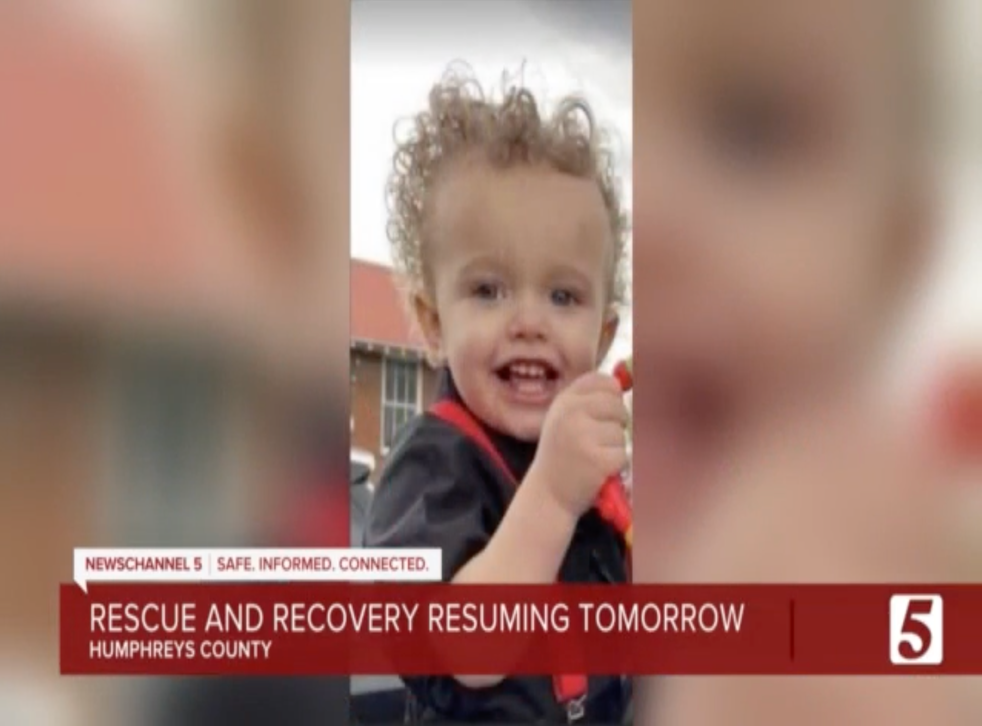 A mother managed to save four of her five children from the floodwaters in Waverly, Tennessee, but tragically lost hold of her toddler son as he was swept away.
Two-year-old Kellen Cole Burrow is now among the missing after the disastrous floods struck the state over the weekend.
Kellen's father, Kalaub McCord, says the boy's mother was clutching him and their four other children as floodwaters rushed into their apartment.
Mr McCord, meanwhile, was busy working to save others in the neighbourhood.
"I couldn't get back to him, but she managed to save our other four children," Mr McCord told WZTV. "If it wasn't for her, I wouldn't have any children right now."
At least 22 people in Tennessee and five in North Carolina have died in the floods. Forty people are currently missing.
Mr McCord says Kellen was asleep when the flood hit their house.
"I seen him that night when we put him to bed, but she had him in her arms whenever he got swept away," Mr McCord said.
The devastated father told WTVF that Kellen's mother fought bravely to save all her children.
"They were on the clothes lines hanging on, she had a hold of all of them trying to keep all of them," Mr McCord said. "He was a wonderful kid. He was a wonderful kid."
The brutal flood has taken many children from their families, including the seven-month-old twins Ryan and Rieligh Rigney, who were killed, and 15-year-old Lilly Bryant, who is still missing.
"My sister is just devastated," Lilly's aunt told WKRN. "She's broken down so many times she can't even speak. I'm pretty much all cried out."
Safety officials in Waverly have posted a partial list of people missing in the disaster, and have asked for the public's help in locating them.
"If you have physically seen or talked to the person listed below please contact 931-582-6950 or go to Mcewen High School at 335 Melrose Avenue in Mcewen and report to the gymnasium," the Waverly Department of Public Safety said in a Facebook post.
Public officials at both the local and national level have offered their condolences to victims' families.
"I send my deepest condolences for the sudden and tragic loss of life due to flash flooding in Tennessee," President Biden said on Sunday. "We've reached out to the community and will offer any assistance they need in this terrible moment."
Tennessee's governor, Bill Lee, discussed the "devastating" floods in a radio interview, but also said volunteer efforts there have provided "hope."
"The coordinated response has been impressive and significant," Mr Lee told host Brian Wilson. "It's kind of the intersection between tragedy and response to tragedy that provides so much hope and encouragement in the midst of what seems to be hopeless in the moment."
Survivors of the flood say the waters rushed in like a tsunami.
"All of a sudden it was like a tidal wave that just came over the road and into my yard," Casey Hipshire told CNN. "Next thing I know the water is in my house, and it's up to my chest."
Ms Hipshire said she, her husband, and their eight-year-old son survived by breaking a window and climbing through it to get onto their roof.
Others were not so lucky. Linda Almond, whose home was flooded in Waverly, Tennessee, posted footage of the rising waters just before she drowned.
"We are being flooded right now in Waverly, Tennessee. Really scary," Ms Almond said in a Facebook Live video, in which gray floodwaters could be seen rushing past her window.
Ms Almond and her son later climbed onto their roof for safety, family members told WKRN, but the roof collapsed. The son was later rescued, but Ms Almond did not survive.
Experts say climate change and inadequate dams both likely played a role in causing the disaster.
In 2020, US Representative Jim Cooper sponsored a bill that allowed two dams in Nashville to be used to control future floods, but the state's plan doesn't cover flooding that occurs in other areas of the state, leaving many people unprotected.
Meanwhile, researchers have found that extreme weather, like heavy rains that can trigger flash floods, are becoming more frequent because of the climate crisis.
Join our new commenting forum
Join thought-provoking conversations, follow other Independent readers and see their replies