Lewis Hamilton 'being used' by Black Lives Matter, claims Bernie Ecclestone
The motorsport mogul, 90, insists he would have banned taking a knee and anti-racism t-shirts from the podium if still in charge of the sport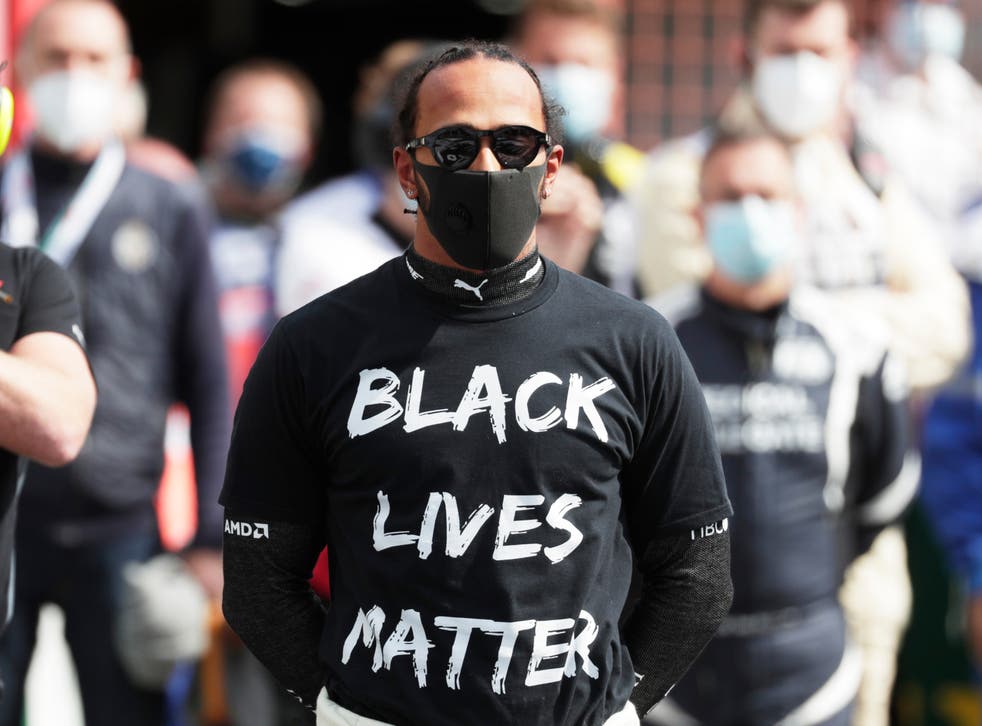 Bernie Ecclestone claims Lewis Hamilton is "being used" by Black Lives Matter movement and insists he would have banned the gesture of taking a knee before races if he was still in charge of Formula 1.
The 90-year-old, who was labelled "ignorant and uneducated" by Hamilton for past comments on racism and diversity in F1, added he would have stopped drivers from wearing anti-racism t-shirts on the podium.
The seven-time world champion has led the sport's push to deliver messages on social issues, with drivers on the grid kneeling before races last season in support for the fight against racism, but Ecclestone maintains that gesture would not have happened if he was in charge.
"I've said to his father, 'Lewis needs to be careful', because he's being used by the people who are supporting this Black Lives Matter and they are taking a lot of money from it. And nobody knows where it goes," Ecclestone told the Telegraph. 
"If I'd still been around there wouldn't have been anyone wearing [anti-racism] t-shirts on the podium, that's for sure.
READ MORE:
Lewis Hamilton not wasting time worrying about Mercedes' F1 testing troubles
Saudi Arabia Grand Prix to be F1's fastest street race
Murray Walker: Formula 1 commentator loved for his infectious enthusiasm
"One hundred per cent, there wouldn't have been this business of kneeling before races."
While the majority of drivers united behind the message of taking a knee, some drivers, including Red Bull's Max Verstappen and Ferrari's Charles Leclerc opted to remain standing last season.
Ecclestone came under fire last year when he said that "in many cases black people are more racist than white people".
While Hamilton has described last season's motivation as an "extra drive" due to the opportunity to use his status and platform to make a difference.
"I had this extra drive in me this year to get to the end of those races," Hamilton said last December.
"It was a different drive than what I've had in me in the past. To get to the end of those races first so that I could utilise that platform [for Black Lives Matter] and shine the light as bright as possible."
Register for free to continue reading
Registration is a free and easy way to support our truly independent journalism
By registering, you will also enjoy limited access to Premium articles, exclusive newsletters, commenting, and virtual events with our leading journalists
Already have an account? sign in
Register for free to continue reading
Registration is a free and easy way to support our truly independent journalism
By registering, you will also enjoy limited access to Premium articles, exclusive newsletters, commenting, and virtual events with our leading journalists
Already have an account? sign in
Join our new commenting forum
Join thought-provoking conversations, follow other Independent readers and see their replies