HTC Vive review: This immersive high-end headset is truly compelling
HTC is bringing the future to your living room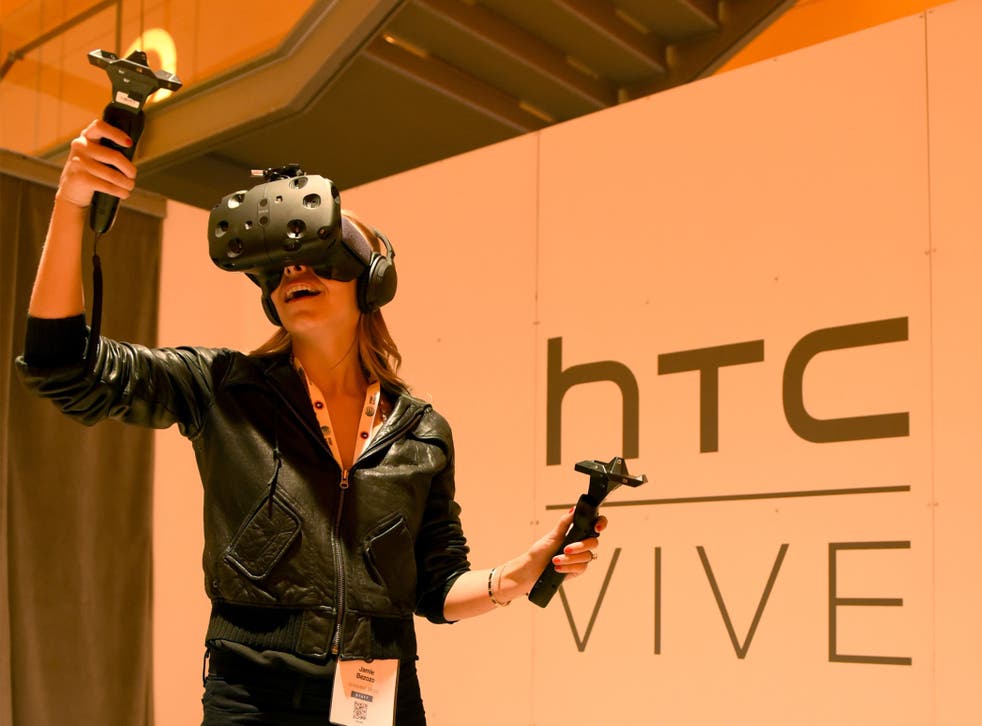 This year, virtual reality headsets go on sale in bigger numbers than ever. Affordable models like the Samsung Galaxy VR and Google Cardboard have been around for months, but when you see the high-end editions which are arriving right now, the differences are palpable.
Oculus Rift and HTC Vive are the new machines from VR company Facebook-owned Oculus and Taiwanese phone company HTC.
Later this year, PlayStation VR, which will connect to a PlayStation 4, is due and Microsoft's Hololens will come subsequently.
HTC's Vive is by some way the most expensive, at £689 (against the Oculus Rift for £499 and £349 for the PlayStation VR). But it's also the most complete, including everything you need apart from a gaming computer to connect it to for play.
You need a high-end laptop or desktop, running Windows 10 and with a decent graphics card. I tried several laptops with no success, so it's worth checking by Googling HTC Vive system requirements. In the end I plumped for an MSI GT70 Dominator Pro Dragon Edition with an Intel Core i7-6820HK processor which worked well.
Even so, setting it all up was quite a palaver. You put the base stations on opposite sides of the room, high up and tipped downwards so that their angle of view covers the floor area. They connect to the Vive wirelessly. The VR helmet itself is cabled to the computer, because for accuracy down to the millisecond, wireless won't do. It needs to be that accurate to avoid motion sickness, something HTC has worked hard on (and successfully).
The helmet, by the way, is reasonably comfortable, unless you wear glasses, in which case some adjustment is necessary to make it bearable. It's not light, but once wearing it I found myself too immersed in what was going on onscreen to notice.
Gadget and tech news: In pictures

Show all 25
With the helmet connected you need to connect the wireless controllers and map out the room's play space. This is important as you'll be wandering around blind so you need to know there isn't a stool to inadvertently crack your shins against, for instance.
Still HTC has a clever room tracking system so if you get too near the edge of the space, a grid of blue lines appears before you. There's also a setting which allows you to see a shadow version of the room you're in, too, at the touch of a button.
You do need a fair amount of space to make the most of this (or any VR system where you walk about) which may limit its appeal if you're living in a smallish flat and have to start each gaming session by moving the sofa back, say.
There are onscreen tutorials to guide you through all this, but allow well over half an hour to get it sorted.
After that, you can reap the rewards, and they're pretty spectacular. There are lots of games available now, with more to follow and all are easily and quickly downloadable from Steam, the excellent game download system from games company Valve, which has partnered with HTC for the Vive.
Generally, the games I played were deeply engaging and looked great. Graphics are brilliant (that's why you need the powerful computer) and the 360 degree views quickly take over. I never got used to the fact that wherever I looked, the environment was complete. Even when I looked down I was prepared to believe I was in space, on a tennis court or standing in the wreck of a ship undersea.
That shipwreck is in theBlu, which is the least gamey, more of an interactive experience, but is pretty amazing. You're undersea in a series of different scenarios such as watching shoals of fish migrate. You can bat jellyfish away with the controllers if they get too close.
But the best part of theBlu is the whale encounter. On the deck of that submerged ship you watch big fish swim by. Until you turn to see an enormous whale career into view, moving down until it's right next to you, staring you in the eye. It picks up speed as it heads off, so its tail seems to come too close for comfort.
Although not photo-realistic, this is so well done I found myself holding my breath.
Selfie Tennis is also fun. You play tennis… against yourself. Serve the ball using one controller, hit it with the other, which looks like a racquet. As soon as it crosses the net, the view switches so the ball comes right back at you. If you get bored, you can whack the tennis balls into the scenery, which includes a weird selection of tennis-ball headed ball girls.
Space Pirate Trainer is an addictive shooting game, where you stand on a platform in space, firing at robot drones who appear in increasing numbers. You can carry two guns, a gun and a shield or two shields (though the game will be endless with that arrangement). The drones are merciless, though at least when their projectiles hit you, you get a trippy disco-light rainbow effect for your trouble.
Valve's free demo software The Lab is great, set in a world similar to Valve's Portal. There are multiple games in The Lab, some basic, some downright scary. The best is Longbow where you must see off attacking Vikings. One controller is the arrow, the other the string of the longbow which you pull back to shoot. Behind you is a burning torch – you can even wave your arrow across it so it catches alight and you can shoot a flaming arrow, though you lose some visibility in the process. Overall, this is a rich, fast-paced game that will keep you coming back for more.
HTC Vive and Oculus Rift are just the first arrivals in a big wave of VR systems. Both are powerful and effective, though, having tried both I'd say HTC wins out as the better of the two, though it is pricier. And with both you still have to factor in the cost of a powerful-enough laptop, remember.
But the Vive is comfortable enough to wear for extended periods, and has graphics that are butter-smooth, with a fast refresh rate and clever coding to completely banish motion sickness. The wireless controllers are also comfy and extremely responsive, ensuring great gameplay.
As more VR titles become available, this will become an increasingly desirable purchase. It's already pretty compelling.
Register for free to continue reading
Registration is a free and easy way to support our truly independent journalism
By registering, you will also enjoy limited access to Premium articles, exclusive newsletters, commenting, and virtual events with our leading journalists
Already have an account? sign in
Register for free to continue reading
Registration is a free and easy way to support our truly independent journalism
By registering, you will also enjoy limited access to Premium articles, exclusive newsletters, commenting, and virtual events with our leading journalists
Already have an account? sign in
Join our new commenting forum
Join thought-provoking conversations, follow other Independent readers and see their replies