Nintendo shares plunge as it admits it's not making much money off Pokemon Go
Nintendo shares fell by nearly 18% on Monday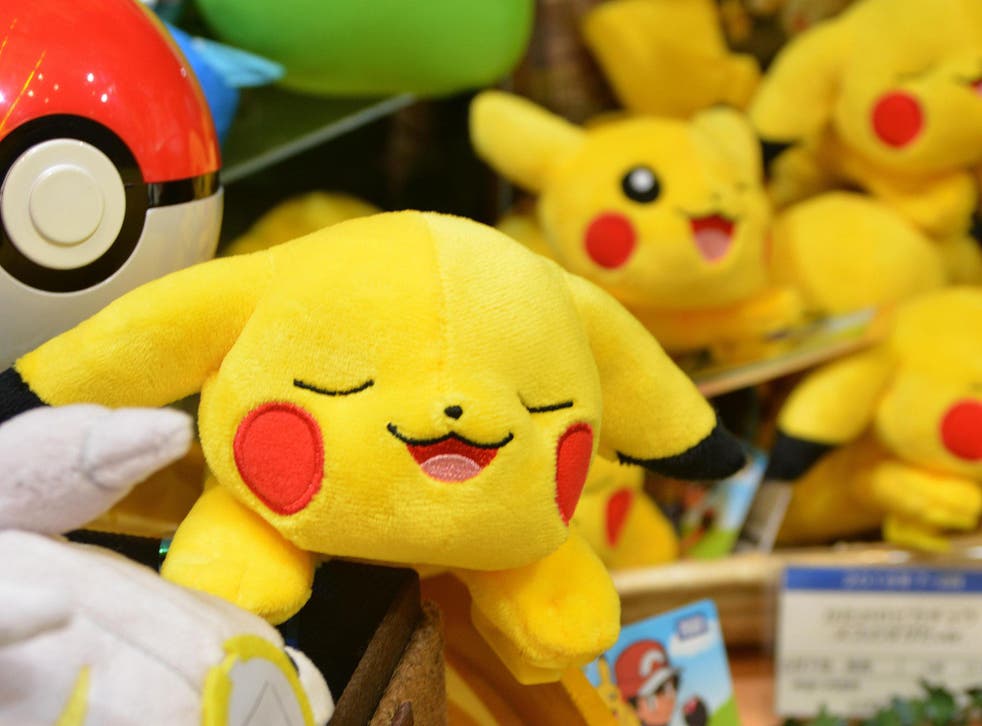 Nintendo's shares took a hit on Monday as the company said it is not expecting a huge profit boost from the global obsession for chasing Pikachu and other imaginary creatures on your smartphone.
The Japanese company's value more than doubled, overtaking Sony since the Pokémon Go launch on July 6.
That changed on Monday with Nintendo shares falling dramatically by nearly 18 per cent in Tokyo – the daily limit allowed - wiping around $6.7 billion (£5.2 billion) off the company's market value, according to Bloomberg estimates.
It came as Nintendo admitted that the impact of Pokémon Go on its finances will be limited, explaining that it only owns 32 per cent of the Pokémon company which in turn owns the rights of the Pokémon franchise.
Profits are actually split between several companies. These include Apple and Google, which take a share of sales through their stores, meaning that every time players buy Pokéballs the companies make money.
San Francisco based Niantic, the developer and distributor of the game which was previously owned by Alphabet, Google's parent company and Nintendo.
Nintendo added that it did not plan to revise its earnings outlook for now.
Analysts said some investors will be feeling the pain, as the share plunge is the company's worst in 26 years, but it's not all doom and gloom for Nintendo.
"Shares in Nintendo rose for the same reason as the Tulip mania of Holland – popular delusions and the madness of crowds. It had always been pretty obvious that profits for Nintendo weren't going to support such a rise in the share price. The fact that this has now been confirmed by the company shouldn't be a shock," Neil Wilson, ETX capital analyst, said.
"The stock is still up from its pre-Pokémon Go price, which is probably a better reflection of what is still a game changer for Nintendo as it starts to tap the mobile gaming market," he added.
Nintendo is still some 60 per cent higher than it was prior to Pokémon Go launch.
Bloomberg predicts the company first-quarter earnings, out on Wednesday, to be up from last year.
"The market has overreacted to the Nintendo statement," said David Gibson, a senior analyst at Macquarie Securities Group, noting the game in Japan had broken records with 10 million downloads in one day.
"I believe that Pokémon Go will be material in the company's earnings given the current trends for the game," he added.
The excitement surrounding the game shows Nintendo has finally embraced the smartphone as legitimate medium for its games.
Nintendo's previous resistance to mobile gaming was in part to protect its legacy console business, but the gaming company yielded in March 2015, making a partnership with mobile firm DeNA to push into smartphone apps and games.
Miitomo, Nintendo's first-ever mobile game, was released worldwide in March this year.
Pokémon Go's unforeseen success could be an opportunity for the company to capitalise on other beloved characters such as Zelda or Super Mario, analysts predict.
Syrian children hold Pokemon Go pictures in the hope people will find them and save them

Show all 13
"Nintendo is well-placed to boost its earnings with its other characters, such as Super Mario and Zelda and their potential is unknown," Yasuo Sakuma, portfolio manager at Bayview Asset Management, said.
Nintendo is planning to launch four more games for smartphone by the end of March 2017.
Pokémon Go is now available in 35 countries and most recently in Japan.
Register for free to continue reading
Registration is a free and easy way to support our truly independent journalism
By registering, you will also enjoy limited access to Premium articles, exclusive newsletters, commenting, and virtual events with our leading journalists
Already have an account? sign in
Register for free to continue reading
Registration is a free and easy way to support our truly independent journalism
By registering, you will also enjoy limited access to Premium articles, exclusive newsletters, commenting, and virtual events with our leading journalists
Already have an account? sign in
Join our new commenting forum
Join thought-provoking conversations, follow other Independent readers and see their replies