divided states
George Floyd, Breonna Taylor and how police began treating America like a war zone
On the streets of the US, protesters are facing the same brutality from law enforcement that they're demonstrating against, writes Holly Baxter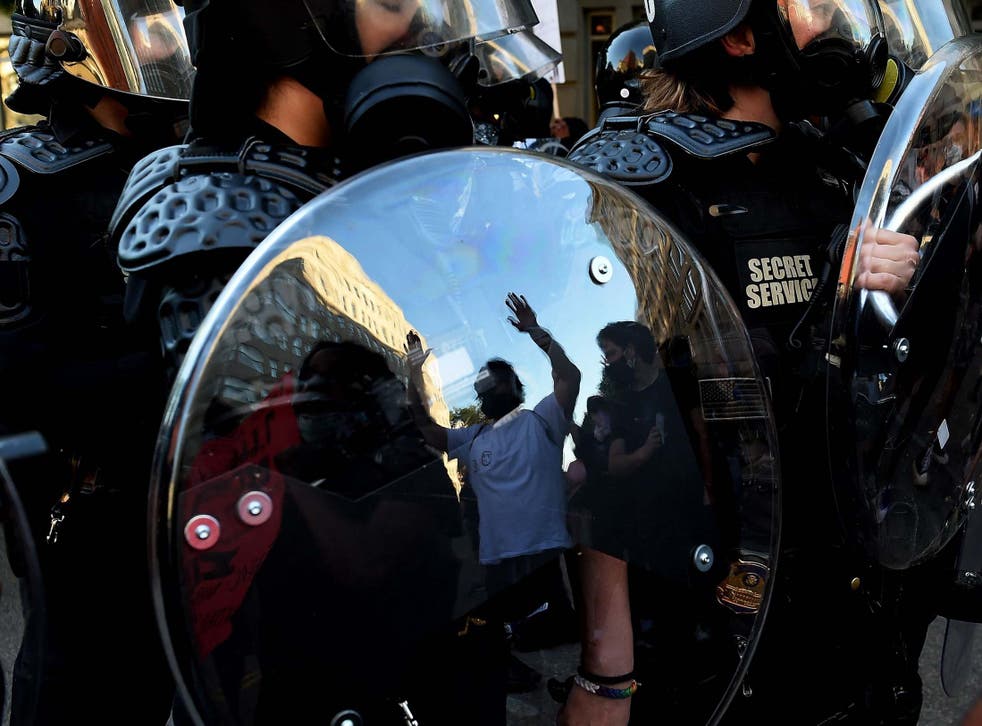 As protests raged across the nation in support of Black Lives Matter, an asthmatic man was pepper-sprayed in his prison cell in Brooklyn. Thirty-five-year-old Jamel Floyd, who was, according to relatives, due to be released in just over three months, had reportedly become "disruptive" in his cell on Wednesday. Officers who were apparently worried he would "cause harm to himself or others" entered the cell with pepper spray and removed him. From there, the details are somewhat unclear. What we do know is that Jamel Floyd was dead just an hour later. Pepper spray, an inflammatory agent, is known to aggravate severe asthma.
Jamel shared a surname with a man who died with a police officer's knee on his neck. In Minneapolis, Minnesota, George Floyd gasped, "I can't breathe," as Derek Chauvin kept him pressed to the ground for eight minutes and 46 seconds. Even after paramedics arrived to attend to Floyd, Chauvin was reluctant to move his knee – in fact, he didn't for, at best estimates, a full minute after Floyd lost consciousness. But you know that. You've heard it in the anguished words of the protesters who started expressing their grief and anger in Minnesota, then across the United States, then across the world. Though you may not know that Floyd was a 6ft 6in "gentle giant", or a father to a six-year-old daughter named Gianna, or an "always cheerful" bouncer who enjoyed dancing badly to make people laugh, you know he died on the street last week, another victim.
Since those protests went mainstream – since they even started popping up outside my Brooklyn apartment, on a street the NYPD then built barricades around – so too has police brutality. Social media is suddenly filled with photographs and videos of peaceful protesters, including journalists, being shot at with rubber bullets, teargassed, jumped on and beaten with batons. These are the sorts of scenes that reporters are used to in war zones rather than the residential streets of a supposedly civilised country in peacetime. And it turns out there's a reason for that.
Join our new commenting forum
Join thought-provoking conversations, follow other Independent readers and see their replies