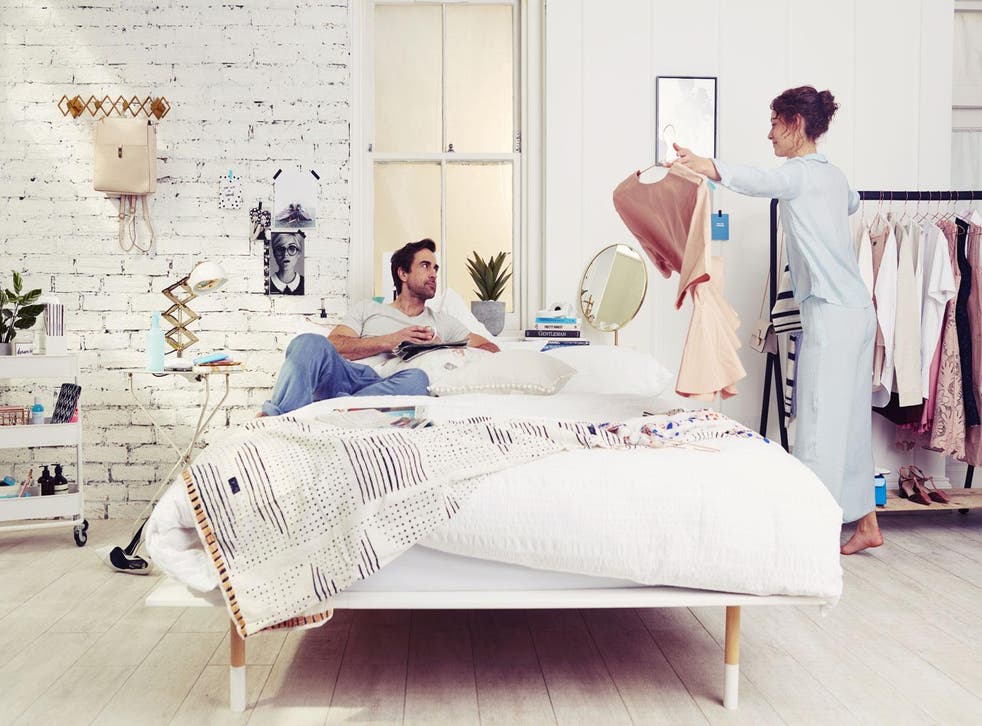 5 differences between a pocket sprung and memory foam mattress
Confused about what's comfiest for a cosy night's sleep? Here's how to make the right choice
The mattress industry is booming and it seems as if every month a new company appears out of nowhere promising to give you the best night's sleep. With so much noise in the mattress industry, how do you choose the one that is best for you?
Among consumers, there are two types of mattresses that stand out: pocket sprung and memory foam. At first glance these two mattresses provide the best comfort, support and quality on the market, and it seems you would be hard-pressed to find a better option out there. However, there are a few key differences between pocket sprung and memory foam mattresses and knowing what these are is crucial in helping you choose the one that's right for you.
1. Components
Pocket sprung
Pocket sprung mattresses boast anything from 1,000 to 2,000 individual springs. Unlike open coil mattresses, pocket sprung ones have springs that move separately from each other. The general rule of thumb is to get pocket sprung mattresses that have 1,000 springs or more - anything below that is considered low quality.
These mattresses are usually stuffed with both synthetic and organic materials - anything from lamb's wool to synthetic cotton. But beware: some materials are allergens, so make sure you get one with a hypoallergenic surface or just throw on some thick bedding.
Memory foam
Memory foams are made out of man-made chemicals. There was a bit of rocket science involved in its first creation as it was originally developed in the Seventies by NASA to cushion astronauts as they launched into space - although this project never really took off.
Instead of sending it to outer space, medical companies realised the potential of memory foam for joint pain relief, and it has been devoted to Earthly care ever since. You can find memory foams in any hospital or care home as they have become a staple for similar industries because they provide the extra support needed by recovering patients and the elderly.
These mattresses are primarily created with polyurethane, together with different chemicals that are customised by the companies to create varying levels of density and viscosity to suit specific purposes.
The dense composition of memory foams makes it near-impossible for foreign bodies to penetrate them - even something as microscopic as dust mites. And because they are made from safe chemicals, you can be sure memory foams are hypoallergenic.
2. Sleeping style
Pocket sprung
If you're the kind of sleeper who likes that extra bounce then a pocket sprung mattress is perfect for you. This is best for people who prefer a springy feeling, as opposed to a sinking one. Any sleeping position can be supported by a pocket sprung mattress as it allows for proper weight distribution and adequate muscle and joint relief.
Pocket sprung mattresses allow further customisation for better comfort. You can easily determine the firmness of a mattress by looking at the product label. The number beside the product (say, Sleepnator 1,000) indicates how many springs are inside. The more springs, the firmer the mattress.
Memory foam
If you're the kind of sleeper who enjoys a firm surface then memory foam is the right fit for you –literally. The material transforms into the natural shape of your body for a more tailored sleeping experience. Because of the wide-range of support it offers, memory foam is the perfect fit for individuals suffering from chronic back pain. It is best in relieving joint pain and aching muscles because it replicates the natural mould of the body. Memory foam can help alleviate back aches as the material is made to enhance the natural curve of the spine, whatever position you sleep in.
3. Motion separation
Pocket sprung
There are two popular kinds of spring mattresses available on the market: open coil and pocket sprung. Unlike an open coil mattress, a pocket sprung one uses individual springs instead of coils to form a cohesive unit. Pocket sprung is a more innovative version of the early open-spring mattresses as it uses separate springs in supporting the sleeper's body.
The springs operate separately from each other, making a pocket sprung mattress a better option for motion separation than its open-spring counterpart. The coils are designed to keep pressure within affected coils, preventing other parts of the mattress from sinking as you shift from one corner to another.
Memory foam
Memory foams are designed to accommodate the user's weight and remember their shape. Since these are made out of multiple viscoelastic cells, anyone using a memory foam mattress would find it perfectly hugs their body, as it envelops their natural contours to provide better support and joint relief.
And because memory foams are developed to uphold a person's shape, they create a mould that helps motion separation, making a distinct outline around users to prevent the feeling of rolling towards the other side of the bed.
4. Lifespan
Pocket sprung
Out of all the mattress types, spring mattresses have the least impressive lifespan, lasting anywhere from eight to 10 years. But in real life the numbers seem bigger than on paper. After extensive usage, pocket sprung mattresses develop a harder surface as the individual coils start to sag because of years of body pressure, preventing the material from providing optimum support.
However, pocket sprung mattresses are easier to maintain than others, and with proper care can have their durability stretched for a handful of years. To slow down deterioration, flip the faces every month to allow the mattress to improve its shape and to avoid faster wear.
Memory foam
It seems like memory foam just gets better with age. With frequent use, memory foam mattresses can last up to 12 years. Compared to other mattress types, memory foam options show better resilience as the material is able to preserve its quality throughout extensive usage.
Memory foams become softer over time, and while this might appear as the most ideal scenario, incredibly soft memory foam beats its purpose in shaping up to the natural contours of the body. In order to prolong the lifespan of your mattress, it's recommended to switch the head and foot sides every month to allow it to relax and adapt to new shapes.
5. Temperature
Pocket sprung
While pocket sprung mattresses may have multiple layers of spring and stuffing, they are also extremely breathable and allow a natural flow between your body and the material. As your sleep reaches its full cycle, your body's temperature rises past normal, and this could affect the overall quality of sleep.
While the typical pocket sprung mattress might not be able to create a cooler atmosphere, standard models can effectively regulate your body temperature by allowing proper ventilation between your body and the mattress to ensure your temperature doesn't rise any higher than it should.
Memory foam
Memory foams are quite another story. Because they are made up of dense cells, ventilation has become a primary concern among owners of these types of mattresses. Though it has been promoted in care homes and hospitals for its delicate material, most home owners have found this malleability makes memory foam heat-friendly.
As the memory foam creates a mould around the natural contours of your body, the material traps the heat instead of letting it circulate between the body and the material. At best, the standard memory foam softens up in reaction to hotter temperatures, allowing decent ventilation.
However, new technology has allowed companies to produce cooler memory foam mattresses, infused with cooling cells to not only regulate temperature but also improve it.
The verdict
It all boils down to your priorities as both mattresses have their own strengths and weaknesses. At the end of the day, knowing which factor is most important to you will help you make the right decision.
While you can't expect to get all the properties out of either mattress, more advanced mattress companies have now achieved the impossible. Thanks to companies such as Simba Sleep, you can now reap the best features of pocket sprung and memory foam combined. So, if you can't decide what you like best, why not consider a hybrid mattress? Each Simba Sleep purchase comes with a 100-night sleep trial, meaning that if for whatever reason you do not find the mattress comfortable, the company will give you your money back.
To learn more about Simba Sleep visit simbasleep.com
Register for free to continue reading
Registration is a free and easy way to support our truly independent journalism
By registering, you will also enjoy limited access to Premium articles, exclusive newsletters, commenting, and virtual events with our leading journalists
Already have an account? sign in
Register for free to continue reading
Registration is a free and easy way to support our truly independent journalism
By registering, you will also enjoy limited access to Premium articles, exclusive newsletters, commenting, and virtual events with our leading journalists
Already have an account? sign in
Join our new commenting forum
Join thought-provoking conversations, follow other Independent readers and see their replies