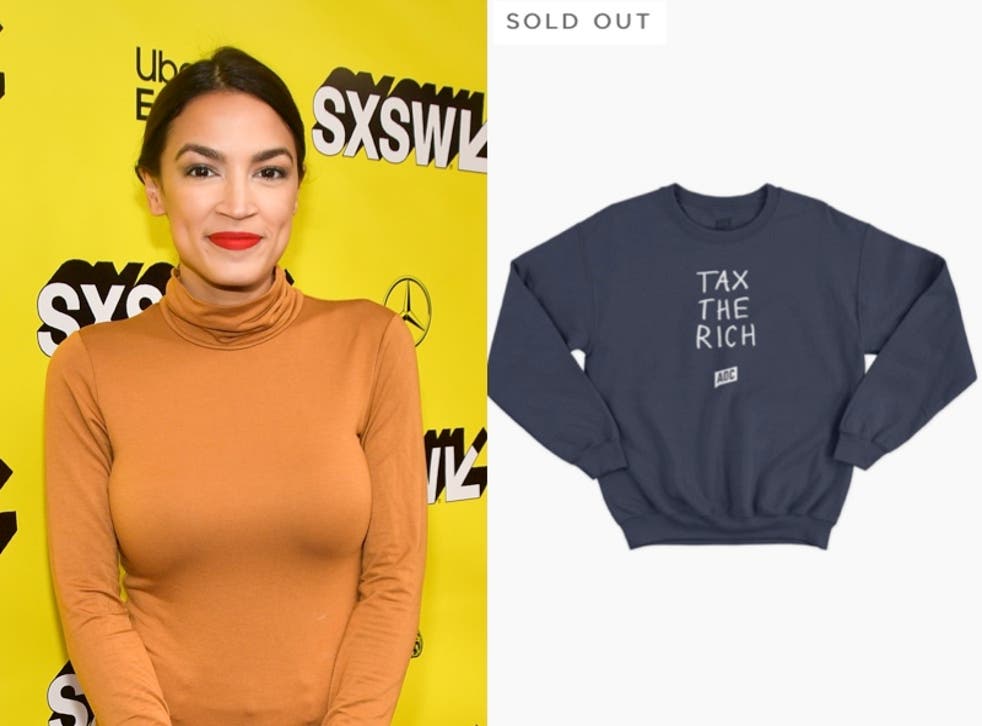 AOC responds to criticism over campaign selling $58 'Tax the Rich' sweatshirt
Sales of lawmaker's merchandise go to her campaign
Chelsea Ritschel
New York
Thursday 03 December 2020 21:31 Comments
Alexandria Ocasio-Cortez has responded to criticism over a $58 sweatshirt that reads "Tax the Rich" for sale on her campaign website.
On Wednesday, the Democratic congresswoman announced pre-orders were open for her new collection of merchandise, which includes options such as a T-shirt reading "Drink water & don't be racist" as well as one emblazoned with the slogan quote: "Change takes courage".
"As always, made in the US with dignified, union jobs paying living wages," she wrote on Twitter.
One item in particular, however, a navy sweatshirt reading: "Tax the Rich," has caused backlash on social media, with critics of the lawmaker accusing her of being hypocritical with the price of the garment.
According to Newsweek, the sweatshirt was previously listed as $65, however, the price has since been changed to $58.
"Interesting how @AOC is benefiting from capitalism by selling merch that attacks capitalism…" one person tweeted.
Another said: "$65 to buy a sweatshirt that says 'Tax the Rich'. Is this satire?"
"AOC charging $58 a pop for a sweatshirt that says 'Tax the Rich' LITERALLY CONTRADICTS ITSELF," someone else wrote.
On Thursday, Ms Ocasio-Cortez addressed the backlash on Twitter, where she retweeted a person identifying themselves as a former mass market apparel designer who pointed out that the cost of the item was appropriate considering it was made in the US and "union printed".
"Made in America. Union printed. Sounds about right. That's what it costs to pay everyone a decent wage along the way," they wrote.
In addition to retweeting the tweet to her more than 10m followers, the congresswoman added: "Republicans are freaking out [because] we don't use slave-wage labour for merch that funds grassroots organising. But what's the difference between Trump's merch and ours?
"Ours is made in the US."
On the president's campaign website, a sweatshirt reading "Keep America Great" is for sale for $55.
Ms Ocasio-Cortez followed up her tweet with one that read: "Oh, and by the way: Tax the Rich."
Despite the criticism, the sweatshirt in question has proven to be popular, as it is one of eight styles currently sold out on the campaign store.
"Might have added some AOC merch to my Christmas list…" one person wrote on Twitter.
Register for free to continue reading
Registration is a free and easy way to support our truly independent journalism
By registering, you will also enjoy limited access to Premium articles, exclusive newsletters, commenting, and virtual events with our leading journalists
Already have an account? sign in
Register for free to continue reading
Registration is a free and easy way to support our truly independent journalism
By registering, you will also enjoy limited access to Premium articles, exclusive newsletters, commenting, and virtual events with our leading journalists
Already have an account? sign in
Join our new commenting forum
Join thought-provoking conversations, follow other Independent readers and see their replies