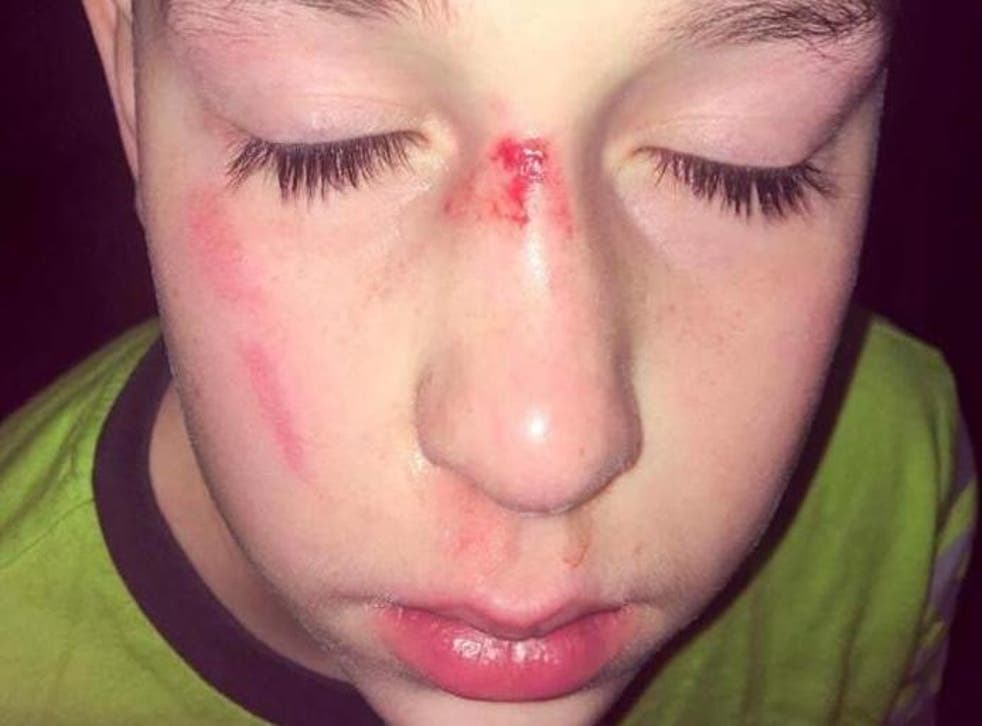 Mother reveals how bullies left her autistic son with facial trauma
'We need to protect our students from bullying'
A Colorado-based mother has spoken out about the horrific bullying her 11-year-old son suffers at school on a regular basis.
Ashley Bibbo's son has high-functioning autism and has been repeatedly assaulted by bullies at school who have left him with lacerations and bruises on his face.
After writing about her son's tragic experiences in a heartbreaking Facebook post, Bibbo's story has been widely shared online, with fellow parents offering their condolences and support.
Bibbo explained that most people who interact with her son wouldn't recognise that he was autistic thanks to her mindful parenting.
However, she revealed that he often struggles to respond to social situations and that this has only exacerbated the extent at which he has been bullied.
"This year, my child has​ continually​ dealt with bullies that have been cruel and relentless," she wrote.
"I have been in contact with the school every week due to incidents involving him and other boys.
"Th​ese situations​ can be typical for children with HFA, ​who ​can ​struggle to interact appropriately and read social cues, ​may ​invade others space, have aggressive tendencies and act impulsively when they face rejection from peers."
One incident in particular, on 3 October, left her son with severe facial trauma however, the school failed to record the incident.
She explained that she had struggled to get in touch with a senior member of staff to address the situation.
"After​ a ​few ​more ​incidents and an aggressive situation in November, I was finally told the woman in charge had resigned, and I was put in contact with the person taking over her caseload.
"I called and left messages with no response."
He was assaulted again on 6 December by four students, one of whom was allegedly also filming the incident, Bibbo revealed.
"When the staff intervened, they attempted to deescalate him in all the wrong ways - they had no guidance on his triggers ​or​ calming tactics that work for him, because there was nothing on record, despite all of my work and advocacy.
"Heartbreakingly, he was restrained by security which only further escalated the situation and made him feel as though he was at fault."
Bibbo is urging fellow parents to share her story in the hope that it will raise awareness for his condition and the extent at which bullying can go unmonitored by schools.
"We can do better," she wrote.
"We have to do better in order to raise a generation of productive, well-adjusted children."
Register for free to continue reading
Registration is a free and easy way to support our truly independent journalism
By registering, you will also enjoy limited access to Premium articles, exclusive newsletters, commenting, and virtual events with our leading journalists
Already have an account? sign in
Register for free to continue reading
Registration is a free and easy way to support our truly independent journalism
By registering, you will also enjoy limited access to Premium articles, exclusive newsletters, commenting, and virtual events with our leading journalists
Already have an account? sign in
Join our new commenting forum
Join thought-provoking conversations, follow other Independent readers and see their replies