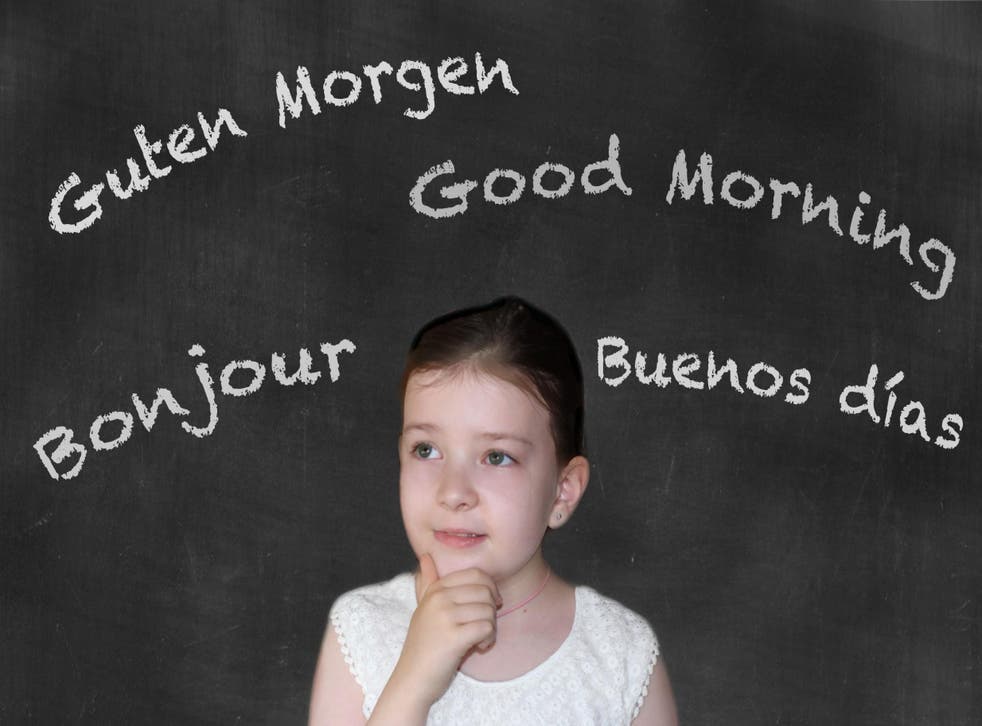 Bilingual babies can distinguish between languages before they are two, study reveals
Wave goodbye to Spanglish
Olivia Petter
Wednesday 09 August 2017 14:28 Comments
Ever dreamed of raising a bilingual baby?
It might be easier than you think, as a new study reveals that babies can differentiate between words from different languages at just 20 months old.
The research, published in the journal Proceedings of the National Academy of Sciences determined infants' propensity to monitor and control language through a series of experiments.
24 French-English children were shown pairs of photographs of familiar objects and listened to sentences in both a single language ("Find the dog!") and a mixture of two languages ("Find the chien!").
In a second test, they heard language switches that crossed sentences, named code switches, which are regularly spoken by children in bilingual households i.e. "That one looks fun! Le Chien!"
Through eye-tracking measures, the researchers were able to determine the infants' cognitive efforts, in other words, how hard their brains were working to understand what was in the photographs being shown to them.
When they heard the language switches, their pupils dilated, proving immediate comprehension.
The same tests were carried out on bilingual adults to see whether these language control mechanisms were consistent in a bilingual speaker's life. They found that both bilingual adults and infants incur a processing "cost" when they hear code switches, meaning that rather than demonstrating a barrier to understanding, those tested boasted an "efficient processing strategy where there is activation and prioritisation of the currently heard language," explained co-author Casey Lew-Williams.
"When language switches occur frequently, or are situated at [sentence] boundaries, or listeners expect them, then no extra processing time is needed," added François Grosjean, a professor of psycholinguistics at Neuchâtel University in Switzerland. "The current study shows that many of these aspects are true in young bilingual infants, and this is quite remarkable," he said.
One of the most beneficial implications of the results is that parents no longer need be concerned that children growing up in bilingual environments will be confused by the two languages that they hear. "The results indicate that even toddlers naturally activate the vocabulary of the language that is being used in any particular setting," explained Janet Werker, a professor of psychology at the University of British Columbia.
Register for free to continue reading
Registration is a free and easy way to support our truly independent journalism
By registering, you will also enjoy limited access to Premium articles, exclusive newsletters, commenting, and virtual events with our leading journalists
Already have an account? sign in
Join our new commenting forum
Join thought-provoking conversations, follow other Independent readers and see their replies