The Independent's journalism is supported by our readers. When you purchase through links on our site, we may earn commission.
LIFESTYLE FEATURES
Burnt out: How the humble candle became a millennial must-have
Candles have gone from being purely functional to objects of modern social media desire. Sophie Gallagher asks how lockdown and a pandemic set the industry on fire
Friday 30 October 2020 16:48 Comments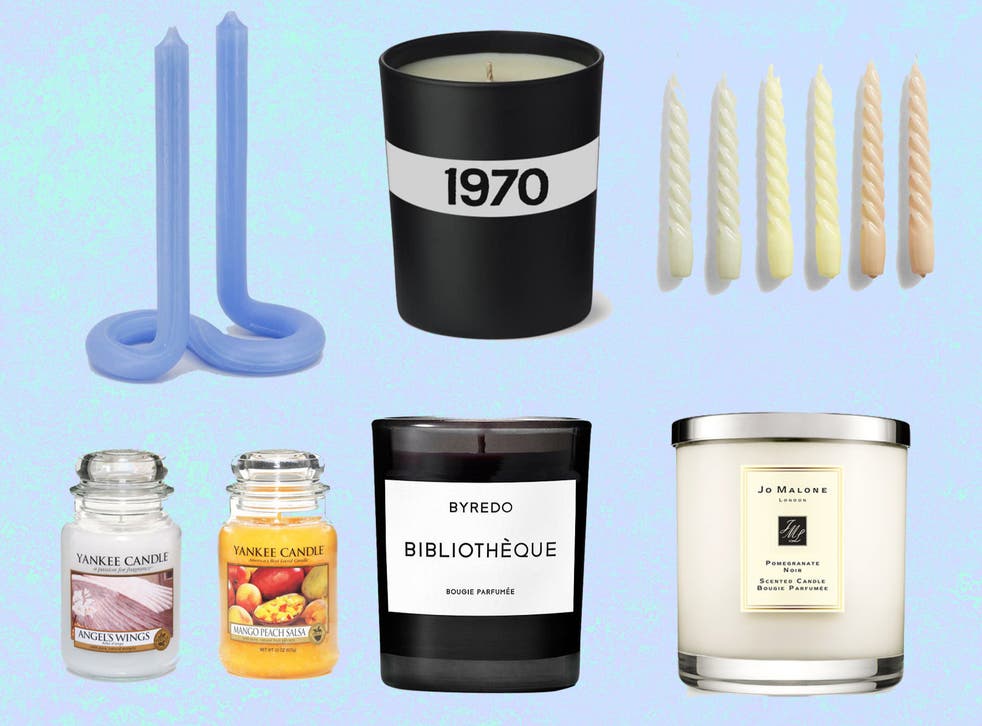 I do not remember a single candle burning in my 90s childhood home. Candles were the preserve of power cuts and Catholic prayer offerings, their very nature functional or spiritual only. Today, like millions of other homes across the country, my mum's home on an autumn evening looks like a seance, with several candles burning simultaneously, contributing (in no small part) to the estimated £1.9bn pounds spent every year in the UK candle market.
Candles are sold everywhere from supermarkets to Selfridges with prices varying from pocket change to the financial equivalent of buying a sofa: Fornasetti and Gucci claim joint first prize for the most expensive candles on Matchesfashion.com, ringing in at £550 and £525 respectively.  
And candles have celebrity status. Every time the Duchess of Sussex appears on Zoom, it is front of yet another well-crafted Zoomscape featuring a Diptyque candle (most recently Tubéreuse, although Meghan is known to love the Baies scent so much she placed diffusers around St George's Chapel on her wedding day). For those less worried about what the in-laws might think, Gwyneth Paltrow's sell-out Goop "This Smells Like My Vagina" and subsequent "This Smells Like My Orgasm" offering showed just how committed we are to the cult of candle.
At its most basic a candle is an ignitable wick, embedded in wax or another flammable solid allowing humans to easily create a contained fire, which provides both heat and light. But in 2020 the candle has morphed far from its utilitarian origins; today you can get tealights, pillar candles, taper candles, votive candles, container candles, scented, unscented, beeswax, vegan candles, and let's not forget the next-gen candle and Mrs Hinch favourite – a soy wax melt.
The independent butcher and the baker may well have benefited from a neighbourhood spending surge in lockdown, but it is the candle-stick maker who is smashing it in the sales department. Local manufacturers like Yorkshire business, Supplies for Candles, saw so much demand it hired 35 new employees in 2020. While Selfridges reportedly saw candle sales skyrocket 54 per cent in March and Net-A-Porter a 130 per cent year-on-year increase. Brits buy an average of six candles per year but lockdown set our love ablaze. 
Given candle fires result in approximately 350 casualties every year, to our cavemen ancestors it might seem unnecessarily risky to bring scented fire into the centre of our electricity-supplied homes. Not to mention in the middle of a pandemic when one of the key symptoms of Covid-19 is a loss of a sense of smell. But Deborah Sugg Ryan, professor of design history at the University of Portsmouth, tells The Independent candles are often about feelings, not functionality.
"I think for some people candles will always be reminders of power cuts, especially if they lived through the 1970s blackouts," she says. "[But] the scented candle in a pretty glass jar couldn't be further from this as it evokes luxury and pleasure. A good scented candle when lit can, however, evoke memories from our past such as places we've visited.
"Perhaps we need this more than ever when we're locked down in our homes and unable to travel. We don't just miss the sights and sounds of places; we also miss the smells." Indeed some brands have capitalised on this lockdown absence – Earl of East has designed candles with on-the-nose monikers like "sense of normality", "the cinema",  and "the local".  
Undoubtedly scent has long been the selling point of candles. Take Yankee candles, once considered the candle du-jour largely because of their huge variety of scents. The American brand has over 200, ranging from "angel's wings" to "mango peach salsa". Then came the era of higher-end scented candles from Diptyque, Jo Malone, ByRedo and the White Company. Even the Duchess of Cambridge is apparently a fan of an orange blossom Jo Malone candle.
But it isn't just about scents – in fact many bestsellers are scentless. Candles have evolved to be a central part of homeware with aestheticism as a primary purpose. Although many of the above brands remain popular, of the 12.4 million Instagram posts with the hashtag #candle, users now focus on candles with striking visual elements: shapes, structures, decorative notes. In a world where interior trends are there to be photographed and shared, candles are no longer just to be experienced firsthand.  
Bianca White, 29, a primary school teacher from London, started a painted candle business in June. White was inspired after seeing a floristry on a lockdown walk and deciding she wanted a career change. Her business, Bable, which she runs from her kitchen table, has completely taken off. "Gosh I have made hundreds," she tells The Independent. "I'm currently frantically trying to get through my first big wholesale order for a shop. Demand is off the charts!"
White says despite only running her business for a matter of weeks she has noticed her customers enjoy the small details of her candles and how they fit into their homes. "I have definitely noticed that people take joy in table laying and making their homes fun with candles," she says. White has been so successful she has handed her notice in at school.
Matilda Goad, British designer and creative consultant, agrees visuals are central to the modern candle, saying she was inspired to start making candles because she "found it really hard" to find candles that "looked just as good when they sat unlit in a candle holder as they did when they glimmer away at night" – a testament to the importance of appearance.  
This can be seen in the success of candles like the Lex Pott twisted candle. Made in Pott's Rotterdam studio, they combine the candle and base as one, creating a unique design but one that is slightly structurally compromised from the moment you light it. Others like the HAY twisted candle (which TikTokers have tried to recreate to varying levels of success) and the Studio Billie "Bella & Yates" origami-style pleated candles fall into a similar scentless but sophisticated bracket.
While brands, like Bella Freud, make their candle holders so desirable that even once the candle itself is gone, customers want to retain the empty shell. One of Vogue magazine's purchases of the season in August was the Kana x Evermore candles poured into large ceramic gingham bowls, meant to have a second life once the candle is long burnt out.
Matches are also having a renaissance moment - a shell painted matchbox collaboration between blogger Alex Stedman and designer Frances Costelloe, priced at £9, was an online sell-out. In an Instagram post, Stedman encouraged customers to frame the box, illustrated by Costelloe, long after the emerald-green tipped matches were finished.
In 2020 candles are no longer about fire and heat, or even just scent. They have evolved to fit tablescapes and mantle pieces as decorative objects, to be enjoyed second hand on social media, as cult objects and as experiences. You can even get candle subscription boxes delivered to your door or go to candle workshops to make your own.
If millennials are supposedly responsible for the demise of everything from TGI Fridays, to department stores and cereals, at least this is one industry that they can take credit for making more profitable than ever.
Register for free to continue reading
Registration is a free and easy way to support our truly independent journalism
By registering, you will also enjoy limited access to Premium articles, exclusive newsletters, commenting, and virtual events with our leading journalists
Already have an account? sign in
Join our new commenting forum
Join thought-provoking conversations, follow other Independent readers and see their replies