The Independent's journalism is supported by our readers. When you purchase through links on our site, we may earn commission.
LIFESTYLE FEATURES
Keep calm and buy a sofa: How pandemic Britain turned to nesting and home renovation
As furniture and hardware retailers report record sales, Sophie Gallagher asks why a pandemic seems to be giving us our Grand Design's moment
Friday 16 October 2020 17:37 Comments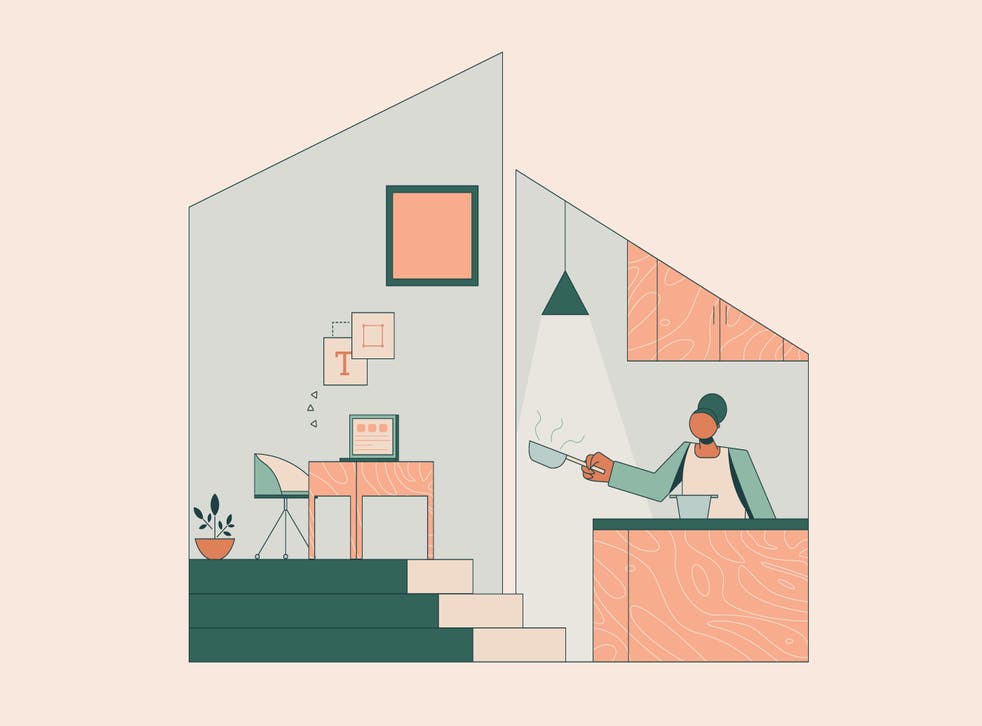 It was on the 97th day of working from home that we finally cracked. After working side-by-side at the only table in the house since mid-March (the same table we eat at, use for cooking and as a general dumping ground) my partner and I decided it was time to buy a desk. We settled on a simple 80 by 50cm wooden one from a high street retailer. But, despite paying an additional £39 for it to be delivered to our door, it won't arrive until Christmas.
Forget vaccines and face masks, furniture - particularly desks and sofas - has become the hot commodity in pandemic Britain. Sofa retailer DFS reported sales over the past six weeks were £100m higher than expected, sending shares rocketing 13 per cent. High demand for DFS sofas has increased waiting times from an average four to six weeks to 11-12. And it's not the only retailer struggling: Made.com and Habitat are citing lead times of three months or longer.
Dunelm has been so successful in 2020 it announced this week it would be handing back £14.5 million in furlough money to the government. Sales jumped 36.7 per cent in the three months to September with a growth of 29 per cent online. Chief executive Nick Wilkinson said: "Homewares have become even more relevant as people spend more time in their homes." And he's not wrong. As a second lockdown looms, Brits are nesting like our lives depend on it. 
Georgia Shepheard, 25, from Surrey, has painted her bedroom twice during lockdown - "it was the wrong shade the first time" - as well as sanded, ordered furniture and done weeks worth of woodwork. She already has plans to makeover the bathroom during any second lockdown. "Friends that have visited over summer have said it is unrecognisable," she admits. "But I still think we have more to do. I want to feel as comfortable as possible, particularly as winter draws in." Shepherd says renovating has given her something to think about other than coronavirus.
The start of lockdown saw people stockpile toilet roll, but as the weeks rolled by people soon realised they were more likely to be spending their days up a ladder than in the bathroom. Hardware shops were added to the list of essential businesses allowed to stay open while everything else shuttered up; a survey found 44 per cent of us had turned our hand to DIY; YouTube home-reno tutorials saw an ever-greater number of viewers; even Harry Hill's latest BBC series opened with an episode on home improvements. 
Sally Shorthose, 57, and her husband Mike, from Churt, have lived in their house for seven years but have turned it upside down while working from home. "Having spent so much more time in the house we are far more acutely aware of what could be improved and what would make us happier." They have become prolific Pinterest-users, are planning a "quasi-Georgian mosaic floor" downstairs as well as generally "making it a bit less shabby", says Sally, who has used the time she would normally be commuting to look at more home improvements. "Spending so much more time at home has made us more critical of things I might otherwise have let go."
Frances, 33, and Courtney, 29, from Yorkshire feel the same. They always had generic plans to renovate but now they've gone full-steam ahead after saving money from cancelled holidays and summer plans. "I feel like I can't believe I've lived with the kitchen as long as we have, it's falling apart." says Frances, who started making her own furniture from reclaimed scaffolding during lockdown. "I think Courtney is becoming weary of our normal furniture disappearing and handmade scaffold replacing it to be honest," she says. "Once you feel you have some cash freed up, all the flaws suddenly leap up and assault you on a daily basis."
Not only is redecorating given a sense of urgency when you spend all day looking at it, but DIY is also a virus-friendly endeavour (you don't need to see anyone or leave your house); it feels productive when much of life has become restricted, is a constructive use of time if you've been furloughed or made redundant, and feels like a reasonable financial investment when other luxuries (travel, weddings, parties) have been taken away. Not to mention the intrusion of Zoom cameras into our private spaces makes us more acutely aware of their flaws.
Psychologically, it is easy to see the motivations behind wanting to control your immediate space in a time of mass confusion and uncertainty. Now that our day-to-day environments have shrunk from city-wide to several square feet, we do what we can to retain a semblance of normality. Home is no longer just part of your world, but often the entirety.
Deborah Sugg Ryan, professor of design history at the University of Portsmouth, who appears in BBC Two's A House Through Time, tells The Independent: "It's often been said that in times of recession that people with disposable incomes invest in home improvements rather than move house. Some are undoubtedly doing this, but the housing market is also buoyant for certain types of property - large family houses with home office space in the countryside and on the coast. [These] are driven by the same impulse to nest."
Professor Sugg Ryan says whether people are just buying new furniture or totally redecorating, the uncertainty of the times is pushing people to "pursue their fantasies of living in their dream locations" whilst people's fears - both about the pandemic and Brexit - are causing us to retreat into our home as a place of refuge. "The idea of home is as much a state of mind as a reality of bricks and mortar. I've been thinking a lot recently of a 1939 diary written when the Second World War was imminent, where the housewife diarist describes protecting the house," she says.
Jessica P, who lives alone in south london agrees her DIY plans have been about exerting control. "I've made over the coat area, painted, drilled a hanging coat rack from the ceiling, sorted cupboards, decluttered, ordered automatic lights for cupboards, I'm even researching a robot vacuum," she says. "I feel very safe here and I did not feel safe in lockdown at the start."
Karen Haller, colour and design psychology expert, and author of The Little Book of Colour, agrees she is also seeing people try to exert control in this small way. "Probably subconsciously, but we want our homes to support us in a positive way, to feel safe, calm, happy, at peace, whatever that might be". "We also aren't getting the emotional stimulus that we got from the outside world, so we are now looking for that in our homes. I've seen a rise in people bringing more colour into their homes. They are replicating the emotional energy they are seeking through the colour choices," she adds.
Of course not everyone is in a position to spend money on such luxuries during a historic recession, and with many industries, particularly hospitality and the arts, on the brink of financial ruin. "I think what we are seeing is some people doing this," says Professor Sugg Ryan. "What the pandemic is doing is exacerbating inequalities." Those who are fortunate enough to work from home, and have more disposable income, are finding ways of putting a fresh lick of paint on an uncertain present.
Weeks into waiting, my partner and I are still at the kitchen table. Since that first order we can match pandemic milestones to the home purchases we've bookmarked along the way. The extra large saucepan for April's Clapping for Carers, the barbecue that recalls late July optimism, the desk lamp of early September when the nights started drawing in, and the announcement of the three-tier lockdown system that made us finally concede a new sofa might be on the cards. While we wait in hope that life as we know it might return to "normal", at least we can try to make the ride there a little more comfortable.
Register for free to continue reading
Registration is a free and easy way to support our truly independent journalism
By registering, you will also enjoy limited access to Premium articles, exclusive newsletters, commenting, and virtual events with our leading journalists
Already have an account? sign in
Join our new commenting forum
Join thought-provoking conversations, follow other Independent readers and see their replies