Erin Andrews says she is undergoing seventh round of IVF in candid essay: 'I am not ashamed'
Sportscaster says: 'There are so many of us going through this though, and it's just not talked about'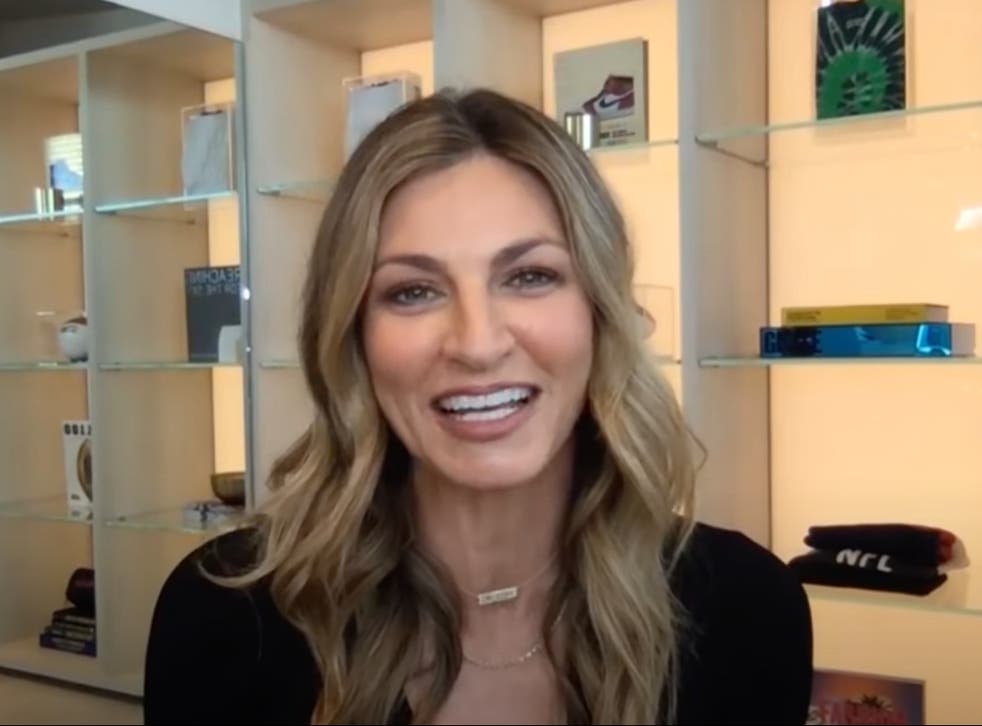 Sports broadcaster Erin Andrews has spoken candidly about her fertility struggles, revealing that she is undergoing her seventh round of in-vitro fertilisation (IVF).
The 43-year-old, who said she has been undergoing IVF treatments since she was 35, described the "time-consuming and emotionally draining process" in a new essay published on Bulletin, where she also discussed juggling the fertility treatments with her career.
"I'm now 43, so my body is kind of stacked against me. I have been trying to do IVF treatment for a while now, but sometimes it doesn't go the way you want it. Your body just doesn't allow it," Andrews wrote.
In the transparent essay, the sports journalist then revealed that, when she learned that this was the best opportunity to go through the cycle again, she got "so stressed out" because she worried about how it would fit into her hectic work schedule.
"On top of being on a special assignment last week where I was sometimes working up to 14 hours a day, I also had to set aside time for IVF treatment," she said, adding: "When this happens, it really makes you question: is it the future of my family or is it my job?"
Andrews, who is married to former NHL player Jarret Stoll, then reflected on the industry she works in, explaining that she believes it is one "where I think women feel the need to keep things like this quiet".
However, according to Andrews, this time she decided to be open about the fertility treatments, with the NFL broadcaster revealing that she told her show producers that she would be coming in late because of the doctor appointments and that she is grateful she did.
"And I am thankful I did it. They encouraged me to be open about it because this is real life. It's not like I'm leaving to go take a hot yoga class, I'm trying to have a baby. I am not ashamed, and I want to be vocal and honest about this," she continued.
While Andrews acknowledged that she is not "ashamed," she admitted in the essay that she used to be embarrassed when her name was called in the doctor's waiting room, as she didn't want people to know that she was struggling with fertility.
"But I don't care anymore! It sucks, but I am right there with all these other women in the waiting room. It's a team that no one wants to be a part of. We're all going through this and having a tough time. It can be so isolating, but in reality, we are all there together," she said.
In the essay, the sports journalist then reflected on some of the other reasons people may want to keep their fertility struggles quiet, acknowledging that the treatments, which make her "feel like sh*t" and require a lot of time, money, and "a ton of mental and physical anguish," are often unsuccessful.
"I think that's why a lot of people choose to be quiet about it. Because maybe we feel as if this is something we have to do, and we don't want to jinx it," Andrews wrote. "On the other hand, we can also feel like we're a failure as females or to our partners. But we are all warriors for going through this!"
The 43-year-old concluded the essay explaining that, as she undergoes her seventh cycle of IVF, she wants to be open about her experience because she knows that many others are going through the same thing, and she wants to help "change the conversation".
She wrote: "Now that it's my seventh time, something just hit me. Why am I keeping this such a secret when this is just a part of our lives? Instead of feeling ashamed, we need to give ourselves more love."
On Twitter, where Andrews shared a link to the essay, many of her followers have applauded her for her honesty and for using her platform to help normalise fertility struggles and treatments.
"Thanks for sharing! This topic needs to be normalised in our society, as more and more women are putting career first but desire fertility at a later age! Let's keep these convos going!" one person tweeted.
Another said: "Thanks for this. I'm currently undergoing egg freezing alone. I have only male colleagues and have been trying to normalise it by discussing it with them - and I've gotta say, they've been supportive & fascinated. There's no reason not to talk about it. Thanks for your bravery!"
Register for free to continue reading
Registration is a free and easy way to support our truly independent journalism
By registering, you will also enjoy limited access to Premium articles, exclusive newsletters, commenting, and virtual events with our leading journalists
Already have an account? sign in
Register for free to continue reading
Registration is a free and easy way to support our truly independent journalism
By registering, you will also enjoy limited access to Premium articles, exclusive newsletters, commenting, and virtual events with our leading journalists
Already have an account? sign in
Join our new commenting forum
Join thought-provoking conversations, follow other Independent readers and see their replies