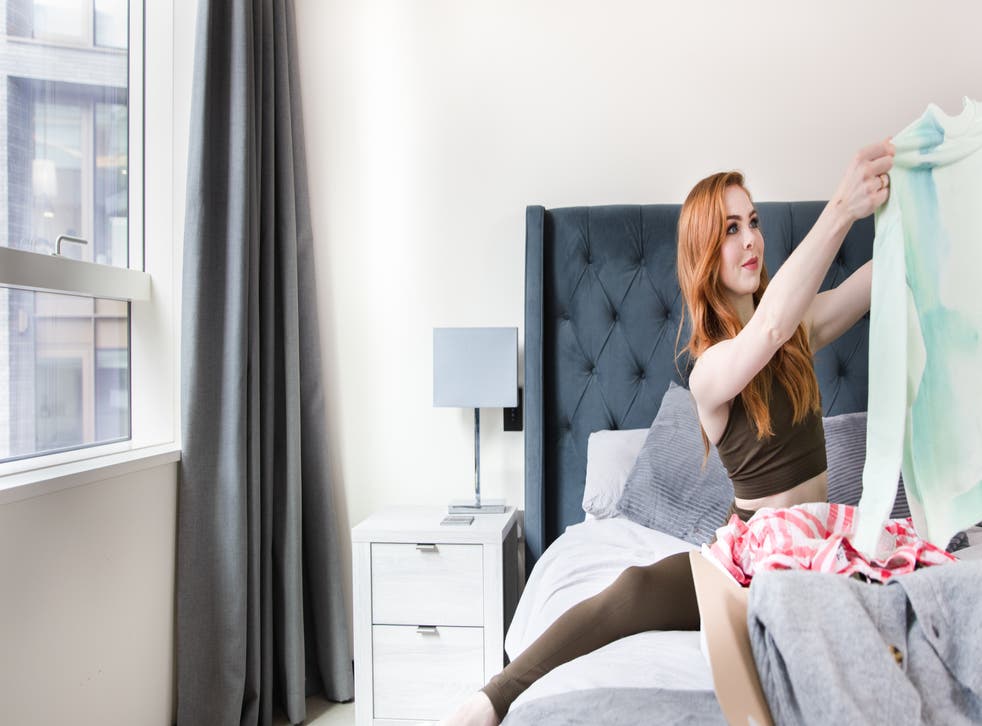 The rise of rental fashion: Discover the sustainable way to stay on trend with The Devout
It's time to get serious about sustainable fashion
Friday 16 April 2021 15:11
Fashion lovers – no, not even fashion lovers, just those of us who wish to fix up and look sharp, perhaps just not wear the same thing day in, day out – are facing a bit of a conundrum.
Do we stop shopping altogether, embrace the wartime mend-and-make-do spirit, spend hours of our weekends trawling through vintage shops for a magical find that – ah! – not only looks gorgeous and is moth-hole free, but actually fits us? Or do we fork out for that sustainable but ever-so expensive and definitely out of our budget item?
By now we're all starting to become familiar with secret option number four: we could rent something and return it. Because the option to simply keep buying new, isn't really an option at all.
And that's because the fashion industry is wreaking havoc on the environment. A 2019 study by Oxfam found that the amount of new clothes purchased in the UK on an annual basis produces more carbon emissions per minute than driving a car around the globe six times. Our hunger for newness means that Brits are throwing away clothes to end up in landfill at a terrifying pace (chucking out £140m worth of clothing each year), and it's having a devastating impact on the planet.
Rental fashion looks to change all this – creating a circular process that rejects fashion's linear model of wear, chuck repeat, and avoiding costly, energy-intensive recycling. But it can be a big change for people to get around – with peer-to-peer rental feeling a bit too personal for some, and high-end rentals ultimately not as appealing as spending money on something you can truly call yours.
That's where The Devout comes in: a new fashion rental subscription service looking to make fashion more sustainable.
Priced as reasonably as fast fashion, The Devout is a subscription-based and pay-per-hire service that owns its stock and lends pieces to customers at a discounted rate so that users are able to loan for far cheaper than their sum cost.
Aimed at eco-conscious millennials who don't want to compromise on style in their aim for sustainability, The Devout stocks the latest pieces, working with brands including Whistles, Ganni, Farah, Hobbs and &Other Stories among others so you know you'll be wearing the latest trends.
And while many rental brands focus on occasion wear, The Devout is all about offering rental for the every day. Got a picnic planned and always had your eye on the must-have Ganni seersucker check dress? Or want to look chic for the return of wedding season? Or perhaps you are simply fed up with living every day in loungewear and fancy smartening up your act on Zoom – you'd be hard-pressed not to find something that suits – you'd probably struggle to keep it to just five items, which is where the monthly subscription comes in handy.
So how does it work?
For £79 a month, members can select five items from their favourite designers (with the average value of items per order around £500). They can wear the items as many times as they like over the course of a month, before returning them and selecting five more items.
The fuss is minimal: cleaning is taken care of and quality checked, and boxes are delivered straight to the door – ideal for our modern hectic lifestyles.
And because The Devout is dedicated to being as eco-conscious as possible, items are delivered in compostable boxes and the carbon emissions from delivery are offset. When the clothes are unable to be rented anymore, they are donated to charity, with The Devout partnering with homeless charity Shelter.
With rental fashion lauded as the future of how we shop, be ahead of the curve and shop guilt-free with The Devout.
Join the rental fashion revolution and visit The Devout today.