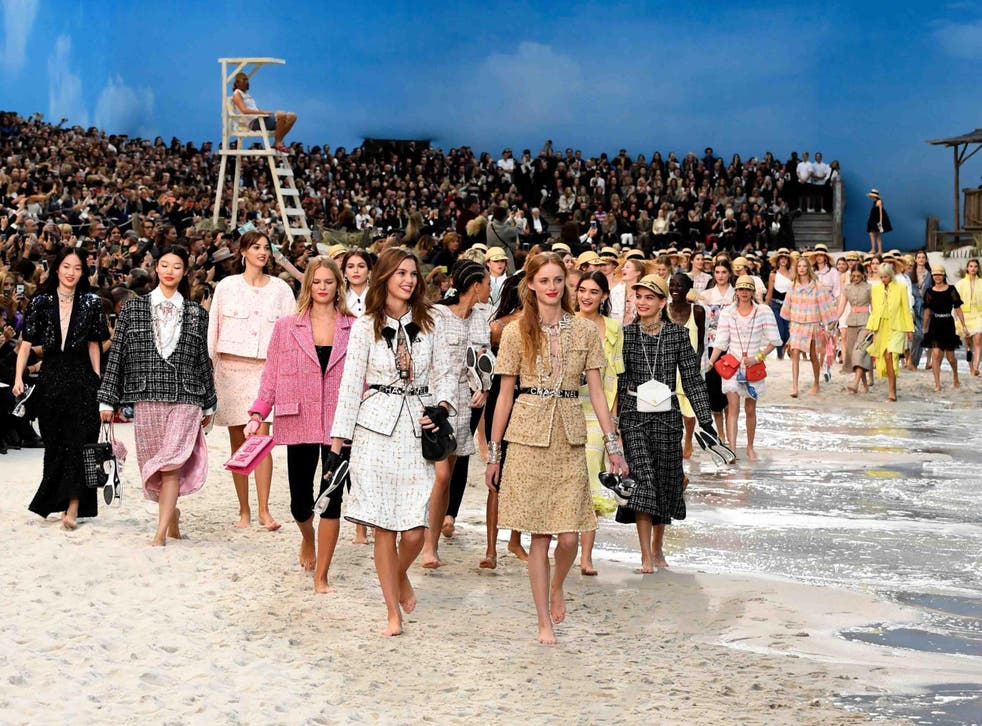 From Celine to Comic Sans: Everything you need to know about Fashion Month SS19
Your cheat sheet to all things spring/summer 2019
As the curtain closes on yet another Fashion Month, it's time to look back on the biggest trends and most talked-about moments of the season.
But, keeping up with everything that happened over an entire month, in four different cities and across hundreds of shows can be tricky.
Luckily, we've rounded up everything you need to know about what happened during New York, London, Milan and Paris for the ultimate Fashion Month cheat sheet.
Diversity is on the rise
The fashion industry is often called-out for its lack of diversity with runways traditionally seen as a parade of physical and racial homogeneity.
However, this season designer's showed that change is finally upon us. In New York, Claudia Li's show featured an all-Asian cast for the very first time, while Rihanna's Savage x Fenty received widespread praise for its line-up of women of all shapes, sizes and ethnicities, including pregnant Slick Woods.
Similarly in London, Alice Temperley cast women of all ages, including her own mother, while in Milan Dolce & Gabbana called upon the likes of Ashley Graham, Eva Herzigova, Isabella Rossellini and Carla Bruni to grace its catwalk.
The diversity continued at Versace and L'Oreal too. At the former, 44-year-old Shalom Harlow closed the show, while everyone from Duckie Thot to Winnie Harlow and Doutzen Kroes joined L'Oreal's A-list army of models.
Fashion fans slate Hedi Slimane's Celine
Hedi Slimane's debut collection for Celine caused a furore among fashion fans who labelled it "narcissistic", "tone-deaf" and a "big f*** you to women."
Loyal followers of the brand's previous creative director, Phoebe Philo, were shocked to see that Slimane had replaced his predecessors minimalist aesthetic with his own signature stamp of sexed-up, rock-and-roll-inspired garb.
While some criticised Slimane for replicating looks he created at Saint Laurent, others took issue with the show's casting which was dominated by thin, white models. In fact, 87 of the 96 models were white, and it was a third of the way through the show before viewers even saw the first model of colour.
Comic Sans is cool again
Us fashion folk are used to seeing bygone trends rear their once-ugly heads only to become the next big thing but, Comic Sans, really?
For spring/summer 2019, Balenciaga presented a show centred around technology's impact on society with an immersive tunnel-style set, ominous soundtrack and clothes covered in Clip Art effects.
But the real showstopper was its closing ensemble which came emblazoned with the Balenciaga logo reimagined in dozens of different Microsoft Word fonts, including Comic Sans – the joke of the typography world.
Once universally loathed, the san serif font of yesteryear is officially en Vogue.
Life's a beach at Chanel
We've come to expect a show-stopping catwalk setting from Karl Lagerfeld, and on the final day of Paris Fashion Week, this season was no different.
While previous years have seen the designer transform the runway into everything from an enchanted forest to a space station, this time Lagerfeld recreated a beach that included an ocean with gentle waves, brilliant blue sky and lifeguards.
As the sound of seagulls signalled the start of the show, models dipped their toes in the sand sporting swimsuits, sun hats and bags shaped like beach balls.
The new fashion guard
From Millie Bobby Brown and Noah Schnapp from Stranger Things sitting on the front row at Calvin Klein to Kaia Gerber, Anwar Hadid and Lourdes Leon making an appearance on the runway, the new fashion guard dominated this fashion month.
Lourdes Leon, the daughter of Madonna, made her modelling debut for Gypsy Sport wearing a shell body-chain bra draped around her body, while Bella and Gig Hadid's younger brother, Anwar, joined them at the Prabal Gurung show.
Join our new commenting forum
Join thought-provoking conversations, follow other Independent readers and see their replies