The Independent's journalism is supported by our readers. When you purchase through links on our site, we may earn commission.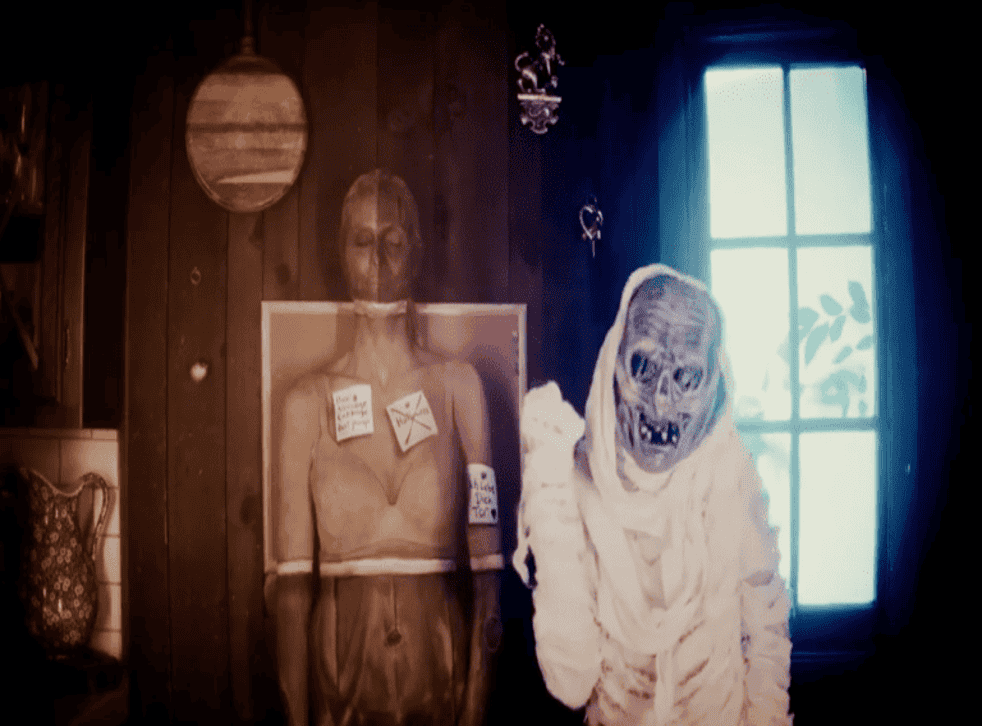 Heidi Klum debuts 2020 Halloween costume in homemade horror film starring her family
Model wears two full body paint looks for short film
Coronavirus has scuppered many people's plans for Halloween, including supermodel Heidi Klum's iconic and celebrity-filled annual fancy dress party.
But even in 2020, the Queen of Halloween has come up with a creative way to celebrate 31 October.
On Saturday, Klum set out to prove that people can still celebrate All Hallows' Eve from the safety of their homes by releasing her very own homemade horror movie.
The 47-year-old posted the five-minute long film, titled "Heidi Does Halloween", to Instagram alongside the caption: "Halloween is different this year, but that shouldn't stop us from getting creative at home. Be safe, be spooky, and spend time with family."
The clip starts with Klum, her husband Tom Kaulitz and four children – Helene, 16, Henry, 15, Johan, 13, and 11-year-old Lou – complaining about how the pandemic has ruined 2020, making it the worst year ever.
However, not one to be defeated, Klum decides that the family should celebrate Halloween at home this year, and proceeds to make costumes for them out of the one thing she bought the most of back in March – toilet paper.
But, as the clock strikes midnight Kaulitz and the children turn into zombies and chase Klum around the house, forcing her to come up with a series of disguises.
Klum employed a team of make-up artists to help her create the two body paint looks, including one that sees her blend into a wood-panelled wall, with her neck, chest and arms transformed into a bulletin board complete with sticky-note reminders. Later, her whole body is painted to become part of a black-and-white marble bedspread.
A voiceover in the campy film says: "This Halloween, stay at home and enjoy some quality time with the family. Just try not to kill each other."
Speaking to USA Today about the homemade horror movie, Klum said she wanted to show people that despite the fact they cannot gather in large groups this year, it is still possible to get creative and celebrate at home with your loved ones.
"I was thinking about how we, like so many families, would be stuck at home and what we had around the house that we could make into costumes," she said.
"To me, Halloween means creativity. That's why I enjoy the holiday so much because it's a chance to come up with something completely out of the box and let your imagination run wild."
She continued: "It's also such a fun way to celebrate as a family because everyone can get involved creating their own costumes. We also need to keep our holiday spirit alive."
Over the years, Klum become known as the Queen of Halloween for the showstopping looks she delivers at her Halloween party every year.
Last year, the model underwent a 12-hour transformation into a nightmarish alien for her 20th Annual Halloween Party at Cathédrale New York. 
Her entrance to the party was just as intense as her costume, as she was driven to the event in a vehicle made from glass, splattered with fake blood and covered in biohazard symbols.
Kaulitz accompanied her as an astronaut, also covered in fake blood with a shattered space helmet.
Previous costumes include an old-age pensioner, the werewolf from Michael Jackson's "Thriller" music video and Princess Fiona from Shrek.
Register for free to continue reading
Registration is a free and easy way to support our truly independent journalism
By registering, you will also enjoy limited access to Premium articles, exclusive newsletters, commenting, and virtual events with our leading journalists
Already have an account? sign in
Register for free to continue reading
Registration is a free and easy way to support our truly independent journalism
By registering, you will also enjoy limited access to Premium articles, exclusive newsletters, commenting, and virtual events with our leading journalists
Already have an account? sign in
Join our new commenting forum
Join thought-provoking conversations, follow other Independent readers and see their replies