The Independent's journalism is supported by our readers. When you purchase through links on our site, we may earn commission.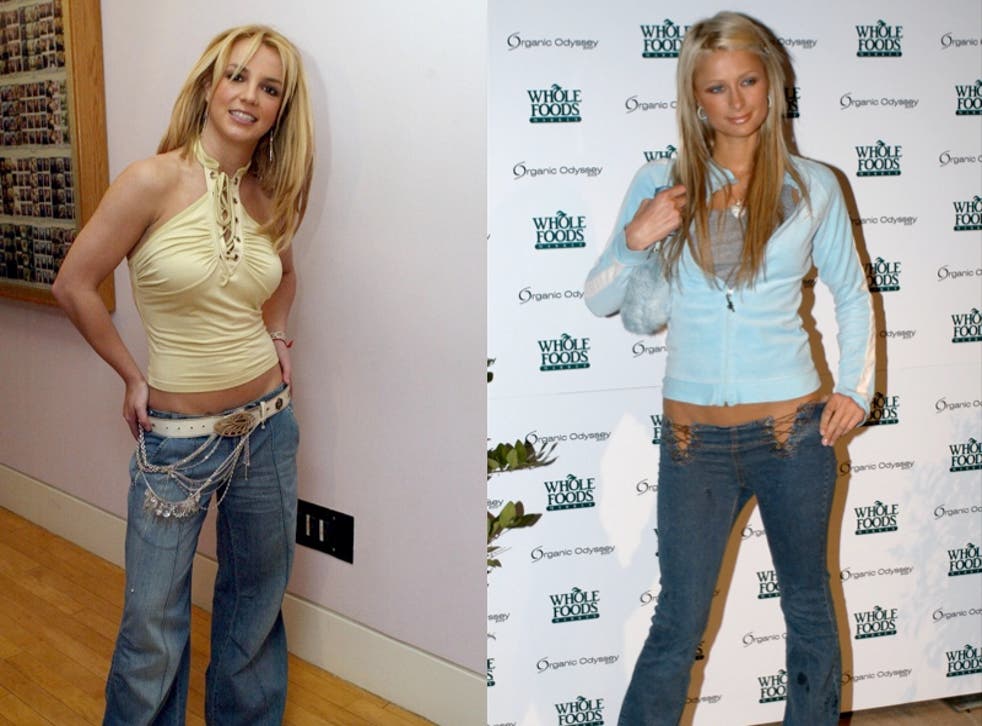 People are horrified at the thought of low-rise jeans coming back into style: 'I refuse'
'Can we all just agree for low-rise jeans to stay out of fashion?'
Chelsea Ritschel
New York
Tuesday 06 April 2021 22:02 Comments
As if denim-related fashion needed another hit after the slow demise of skinny jeans, it now appears that low-rise jeans are making a comeback.
In the past few years, there have been rumours that the style, which was popular in the early 2000s and then relegated to discount bins, backs of closets and thrift shops, would be making its return.
However, apart from a few appearances here and there on fashion runways, including multiple appearances in Alexander McQueen shows over the last three years, as noted by PopSugar, it was easy to ignore the re-emerging trend - that is, until now.
Like most recycled trends making a comeback, including middle parts and boot-cut jeans, TikTok has played a large part in the rebirth of the low-rise jean, with its primary users, Gen Z, posting numerous videos praising the denim cut.
A search for the hashtag #lowrisejeans comes up with results that have been viewed more than 34m views on the app, while the hashtag #lowrisejeansarecute has 52,300 views.
Read more:
In addition to styling videos, many of the clips see TikTok users trying on the jeans in comparison to their high-rise jeans, only to decide that they prefer the low-slung jeans more.
However, most millennials and members of the older generations have already begun expressing their fear that the trend will actually make its way back into the mainstream.
"We as a collective are not doing enough to stop the return of low-rise jeans," one person tweeted, while another said: "I'm not letting low-rise jeans come back I'm just not."
"We all need to stay vigilant and stop low-rise jeans from coming back," someone else tweeted.
In addition to finding issues with the fit of the pants, which were often paired with a crop top when the style was at its height, people have also pointed out that low-rise jeans were popular at a time when women's bodies, especially those of celebrities such as Britney Spears and Paris Hilton, were frequently subjected to scrutiny by the public.
"Here's the deal. A lot of millennial women are saying that they are nervous for the low-rise pant to come back into style and they're getting sh*t on, of course," TikTok user Collin McCarthy, who goes by @theprincessandthepoppers, explained in one TikTok. "I think y'all need to remember, the low-rise pant, skirt, short, that was popular during the Paris Hilton Simple Life era, your body was the fashion.
"The clothes were so casual, it was a T-shirt and jeans. You weren't showing off what you were wearing, you were showing off your stomach. And if you were wearing anything about a size two, you were fat.
"Millennial women learned that when they were going through their most formative years, when they were children and teenagers, and it takes a lot of rewiring to unlearn that."
In the video, McCarthy also called the trend a "trigger" and urged those criticising millennials for failing to get on board with the low-rise trend to cut them "some slack".
Reporter Kelsey Weekman also reflected on the "fatphobia" that was inherent with the trend in an article for InTheKnow, in which she said the fashion trends of the early 2000s embodied "the hottest styles of the era for the ideal body type of the time: as thin as possible".
"For everyone else, they magnify perceived imperfections and make healthy weight gain seem like excess," she continued, adding that trends such as low-rise jeans weren't accessible for people over a size two.
The article also cites TikTok user Jessica Blair, who explained in one video that the trend stems from a time when "anybody above a size two seemed to be demonized, fat people were blatantly ignored and clothing options for plus-sized people in the early 2000s were virtually nonexistent, thereby completely excluding fat people from fashion".
As noted by Vox's Rebecca Jennings, the trend could work in this decade if it incorporates "what women have enjoyed about the past decade - a wider acceptance of different body types, greater availability of plus-size clothing, more fat representation and activism".
Others aren't convinced, however, with one person commenting on Twitter: "Absolutely not!! 100 per cent do not support this trend."
The fashion chasm between generations is just the latest divide to emerge between Gen Z and millennials, after the two generations began feuding over skinny jeans and side parts.
Register for free to continue reading
Registration is a free and easy way to support our truly independent journalism
By registering, you will also enjoy limited access to Premium articles, exclusive newsletters, commenting, and virtual events with our leading journalists
Already have an account? sign in
Join our new commenting forum
Join thought-provoking conversations, follow other Independent readers and see their replies