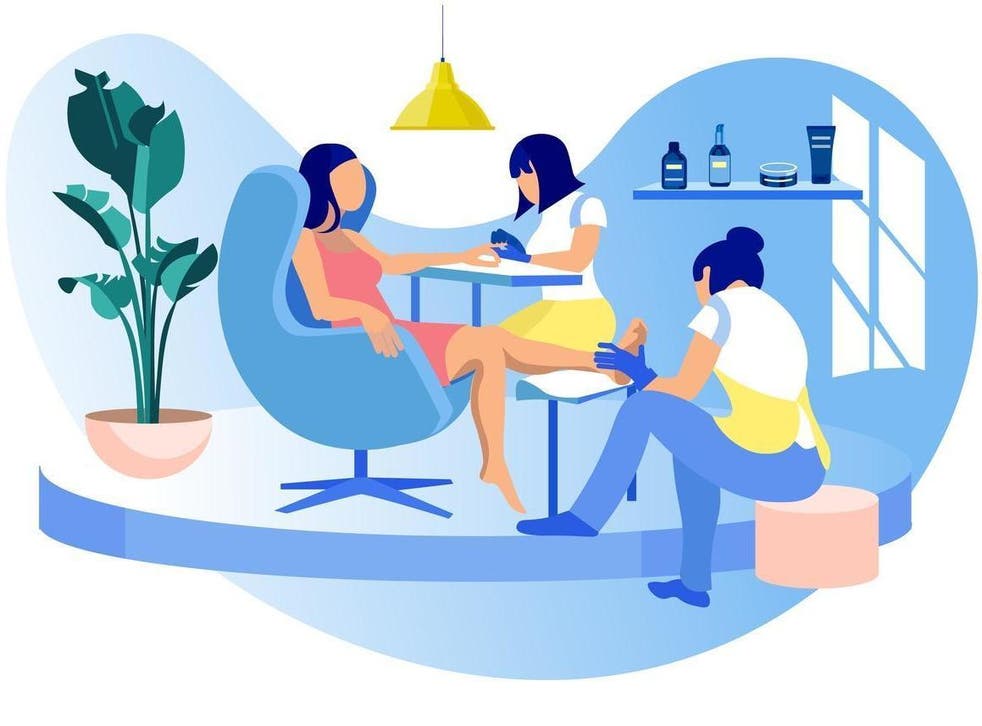 What beauty treatments are allowed as nail bars and salons reopen in UK?
'Close contact services' can resume from Saturday
Last month, beauty salons were finally allowed to reopen their doors to customers in England for the first time since lockdown was established in March.
However, they could not provide a number of "close contact services" such as facials, eyebrow treatments and makeup applications.
This put several beauticians and salons out of business and meant that some lost a third of their revenue. Hence why members of the beauty industry rallied together to launch a campaign to "bring beauty back".
The government had promised that salons would be able to reopen fully on 1 August, but this was postponed due to a surge in the number of coronavirus cases.
Now, the government has revealed that lockdown restrictions will be eased on Saturday, and beauty salons will be able to provide "close contact services".
Here is everything you need to know.
When did nail bars and beauty salons reopen in England?
While non-essential businesses have been reopening in England since the beginning of June, this wasn't applied to all retailers.
From 15 August beauty salons can now offer all treatments.
What beauty services are permitted?
From Saturday, you will now be able to have the following treatments:
Facials
Eyebrow waxing
Eyebrow threading
Eyelash tinting
Eyelash extensions
Makeup application
Dermarolling
Microblading
You may also request the below, however, these treatments were permitted when salons reopened partially last month:
Manicures
Pedicures
Massages
Body waxes
Beard trims
The government has published "updated Covid-19 secure guidance" outlining the measures that workers who are "providing close contact services" should adhere to "to protect staff and customers".
How will beauty services be carried out?
The government said that when a distance of two metres cannot be observed between practitioners and customers, the person who is carrying out the beauty treatment "should wear further protection in addition to any that they may usually wear".
"This should be a clear visor that covers the face, or the use of a screen or other barrier that protects the practitioner and the customer from respiratory droplets caused by sneezing, coughing or speaking," the government stated.
Beauty salons that open can only offer services to customers who book appointments in advance and only water is allowed to be consumed by customers on the premises.
All of the guidance outlined by the government also applies to beauty practitioners who operate in various locations, such as in people's homes.
Business secretary Alok Sharma explained that allowing nail bars and beauty salons to reopen "is yet another step in our plan to kickstart the economy to support jobs and incomes across the country".
What about the rest of the UK?
The devolved nations of the UK have established lockdown guidelines that are distinct from the rules outlined by the government for members of the public in England.
In Northern Ireland, hair salons, barbers, nail bars, beauty salons and tattoo parlours were allowed to reopen from 6 July.
The Scottish government recently announced that hairdressers and barbers opened their doors from 15 July. Meanwhile other beauty-related businesses, including beauty salons, spas, nail bars and make-up counters, were given an "indicative opening date" of 22 July "subject to physical distancing and enhanced hygiene measures".
In Wales, beauty salons, tattoo parlours and nail salons reopened on 27 July.
How will salons ensure staff and customer safety when they fully reopen?
A number of safety measures have been introduced to protect both staff and customers at nail bars and beauty salons.
As part of its plans to ease lockdown, the government has said that any businesses which reopen will have to meet Covid-19 secure guidelines.
Depending upon the workplace in question, this will mean carrying out measures such as ensuring people are able to maintain social distancing, staggering the arrival of employees and introducing "one-way flow routes" and hand sanitisation areas.
At beauty salons in England, screens and barriers are being used to separate clients from one another, in addition to clients from practitioners in environments such as nail salons.
The government advises "increasing the frequency of hand washing and surface cleaning", in addition to "keeping the activity time to a minimum".
Customers' seats must be adequately spaced from each other, and practitioners must wear gloves "wear it is not crucial to the service".
Can you do beauty treatments at home?
If you do not feel comfortable undergoing beauty treatments at salons, there are many treatments that you can do yourself at home.
The Independent has a number of DIY beauty guides to help you with everything from mastering a gel manicure, to removing acrylic nails and keeping your brows in check.
Join our new commenting forum
Join thought-provoking conversations, follow other Independent readers and see their replies