The Independent's journalism is supported by our readers. When you purchase through links on our site, we may earn commission. Why trust us?
How to tame your eyebrows at home as the salon treatment is still not permitted
They needn't grow out of control while you can't get them done professionally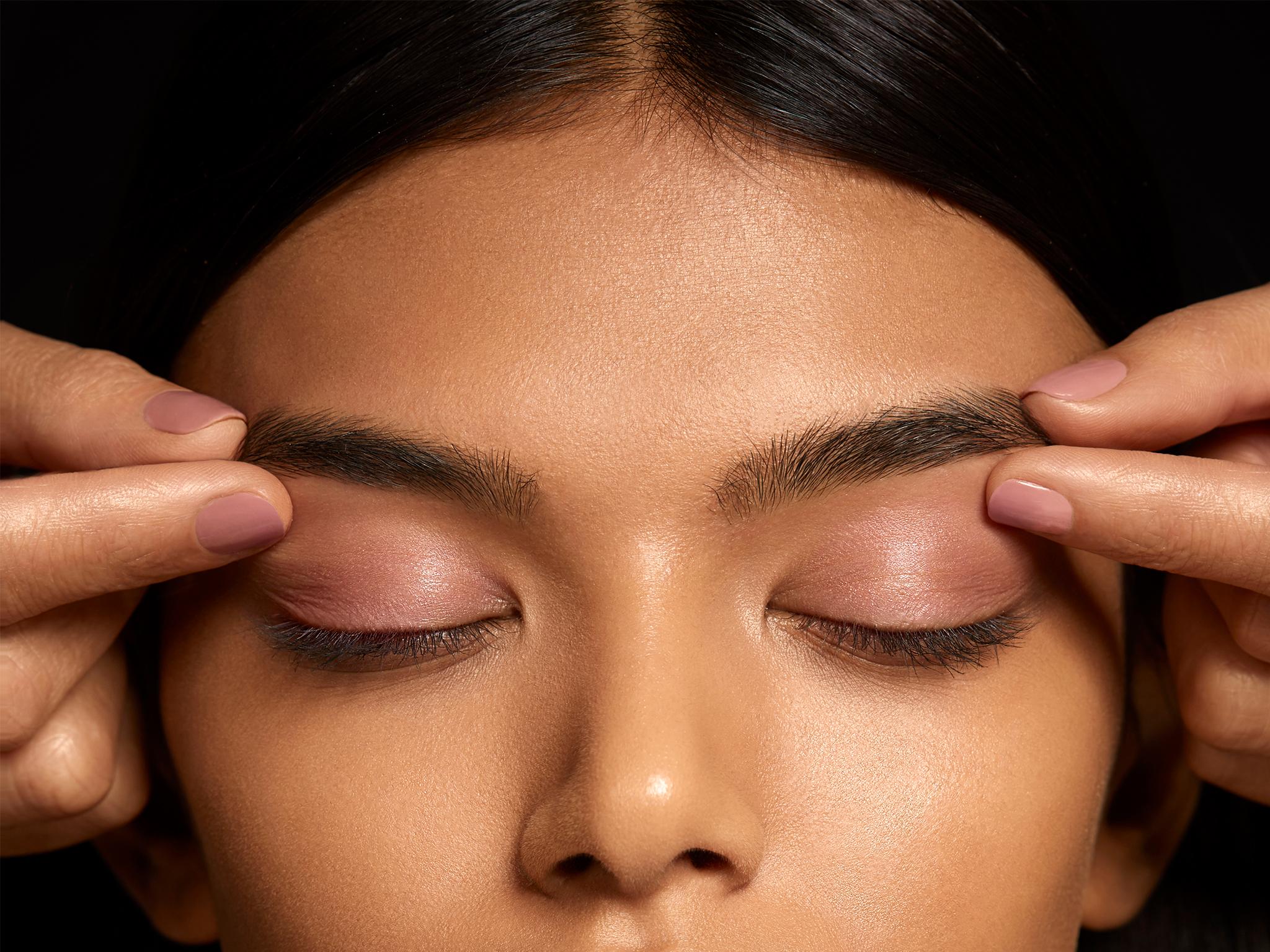 If there's one non-essential, first world problem that's come out of disruption the coronavirus has caused, it's managing our hair.
You may have kept your hair colour and roots looking tidy, and ended up trimming off an overgrown inch or two during lockdown.
But your eyebrows are another thing to contend with, and if you like yours preened and polished, you'll need to take matters into your own hands.
Despite salons finally being able to reopen, treatments on a person's face will not every allowed after the government rolled back the easing of lockdown.
Despite salons now being permitted to reopen since Monday 13 July, any treatments on a person's face will not be allowed.
Close contact services which include everything from threading and waxing eyebrows and upper lips to facials were initially given the green light to open on 1 August but the day before, the prime minister announced this would be postponed to 15 August in a bid to keep the number of coronavirus cases under control.
Luckily, Vanita Parti MBE, CEO and founder of Blink Brow Bar shares the do's and don'ts of eyebrow care at home, with advice on everything from waxing, tinting and tweezing them yourself, and being happy with the end results.
You can trust our independent round-ups. We may earn commission from some of the retailers, but we never allow this to influence selections. This revenue helps us to fund journalism across The Independent.
What tools do you need?
Firstly you'll need a decent pair of tweezers that are precise enough so you can pluck every stray hair without leaving you bald.
The Skinny Dip icon mini tweezer, £6, impressed us the most in our IndyBest review of tweezers, whose slanted tip makes it easy to remove even the shortest and most elusive hair with minimal pain, and the compact size is perfect to keep around for spur of the moment plucking.
"It seems obvious, but try to avoid being heavy-handed with the tweezers," says Parti.
"Clearly define where your boundaries should be with a marker, you can use a concealer pencil to create a parameter of where you don't want to touch the brows and to mark the point in the brow for the start, middle and finish," she adds.
To avoid hair breakage, Parti recommends gently stretching your skin, grabbing your brow hair by the root and plucking in the direction of hair growth with your tweezers. "Step by step is key," she says, so when you get to the arch of the brow, remove one hair at a time and view your brows before you continue to avoid overplucking.
"You may also need to trim the longer brow hairs with nail scissors, brush up with a brow tamer and snip any hairs poking above the brow line."
How to maintain your handiwork
As for the products to use after you've plucked, there's plenty of different textures to play with. "Brow gels are best for offering a subtle amount of colour to brows as they only coat the brow hairs while brow pencils and pomades are great for a more defined look, fill in any gaps and to add colour and shape to brows," explains Parti.
Coronavirus: London on lockdown
Show all 29
Glossier brow flick and boy brow duo, £25 came out on top in the IndyBest test of the eyebrow products, and the cult product doesn't disappoint. The tiny-wanded brow mascara is great for big, lazy arches while the brow flick that comes in the set allows you to paint on individual hairs in any sparse areas.
We also like Benefit's goof proof brow pencil for filling in, which comes in nine natural shades. It's a waterproof formula and it also comes with a spoolie wand brush, too.
Don't skip out on a brow oil either, which Parti advises will keep the hairs soft and glossy. The Blink Brow Bar nourishing brow oil, £22 has a handy rollerball for a fuss-free application and will promote hair growth with regular use.
How to wax your own brows
The key to a successful DIY eyebrow wax is thin strips, says Parti, so you can control how much hair you take off. Be careful not to take off too much and always do a patch test first.
"Step by step is key with waxing as you are removing a number of brow hairs at one time. Draw the boundaries on your brows with a concealer to ensure symmetry. Place the strip from your arch downwards and pull against the direction of hair growth."
She recommends to always stretch the skin before pulling upwards against hair growth. Finish by placing a strip from your arch to nose and again, pull against the direction of hair growth.
For any individual hairs you didn't manage to catch, pluck them out with tweezers.
Should you tint your own brows at home?
Parti does not recommend tinting your own brows at home, she advises leaving it to the experts where you can be tested for allergies properly.
Instead, use a colour product that you can apply daily, quickly and easily to keep your brows looking their best. "A tinted gel is easy to apply daily and adds colour while keeping your brows in shape," she says.
The L'Oreal plump and set brow artist, £7.99 is a budget-friendly option that you can't go wrong with. Available in six shades, the small brush easily distributes a buildable colour and be used on its own for a low-maintenance brow routine.
However, people have been tinting their own brows at home long before lockdown, and many will already be familiar with which products work for them.
If you're new to it, make sure you do a test patch on your skin 24 hours beforehand, to make sure your skin is ok with the product.
Once you're happy, make sure you're face is clean and free of any products and apply a little Vaseline around your brows, so the dye doesn't stain your skin around the hairs.
Make sure to cover every hair, from the root. Leave the tint on for between 5-10 minutes, depending on the colour you wan – the longer, the darker it will be. Use a cotton bud to tidy up your edges. Then wipe off and let them dry, so you can see your finished brows.
We like Maybelline's tattoo brow gel, which you paint on over brows and peel off.
Give yourself an at-home treatment
For a bit of TLC, give yourself an eyebrow pinching treatment using just your two hands.
It's a gentle massage around the pressure points of your eyes that will help reduce puffiness and make you feel more energised.
Parti explains how, "Using your forefinger and thumb, start pinching at front of brows then pinch along the brows to the tail. Massage your temples with your forefingers and middle fingers and finally, apply pressure on your third eye with the forefinger and middle finger of one hand repeat as desired.
Skinny Dip icon mini tweezer: £6, Skinny Dip – Buy now
Everything from Skinny Dip is colourful and pretty, even its tweezers. This pair are dotted in cherries and stars and come in a cute, compact size, making them perfect for travel or spur of the moment eyebrow plucking. With a slanted tip for precise tweezing, we found them equally easy to use on your eyebrows, upper lip and chin, removing even the shortest and most elusive of hairs with minimal pain.
Read the full round-up on the best tweezers here
Glossier brow flick and boy brow duo: £25, Glossier – Buy now
Glossier's cult-product boy brow – a tiny-wanded brow mascara that's great for big, lazy arches – is joined by recent launch brow flick in this power duo. It's a brush-tip pen that paints on individual hairs in lovely cool shades. Use both for your best ever brows – and buying both together is a bargain too.
Read the full round-up on the best eyebrow products here
Read our guides on how to cut your hair and home and how to keep your hair fresh while in lockdown