Paco Rabanne death: Spanish fashion visionary dies in France aged 88
Designer was famous for his transgressive approach, which included making dresses out of plastic and metal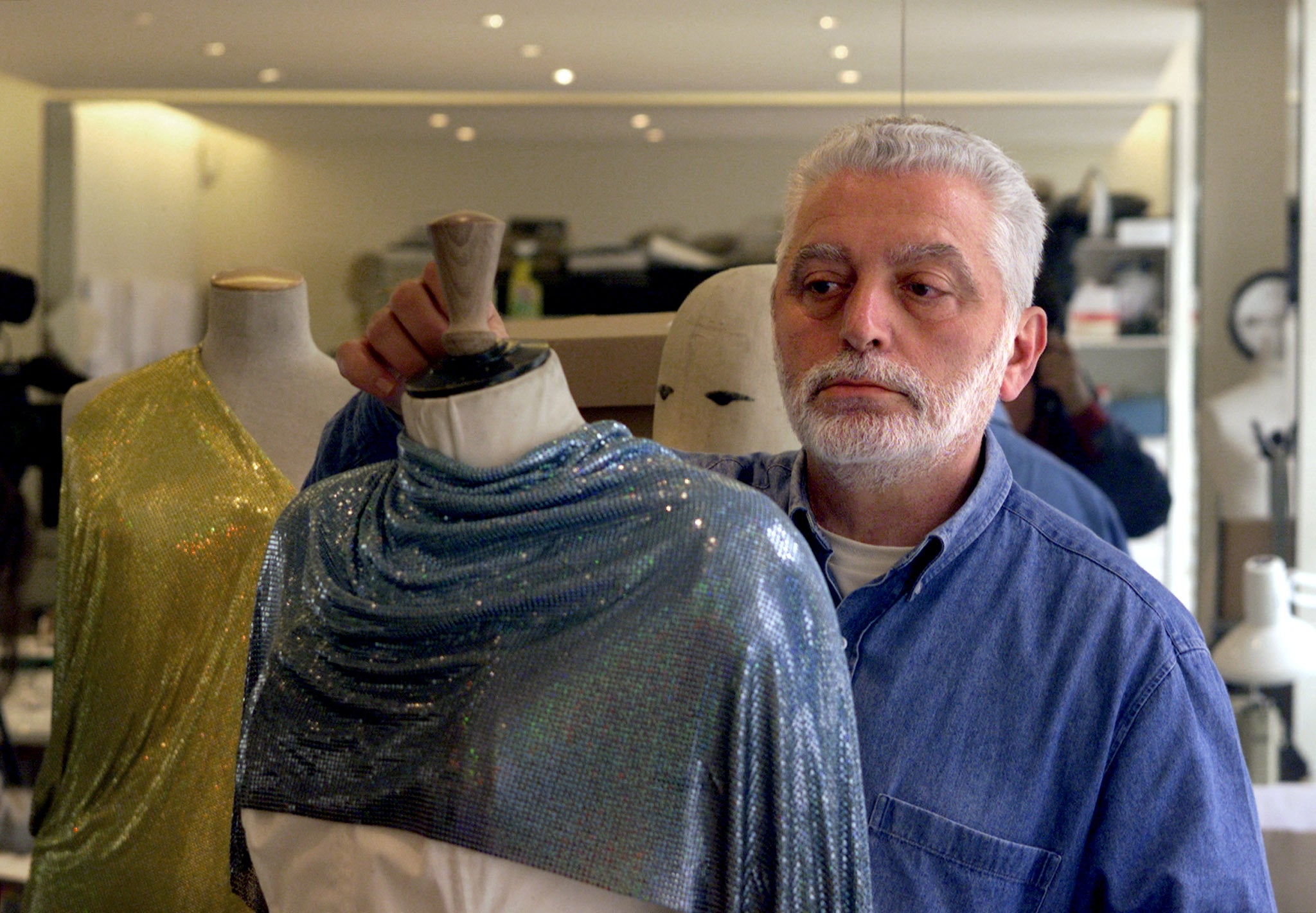 Paco Rabanne, the Spanish-born designer known for his space age aesthetic, has died at the age of 88.
The eponymous label he exited more than two decades ago hailed him as "among the most seminal fashion figures of the 20th century".
Rabanne dressed some of the most prominent stars of the 1960s, including French singer Francoise Hardy, whose outfits from the designer included a minidress made from gold plates and a metal link jumpsuit, as well as Jane Birkin and Serge Gainsbourg, who were pictured in matching silver outfits.
Among his most famous looks were the fitted, skin-baring ensembles worn by Jane Fonda in Roger Vadim's cult science fiction film Barbarella.
The death of Francisco Rabaneda y Cuervo, Paco Rabanne's birth name, was confirmed by a spokesperson for Spanish group Puig, which now controls the fashion house.
"A major personality in fashion, his was a daring, revolutionary and provocative vision, conveyed through a unique aesthetic," said Marc Puig, chairman and CEO of Puig.
José Manuel Albesa, president of Puig's fashion and beauty division, said that the designer "made transgression magnetic", adding: "Who else could induce fashionable Parisian women to clamour for dresses made of plastic and metal?"
He continued: "Who but Paco Rabanne could imagine a fragrance called Calandre – the word means 'automobile grill', you know – and turn it into an icon of modern femininity? With his passing, we are reminded once again of his enormous influence on contemporary fashion, a spirit that lives on in the house that bears his name."
The businessman died in the French commune of Portsall, in Brittany, northwest France, where he lived. A statement, shared on his official Instagram account, said: "The House of Paco Rabanne wishes to honour our visionary designer and founder who passed away today at the age of 88.
"Among the most seminal fashion figures of the 20th century, his legacy will remain a constant source of inspiration.
"We are grateful to Monsieur Rabanne for establishing our avant-garde heritage and defining a future of limitless possibilities."
Rabanne worked in fashion for more than half a century. He was a self-taught couturier whose mother worked for Balenciaga.
After rising to international prominence in the Sixties, Rabanne retired from fashion in 1999 and has rarely been seen in the public eye since.
Rabanne's first collection in 1966, "12 Unwearable Dresses in Contemporary Materials", used plastics. It caused furore in the French fashion press and established Rabanne as a rebel in the industry, earning him the moniker of "enfant terrible".
"Not everyone can be a star," he told students at the La Croix-Rouge high school in Brest, in 2010. "You have to know how to be smart. The main thing is to talk about yourself, to differentiate yourself from others. Never copy."
Rabanne became famous for making rather unusual statements on television. Over the years, he claimed that he had lived several lives and was 75,000 years old.
He also said that in one of his former lives he worked as a sex worker in the time of Louis XV, and that in another he murdered Tutankhamun.
Join our commenting forum
Join thought-provoking conversations, follow other Independent readers and see their replies