The Independent's journalism is supported by our readers. When you purchase through links on our site, we may earn commission.
A Year of Lockdown
Dressing after times of crisis: What can we learn about post-pandemic fashion from the 1920s?
Just as the Roaring Twenties have been referenced for how our social lives may look after Covid, it's likely we can also learn a lot about style from the period that followed the Spanish Flu of 1918, writes Hayley Spencer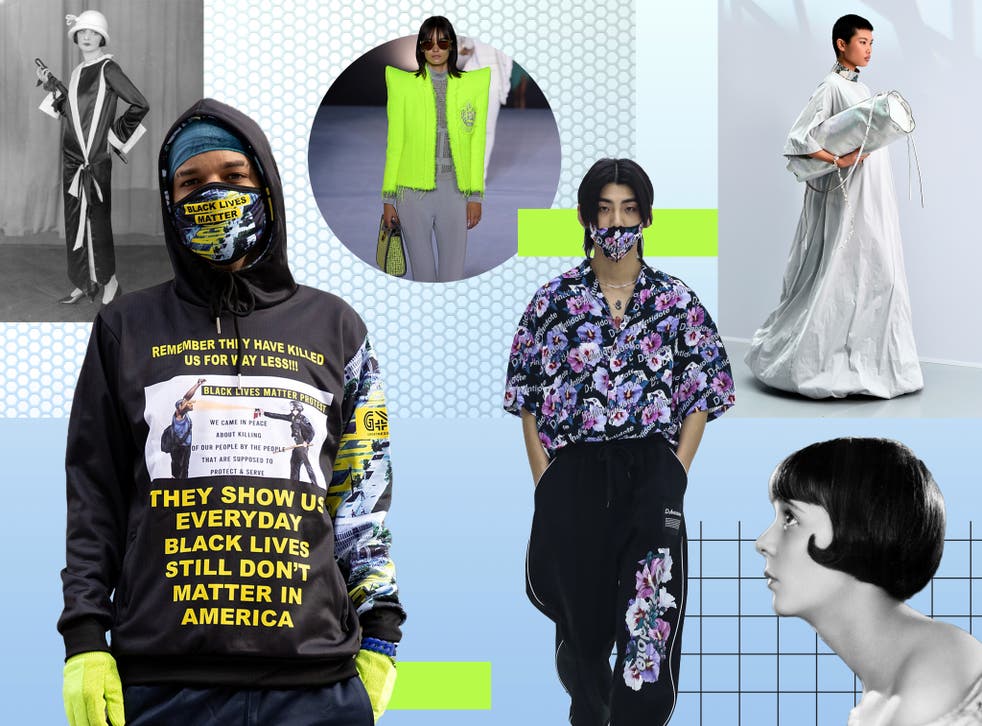 Leer en Español
A year of being in the grips of a global pandemic has impacted every aspect of our lives, right down to the way we dress. Being asked to stay home and abandon life as we knew it in March 2020 changed the contents of our wardrobes and how we shop in ways we could never have foreseen before Covid took hold.
Who could have guessed that the humble track pant would become the It buy of 2020? The fashion industry itself has changed irrevocably in response to both economic downturn and the cancellation of a schedule of lucrative events and shows - some labels and high street stalwarts were lost, while other brands had to dramatically pivot their aesthetic to survive.
As our social freedoms are slowly restored with the announcement of the government's roadmap out of lockdown, the fashion world is on tenterhooks as to how the industry and its consumers will respond. Is our 180 on formal wear and a year of fast fashion backlash just the start of a sartorial revolution? Or will we slide comfortably back into old habits as our lives begin to resemble something closer to normal once more?
As Isabella West, a former economist and the founder of fashion rental platform Hirestreet, points out: "There is still a lot of uncertainty as to what consumer behaviour will look like post-pandemic. Even the best trend-forecasters will struggle to accurately predict what happens next in the wake of such fundamental behavioural shifts." Perhaps our best chances of understanding how a post-pandemic future of fashion may look then, is it to refer to the past.
Designers love to borrow from bygone eras, and just as the 1920s has been referenced repeatedly for how our social lives may return to a roaring start in June, it's likely we can learn a lot about style as well from the period that followed the Spanish Flu of 1918.
Read more:
Of course, there is the obvious parallel that the 1920s were a period when the world was recovering from a major human catastrophe – the Spanish flu infected a predicted 500 million globally and saw 50m deaths. But furthermore, just like 2020, it was also a time of accelerated social and economic change.
In the UK all women won the right to vote in 1928 (a decade after those under 30 who met certain property qualifications had been granted enfranchisement) and had gained a more active role in the economy after taking on jobs previously reserved for men during the war. The Wall Street Crash of 1929 marked the beginning of the Great Depression, which led to years of economic uncertainty.
As Covid measures begin to ease in the UK, the nation is ripe for change – and if the past is anything to go by –fashion will follow, according to Dr Lucy Moyse Ferreira, a lecturer at London College of Fashion and author of forthcoming bookDanger in the Path of Chic: Violence in Fashion between the Wars. "Fashion by its very nature is always changing, and always reflecting what's going on in the wider world around it. The coronavirus crisis is no different, and fashion expresses society's hopes and fears."
Right now, our sense of hope is intrinsically tied to the roadmap out of lockdown. Despite having adapted so quickly to becoming a nation of tracksuit lovers, it's likely that we'll embrace glamour and feel-good fashion that reflects our renewed freedom and optimism, just as quickly.
Dr Moyse Ferreira says we often use fashion as a form of "armour, protection, and comfort, both on a physical level, by cocooning the body and shielding from germs". As our fear subsides and we begin to embrace post-pandemic life, it makes sense that we'll shed the comfortable clothes which suited our malaise and served as a literal comfort blanket and adopt more party-ready styles alongside our lounging looks.
In the 1920s, the prominence of flapper fashion; shorter hemlines, less fitted silhouettes and bobbed hair reflected women's adoption of the more active roles previously reserved for men, but they were also emblematic of popular culture: far more practical for dancing in jazz clubs and speakeasies than previously popular corseted dresses.
The return of disco era trends is likely to be the apt equivalent for this summer's party mood. Sequins, lamé and lurex looks were prominent on the Spring Summer 2021 catwalks of power players like Louis Vuitton, Balmain, Chanel. While Versace, Altuzarra and Dior's beach prints were a symbol of our desires to travel and enjoy the summer in the way we did pre-pandemic.
Our optimism is already clear in our shopping habits this month, with the Simone Rocha X H&M collaboration of tulle dresses, tartan trousers and pearl-studded jumpers selling out almost instantly on March 11 - despite their lack of suitability to our current lifestyle. While sky-rocketing searches for heels and printed trousers (30 per cent since the start of the year) on fashion shopping platform Lyst are proof we want to make a splash with our style when the world opens back up.
There may be items we're keen to leave behind with 2020's more sedentary lifestyle, but there are some trends which the past suggests we're unlikely to shake after the pandemic. Masks being the most obvious, with searches for fashionable masks growing 502 per cent in 2020 on Lyst, it's likely they'll long remain a staple as they've long been in the Asian market.
Dr Moyse Ferreira recalls how as well as masks becoming an emerging trend, "bought commercially or made at home", more layering in general was a fringe effect of the period as advised for safety and protection. "An element of pragmatism has driven many changes in fashion in response to pandemics throughout history," she explains. 
Layering was a trend also predicted by the 2021 catwalks. Sheer overlays and netting with a futuristic feel added an element of cocooning to form-fitting looks at Acne, Burberry and Givenchy. While at Prada capes were clutched close to the model's bodies. Both fashion statements suited to dipping our toes in more revealing looks while remaining somewhat shrouded.
2020 was a year that sustainable style gained mainstream momentum, as we became acutely aware of fast fashion's effects on people and the planet, and it's likely this was all the more keenly felt during such a catastrophic year for human life.
But with the economy having taken a hit, can a more conscious and considered approach to shopping that has taken precedence during the pandemic really survive it? Especially with the return of the bricks and mortar stores and the temptation of all that glitters?
If the 1920s is anything to go by, change in the fashion industry can still prosper even in hard times. Due to the emerging freedom afforded to women in this period, it led to the commercial rise of the female fashion designers and garment makers. It was when major players like Coco Chanel, Elsa Schiaparelli, Jeanne Lanvin gained prominence.
2020 was a year of increased activism for human rights issues, leading consumers to take heed. Black-owned labels and those with ethical and transparent supply chains grew in popularity. It's quite likely then with habits formed, that consumers will continue to vote with their wallets and invest in brands who stand for and speak out on issues they're passionate about, from charities, to sustainability to representation.
West backs the likelihood that sustainable fashion is here to stay as more brands are looking to pivot to encompass these values. "At Hirestreet, we work with brands on a daily basis, and the one question they are all considering at the moment is how to meet the shift in consumer demand towards sustainability?" 
"There is a long way to go before circular consumption models are able to offer consumers the same level of selection and service as traditional retail - but we have seen rapid progress in the last year alone and I expect this will grow exponentially in years to come", adds West.
Fashion historian and stylist Abbey Booth, who is founder of personal styling and workshop service Stories With Clothes, has definitely noticed a more conscious consumer becoming the norm."In recent enquiries from customers, I have noticed a huge increase in clients' interest in sustainable fashion, re-using their existing clothes and understanding how they can make mindful choices about what they are buying".
There's no doubt that the effects of Covid have been far-reaching and destabilizing for the fashion industry, but the rapid changes in reaction were far-reaching and it's clear they can be a catalyst for positive change even when life as we know it resumes.
Register for free to continue reading
Registration is a free and easy way to support our truly independent journalism
By registering, you will also enjoy limited access to Premium articles, exclusive newsletters, commenting, and virtual events with our leading journalists
Already have an account? sign in
Register for free to continue reading
Registration is a free and easy way to support our truly independent journalism
By registering, you will also enjoy limited access to Premium articles, exclusive newsletters, commenting, and virtual events with our leading journalists
Already have an account? sign in
Join our new commenting forum
Join thought-provoking conversations, follow other Independent readers and see their replies