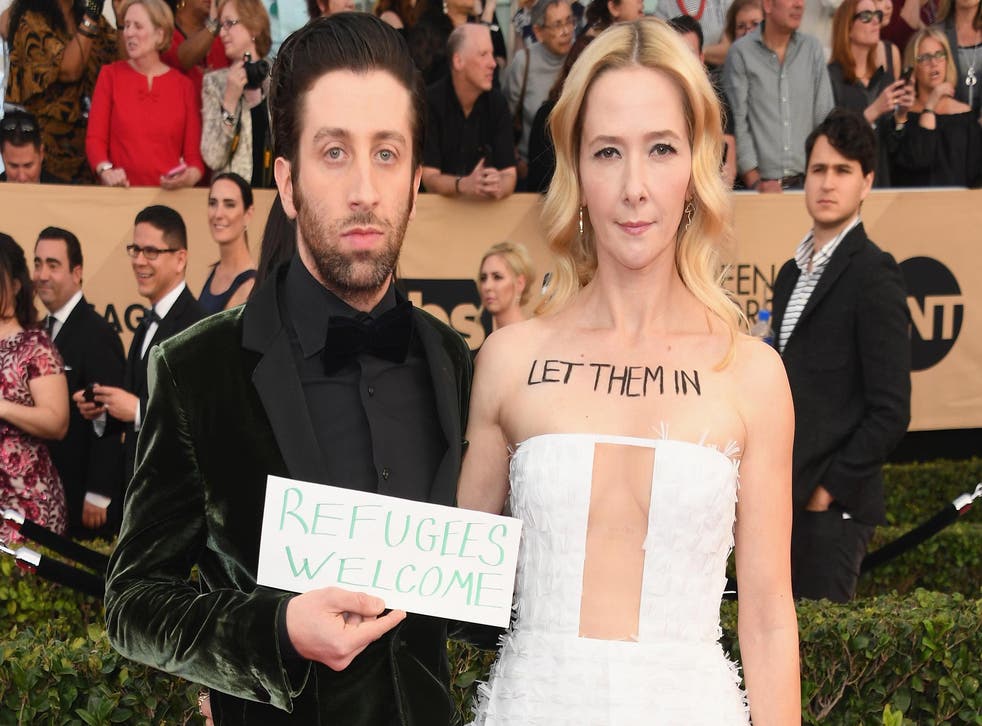 SAG Awards: Big Bang Theory actor Simon Helberg makes red carpet stand against Donald Trump's travel ban
The ceremony was filled with actors condemning President Trump's ban
The Screen Actor's Guild awards were one of the most politically-charged ever as a steady stream of actors and actresses rushed to condemn President Donald Trump's decision to halt all immigration from seven Muslim-majority countries.
On Friday, the White House issued an executive order preventing people from Iraq, Iran, Sudan, Somalia, Libya, Syria and Yemen travelling to the US. The ban also means all refugee admissions have been halted.
The move has sparked protests at airports across the US, criticism from governments and people across the world and has now fed into the mainstream entertainment and fashion worlds.
The Big Bang Theory actor Simon Helberg and his actress wife Jocelyn Town decided to use their red carpet appearance at the SAG awards in Los Angeles as a mark of protest against the policy.
Activists protest Donald Trump's proposed Muslim ban

Show all 11
While wearing a velvet dinner jacket, Helberg held up a sign which said 'Refugees Welcome' while Towne wore a white strapless gown and had the words 'Let Them In' written across her chest.
Helberg, who was attending the ceremony as part of the cast of Florence Foster Jenkins, has repeatedly spoken out against the Trump administration on social media
Other stars who used fashion to make a stand included Kerry Washington, who wore a safety pin on her gown, in solidarity with those affected by the ban. She wrote on Instagram: "I'll be wearing one of these tonight. On my arm. To show solidarity. We will not strop fighting for our safety and the safety of our fellow citizens and human beings."
At the ceremony others spoke out. British actor Dev Patel said the ban was "horrible" and "divisive" and Veep actress Julia Louis-Dreyfus used her acceptance speech to blast the "Un-American" policy, saying she was speaking as the "daughter of an immigrant" as her father came to the United States after fleeing Nazi persecution in France.
Join our new commenting forum
Join thought-provoking conversations, follow other Independent readers and see their replies