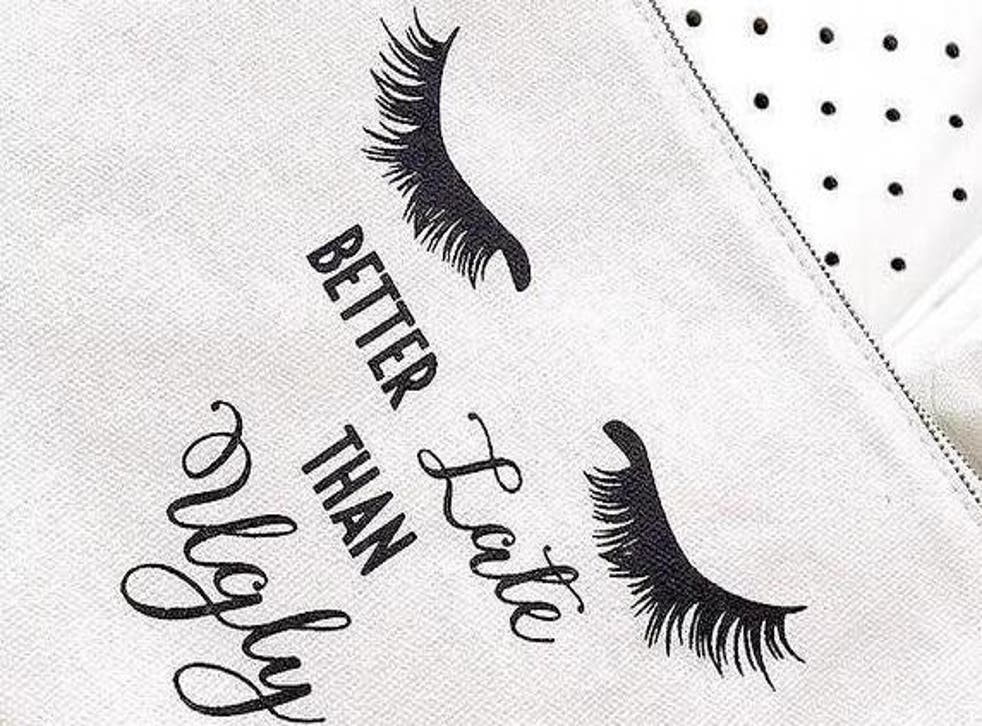 Target criticised for selling sexist make-up bag
'These kinds of messages are toxic'
American retailer Target has been criticised for selling a "sexist" make-up bag in their stores.
Dana Suchow, a writer, stylist and activist is the creator of a fashion blog called Do The Hotpants.
She regularly posts on social media about breaking away from unattainable beauty standards that have been perpetuated by society.
Earlier this week, Suchow came across a make-up bag being sold at Target with the slogan: "Better late than ugly" written across it.
Suchow felt angered by the message this make-up bag was spreading; that women should prioritise making themselves look pretty above being punctual.
"This is what we want young girls and women thinking?" she wrote on Instagram. "That it's better to arrive late than to arrive UGLY??
"We live in a society that is constantly telling women that being beautiful is more important than ANYTHING.
"Make-up bags like this are considered 'cute' and funny', but the underlying message that we end up internalising over and over, is that it's unacceptable to be ugly."
Suchow has suffered from skin issues and insecurities in the past.
As a result, she spent many days taking a long time to apply make-up to conceal her acne, something that she doesn't want other girls and women to feel the pressure to do.
"I want to live in a world where girls don't have the same painful insecurities I grew up believing," she wrote."
Target isn't the only retailer to have sold products adorned with that particular statement.
However, several of Suchow's followers have commented on her post to express their agreement with her opinion.
"I don't think there's anything 'silly' or trivial about things like this," one person wrote.
"These kinds of messages are toxic.
"Capitalism relies on women having non-existent self-esteem and buying copious amounts of lotions, potions, cosmetics, and 'personal care' items all designed to make them look 'pretty', youthful, sexy, a sum of their parts, and most importantly, attractive to the male gaze."
Target has since responded to Suchow's criticism to say that they've removed the product from their stores and online.
Join our new commenting forum
Join thought-provoking conversations, follow other Independent readers and see their replies