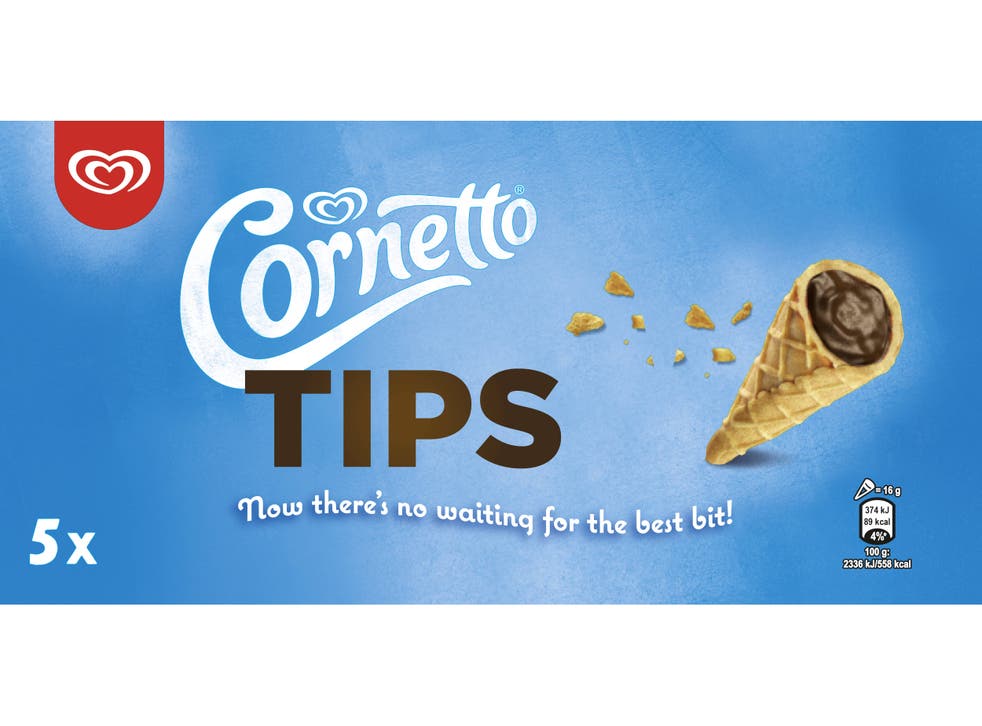 You can now buy Cornetto cone tips filled with solid chocolate
The new product contains no ice cream, just pure chocolate
Wall's has launched Cornetto Tips, a new product which contains no ice cream. Instead, the tip of the wafer cone is filled with solid chocolate.
The new line aims to appeal to fans whose favourite part of a standard Cornetto is the solid chocolate tip at the bottom of the cone, with the packaging featuring the tagline: "Now there's no waiting for the best bit."
Cornetto Tips will be sold exclusively at Tesco in boxes of five for £3.
Instagram account @newfoodsuk shared a picture of the new product on Wednesday, showing what the Cornetto Tips look like when unwrapped.
The caption read: "New Cornetto Tips! Let's all be honest, the best part of a Cornetto is the chocolate tip at the bottom of the cone - so these are a genius idea! However, 5 for £3 is a bit pricey, when you could buy a pack of 5 Cornettos for £1 and eat the tips of them!"
Another Instagram account, @kevssnackreviews, has shared a photo of the new product next to a ruler, revealing that the cone tips measure just under 7cm.
The product is part of a new line of miniature versions of Wall's favourites. Other items in the range include Miniature Cones, which are a smaller version of a standard Cornetto and come in chocolate and vanilla and cost £3 for a box of 10.
Read more:
There are also Ice Cream bites – ice cream dipped in chocolate, available in vanilla and strawberry (£2 for a box of 10). For Magnum fans, there are Magnum bites - balls of ice cream covered in chocolate, available in classic, white, chocolate and almond (£3.50 for 12).
Jeannie Richardson, UK Senior Brand Manager, said: "We know that Brits love snacking and miniature formats, so we're thrilled to be launching a delicious range of small bite snacks from some the nation's favourite ice cream brands."
The new launch comes shortly after Tesco announced another exclusive line with Pret A Manger. The supermarket is now selling frozen Pret croissants and is the first retailer to stock food items from the high-street chain.
Join our new commenting forum
Join thought-provoking conversations, follow other Independent readers and see their replies