Let's twist again: How to embrace the playful spirit of the negroni
Negroni Week 2020 is focused on raising money for the embattled hospitality community. Think you don't like this classic Italian cocktail? Think again, suggests Jo Turner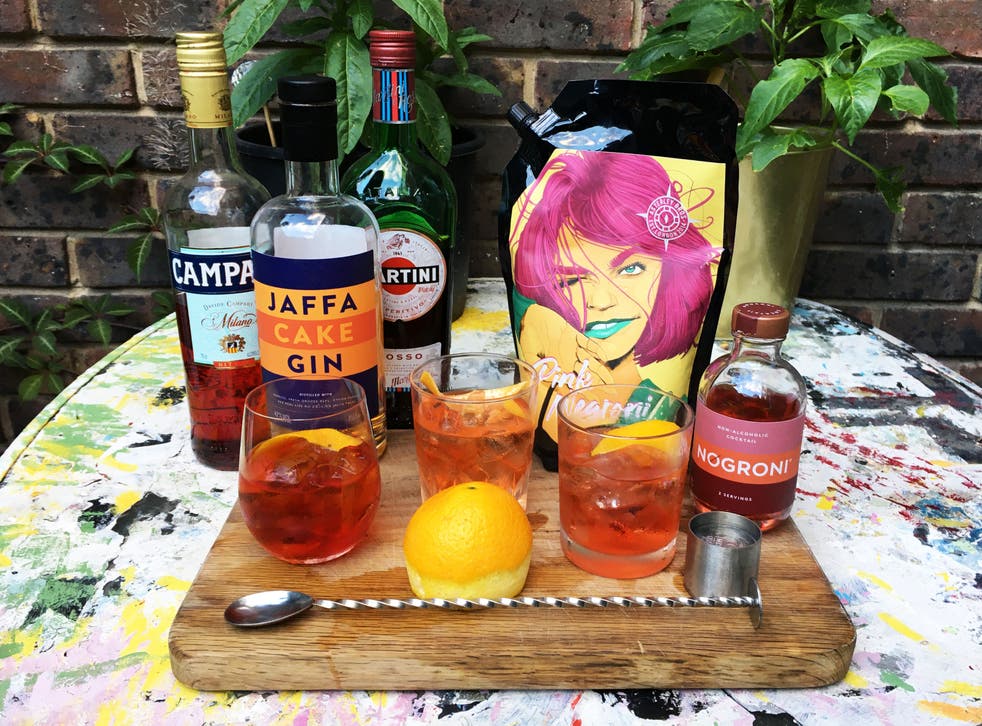 Reader, I'll be honest. The first time I tried a negroni I was, to put it mildly, not a fan. But I do remember exactly where I was, which surely says something (Milk Thistle, Bristol, at a vermouth tasting session, as a very green bartender before the bitterness had really taken hold – ho ho).
It tasted medicinal, I thought; perhaps it was the Campari that overwhelmed me, perhaps it's because I considered a gin martini the height of sophistication at the time (nothing wrong with that, but people change). All the same, I couldn't get its complex flavour profile out of my head – it was the palatal equivalent of an earworm – and by the time I was back in Cardiff that evening, I'd had my second and third, and I was hooked.
Devotees of the legendary Italian cocktail comprising equal parts gin, Campari and sweet vermouth may advance to "GO" if they wish. Haters, you're in jail, but sit tight, because we're going to get you out. If you're not yet sold on this aperitivo, I'd argue you've not found your negroni yet – and that Negroni Week 2020 (14-20 September) offers the perfect opportunity to explore the drink and its myriad variations, and perhaps come up with your own.
Unlike so many awareness events (isn't every day national sandwich day?), Negroni Week deserves some fanfare: since 2013 the seven-day celebration has become a worldwide event involving 12,000 venues, which have raised nearly $3m (£2.3m) for charity. And this year the digital event is focused on fundraising for the hospitality industry, which has been devastated by the pandemic.
So where did it all begin? While there's some dispute, it's widely accepted that in 1919, Count Camillo Negroni – a well-travelled man who had spent time in the States as a rodeo cowboy – sat down for a drink in his favourite bar in Florence, Caffe Casoni. The Americano – equal parts Campari and sweet vermouth, topped up with club soda – was the drink du jour, but Negroni wanted his with more of a kick, so he had the bartender replace the soda with gin.
And there we have it: the negroni in its purest form, and already itself a twist on another drink. Part of the reason it's a bartender favourite for the ages is its simplicity: there's something wonderfully unfussy about assembling this drink in the glass and garnishing simply with orange peel (a wedge or slice will also do). This makes it ideal for the home bartender – it's quite difficult not to do a half-decent job of this one.
"It's also infinitely flexible in a way that other cocktails aren't, and just by changing one of the elements it takes you in a completely different direction," says Rob of Asterley Bros, a producer of English vermouth whose recently launched cocktail subscription service kicked off with a pink negroni (more on which later). "If you're new to the world of cocktails, or home bars, then it's so good to master and then put your own spin on."
He's not wrong. This classic has racked up plenty of well-established variations. There's the negroni sbagliato for instance, whose name, Italian for "mistake", is a nod to the bartender who accidentally replaced the gin with prosecco on grabbing the wrong bottle. Or the boulevardier, which swaps the gin with bourbon, and which we recommended in a 2018 article, where we erroneously called the negroni overrated.
Indeed, changing the base spirit (ie swapping out gin) is one of the easiest ways to play with the negroni: rum is a good choice if you want something a little sweeter, or you could introduce some smoke by way of mezcal. Or, stick with the classic formula but try different proportions: purists may object, but more than a small cohort of negroni drinkers advocate increasing the share of gin to allow the spirit to sing. Simply tweaking the garnish can bring something new: a sprig of rosemary can be quite lovely.
From there, you can start to go off-piste. In The Negroni, author Gary Regan states that Campari is the constant for a "true negroni", but that hasn't put a stop to the creative variations that use the original as a springboard. A quick survey of one bartenders' Facebook group revealed almost as many riffs on the negroni as people that make them, from simple twists such as infusions (try it with fig leaf-laced Campari) to more complicated creations ("Worked with a nice savoury negroni in my last venue: shitake-infused gin; Select Aperitivo; Mancino Ambrato; and yuzu bitters," says Stathis Ntailianas). At Gordon Ramsay Bread Street Kitchen & Bar in Singapore, William Pravda created an edible, ice-cream version, and yes, the recipe is available.
So, why bother with all this experimentation, just to get on board with a cocktail you're not necessarily partial to (yet)? Well, aside from being easy to make, and endlessly adaptable, there's still a slight air of mystery about the negroni, just like its Italian cowboy namesake. Yes, it's been in the mainstream for many years, but it never let fame get to its head. As chef Michael Chiarello said, "It commands the question, 'What's that you're drinking?'" Don Draper can keep his old fashioned, James Bond his vesper: why be like them when you can have a negroni?
Five simple ways to switch up your negroni
Bundles of joy
As stated, the possibilities are endless, but you can simplify the whole process by ordering one of the many negroni bundles available online. Try the Jaffa Cake Negroni Bundle from Master of Malt – the cheery Jaffa Cake Gin (made with, you've guessed it, jaffa cakes) makes for a fun serve and is suitable for those with a sweet tooth.
Lazy days
You can't get any easier than the aforementioned Asterley Bros' pre-mixed pouches. The pink negroni is a beautifully light variation made with dry English vermouth, rose and gentian, as well as Cabby's gin (rhubarb is also available, and look out for the brand's cocktail subscription service). Rob also recommends The Clumsies' Aegean negroni for another ready-to-drink option.
Alcohol-free
It's possible to enjoy a negroni when you're not drinking: enter the NOgroni from Æcorn Drinks, a complex blend of Seedlip Spice 94, Æcorn bitter and Æcorn Aromatic. The grapefruit and gentian really shine through amid a bold flavour profile. You can buy it in pre-mixed or bundle form online, and it's now being served at some of the UK's favourite bars and restaurants including The Ivy sites across the country, sketch in Mayfair and Harry's Bar.
Out and about
Although Negroni Week is this year officially a digital affair, variations of the libation appear on cocktail menus year-round. Crossroads in Camden's current twist comes with lapsang-infused Campari and a black pepper shrub; Kensington's Le Petit Sud serves a highly recommended cedro negroni; and the boulevardier at Shoreditch's Nightjar is to die for. Pennyroyal in Cardiff will serve you a tropical-tinged right hand with pot-still rum and Brazilian banana liqueur (another twist on a twist), and in Edinburgh's Montpellier's you can get a negroni scozia made with Scottish vermouth (though perhaps the true Scottish negroni is the Buckfast variation).
Make an investment
Another easy yet impressive way to enhance a negroni is by ageing it in a mini barrel. This requires a bit of an investment but once you've mellowed your cocktail with oak, you may never look back. Urban Bar has a selection of mini oak barrels for your consideration; this recipe suits the 1l size (more than enough to get started with).
For those wishing to expand their knowledge, the Negroni Week website is a great place to start. As well as some inspiring recipes, there's a programme of Zoom masterclasses on the subject – you'll have to stay up late, but these sessions will seriously elevate your negroni game as you dive deep into the world of this ever-fascinating cocktail.
Join our new commenting forum
Join thought-provoking conversations, follow other Independent readers and see their replies