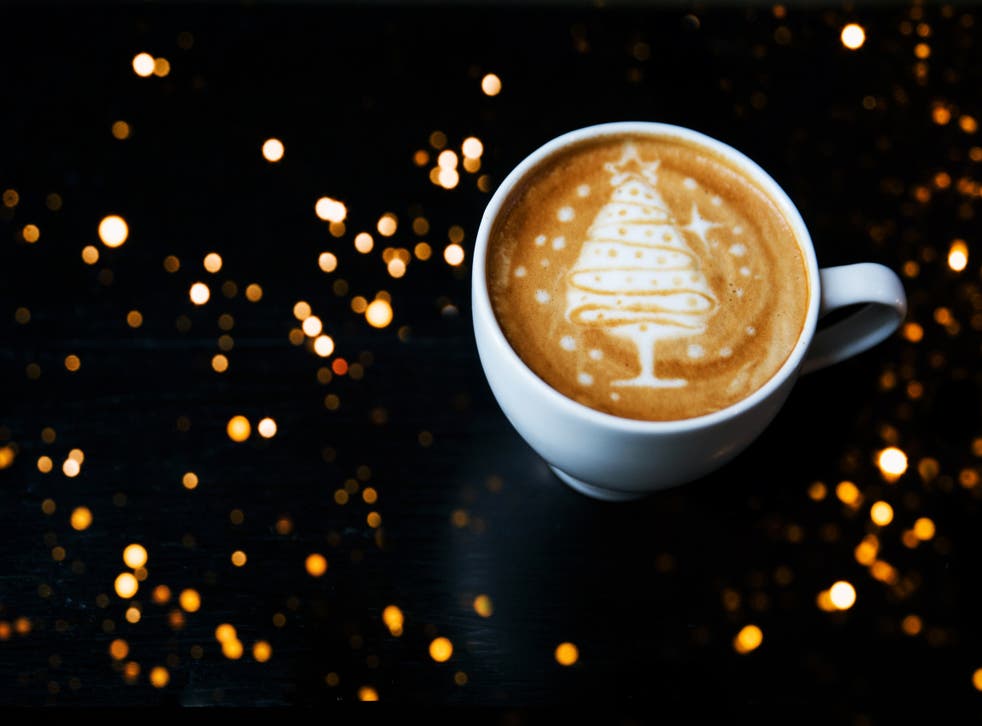 Costa, Greggs, Starbucks: How much sugar is in your favourite coffee chain festive drink?
We've got the lowdown on your sugar high
In the full swing of festive hot drink season, all the major coffee chains have released their own options for 2020 – from Quality Street-inspired lattes to a Truffle Deluxe Hot Chocolate, as well as the old-faithful Gingerbread Latte.
But it's often difficult to keep track of and compare which ones are packing the largest amount of sugar. 
In 2019, Action on Sugar said the festive drink with the highest amount of sugar was Starbucks' Signature Caramel Hot Chocolate with whipped cream, using Oat Milk in a venti size, which reportedly had over 23 teaspoons of sugar.
But what about this year? Have any of the brands made their drinks healthier, or gone the other way and added more sugar? We've whipped together a comprehensive comparison for you - the numbers are based on grande sizes and having semi-skimmed milk in your drink.
We can reveal that, from the drinks featured on online menus, Costa's Black Forest special drink has the lowest sugar, while Caffé Nero's festive hot chocolate range seems to top the scale. 
Here's a larger breakdown of our findings.
Costa
The Black Forest Hot Chocolate has the lowest sugar content with 19.5g for an in-store drink and 23.1g in a takeaway drink (this is because the takeaway version is larger - 348g compared to 262g), while the Terry's Chocolate Orange Hot Chocolate has the highest sugar levels with 42.2g of sugar in the in-store drink and 45.1g in the takeaway option.
The Quality Street Purple One Latte contains 35.5g of sugar in its in-store drink and 36.5 in its takeaway option, while the After Eight Hot Chocolate has 34.4g of sugar in an in-store drink and 37.3g in the takeaway size.
The Black Forest Forestino has 47.9g in its in-store drink and 48.4g of sugar in its takeaway cup portion and the old favourite Gingerbread Latte (with cream) has 24.9g and 25.8g of sugar respectively.
You can see the full Costa menu here.
Greggs
Greggs' Mint Hot Chocolate contains 46g of sugar per 412ml serving, while its Salted Caramel Latte contains 28g of sugar in a 366ml serving.
You can see the full Greggs menu here.
Caffé Nero
Both a Gingerbread Latte and a Salted Caramel Latte contains 28.3g of sugar, while both hot chocolate options top the charts.
The Mint Hot Chocolate boasts 59.9g of sugar, while the Roasted Hazelnut Hot Chocolate has 58.4g.
You can see the full Caffe Nero menu here.
Starbucks
For a grande serving, a Peppermint Mocha contains 54g, while the Toasted White Chocolate Mocha contains 57g.
If you opt for a Caramel Brulée Latte you're looking at 49g of sugar, the Egg Nogg Latte contains 52g and the Chestnut Praline Latte contains the lowest amount of sugar out of the coffee options at 39g.
The Truffle Deluxe Hot Chocolate is also a particularly low-sugar option at 15.8g per serving.
You can see the full Starbucks menu here.
Pret A Manger
The Salted Caramel Latte contains 29.5g of sugar, while the Gingerbread Latte has 26g.
The S'Mores Hot Chocolate – which contains biscuit syrup – contains 42.5g of sugary deliciousness. All festive drinks from Pret come in a 12oz cup.
You can see the full Pret menu here.
Join our new commenting forum
Join thought-provoking conversations, follow other Independent readers and see their replies